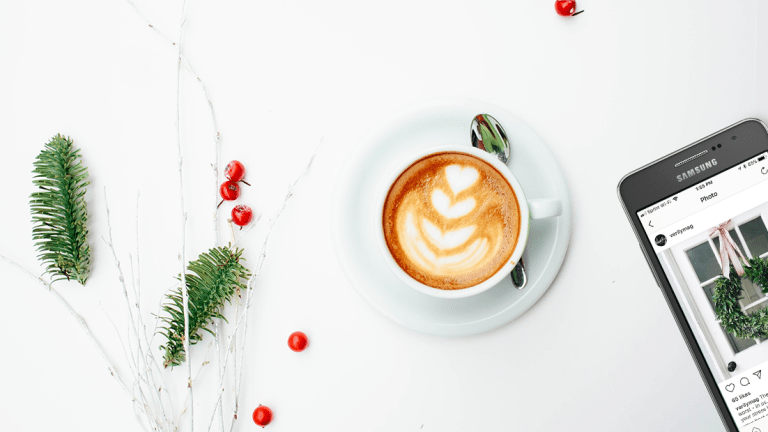 4 Ways to Sleigh the Holidays by Saving Money on Things You're Already Doing in December
P.S.—Some of these tips might even stick all year!

The average American spends nearly $1,000 on gifts for friends and loved ones during the holidays each year. It's no wonder then that a SIMPLE Mobile study found that 59 percent of Millennials say budgeting for gifts is the most stressful part of the season. Someone pass the eggnog!
But before you turn into a Scrooge, it might surprise you to find that you can enjoy everything the holiday season has to offer without spending every penny of your hard-earned cash. These easy tips can help offset that gift expense—without missing any fun—in no time.
Enjoy Festive, Seasonal Coffee Drinks
Sure, those red coffee cups are cute, but spending $5 a day on a wintery coffee piles up faster than a snowbank in a blizzard. This year, spend less than $10 on one bottle of peppermint syrup, and make your own flavored drinks at home. You can use peppermint syrup all month long, too—in coffee, hot cocoa, and even cocktails.
Celebrate with Cinnamon Rolls Instead of Charcuterie 
Holiday parties are the best! But if you've ever been on the hosting side of one, you know how expensive they can be. If you want to treat your friends to a fun social hour, trade in the Saturday night soiree for a Sunday brunch instead. You can keep the group more intimate, skip the exorbitant wine tab, and prepare delectable breakfast foods as opposed to the standard (and pricey!) cheese boards and canapés that are expected at cocktail hour. Extra points for dress codes that include festive pajamas!
Trim the Tree—and Your Cell Phone Bill
Your cell phone bill is an unavoidable expense each month. But what if it didn't have to be so costly? According to the same SIMPLE Mobile survey, Millennials use their smartphones to capture and share holiday memories (67 percent), stay connected with those whom they cannot see in person (63 percent), and shop for gifts (58 percent)—not to mention streaming an episode or two of your favorite show while delayed at the airport. All that usage can lead to overages that cost big money—money that could be spent on gifts or travel. With the SIMPLE Mobile 30-day $50 Truly Unlimited plan with unlimited talk, text, and truly unlimited 4G LTE† data (video typically streams at DVD quality), you'll be able to trim your tree and put presents underneath it.
Enjoy Wintery Activities Without Missing Any Togetherness
Drinks with coworkers, dinner and Secret Santa with your friends, date nights—December is often a time when our social calendar is bustling. But the festive spirit of the season often leads us to spend more at restaurants and bars than we normally would. Studies show that adults predict they'll spend about 20 percent more dining out in December than in other months. The best thing about the holidays, though, is that activities abound! Plan a tour of the lights, scope out the local ice skating rink, or peruse holiday window displays with friends this year instead of planning everything around eating and drinking. You'll enjoy the liveliness that only happens in December that much more!
A month equals 30 days. See Terms and Conditions of Service at SIMPLEMobile.com.
† To get 4G LTE speed, you must have a 4G LTE capable device and 4G LTE SIM. Actual availability, coverage, and speed may vary. LTE is a trademark of ETSI.
Video typically streams at DVD quality. Price does not include taxes and fees.
This survey was commissioned by SIMPLE Mobile and conducted by Survata, an independent research firm in San Francisco. Survata interviewed 1,000 online respondents, ages 18-34, between May 10, 2016, and May 11, 2017. For further information, visit www.survata.com.