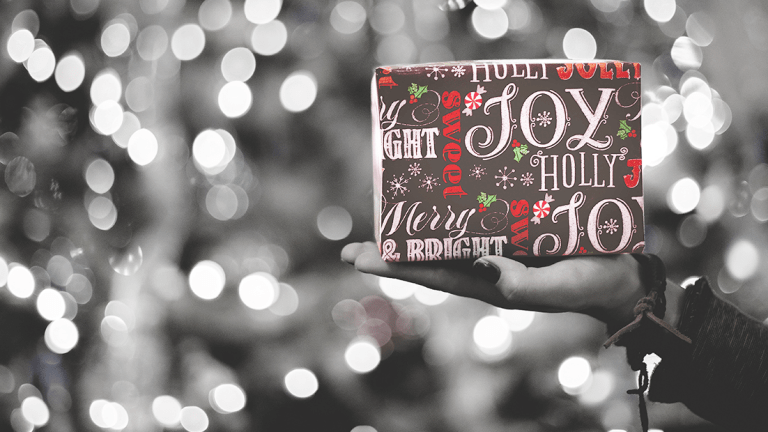 The Procrastinator's Last-Minute Gift Guide to Holiday Shopping with Free 2-Day Shipping
Nope, they're not from Amazon Prime.
Three words every procrastinator loves to hear are "free expedited shipping." Since Amazon Prime first launched its express shipping service in February 2005, many retailers have wisely caught up. For Prime's $99 yearly membership fee, the perk doesn't come cheap—but for busy women (aka, all of us), the speedy and reliable shipping may be worth the cost.
If you have some last-minute Christmas shopping, but you don't have Amazon Prime, the holidays are the best time to sign up for the free thirty-day trial. If you've already tried that trick, thankfully Prime isn't the only game in town anymore. Here are several other retailers that will treat you to two-day shipping with little to no strings attached.
Apple
For the digitally design-savvy friend, get free two-day shipping for all items in stock and free next-day delivery on iPhones in stock. This may not apply to custom orders with engravings. No minimum spend is required.
Backcountry.com
For the outdoor adventurer, you'll get free two-day shipping if you spend at least $50 on Backcountry's high-quality gear and clothing from brands such as Patagonia and The North Face. Hurry, because it's a limited-time offer—you'll have to order by December 20 to get the expedited delivery. Plus, you'll get 15 percent off if it's your first purchase.
Best Buy
For the trendy technophile, get free shipping on everything until December 25. Plus, thousands of electronics, computers, appliances, cell phones, video games, and more qualify for free two-day shipping. There is a $35 minimum spend required, but the fact that Best Buy will price match all items fulfilled by Amazon might make up for it!
Birchbox
For the gal pal who loves a new discovery, Birchbox always offers free two-day shipping with a $150 minimum spend. It's steep, but its sample box subscription service has expanded to include an online shop of its bestselling products in full size, curated jewelry, clothing, tech accessories, bags, fragrant candles, home decor, and more. Plus, save 15 percent on your first order.
Jet.com
For the busy mom or harried hostess, Jet.com offers free two-day shipping on orders over $35 for thousands of everyday essentials such as toys and games, Christmas dinner groceries, health and household items, and baby and pet supplies.
It may sound lame, but functional no-frills gifts are nothing to sneeze at. A recent study by Kimberly-Clark reports, "One-fourth of Millennials . . . say they would rather receive household essentials they normally buy themselves as gifts so they can save the money." If I got Kleenex ultra-soft tissues or six rolls of Cottonelle in the mail for Christmas, I'd be one merry mama who gets to sip my mulled wine instead of running another errand.
Sephora
For the friend who'll try every beauty product, Sephora offers one year of unlimited "Flash" two-day shipping at a flat fee of $10 (add a special rate of $5.95 if you want overnight delivery). No minimum spend is required, and the service applies to every order! Sephora also always offers free standard three-day shipping on orders over $50. Just make sure to place your order by 6 p.m. ET  December 20 if you want it by December 24. And if push comes to shove, you can always send eGift Cards on December 25!
Shoprunner
For the ones you really want to impress, two-day shipping powerhouse Shoprunner gives a complimentary membership to American Express and Mastercard holders. For everyone else, there is an annual membership fee of $79. If you hate shopping malls, Shoprunner includes hundreds of stores such as Bergdorf Goodman and Saks Fifth Avenue and thousands of popular brands such as Aerie, Kate Spade, Kiehl's, Harry & David, and Peet's Coffee. A $25 to $50 minimum spend may be required by some retailers to qualify for the free two-day shipping offer.
Walmart
For everyone else we haven't covered, Walmart is probably the only retailer who can match (dare I say, even beat) Amazon with its millions of product offerings online that qualify for two-day shipping and an online price match guarantee. There is no membership fee, but there is a $35 minimum spend required—just enough to gift a couple months' worth of U by Kotex to my younger sisters (they introduced me to the brand years ago). The same Kimberly-Clark survey found, "Two in five Millennials (39%) also say as they've gotten older they've become more interested in receiving practical gifts." I'll be darned if this isn't as practical as it gets.
If you know about any stores offering two-day shipping for free these last few days before Christmas, please help a sister out and share them in the comments below!