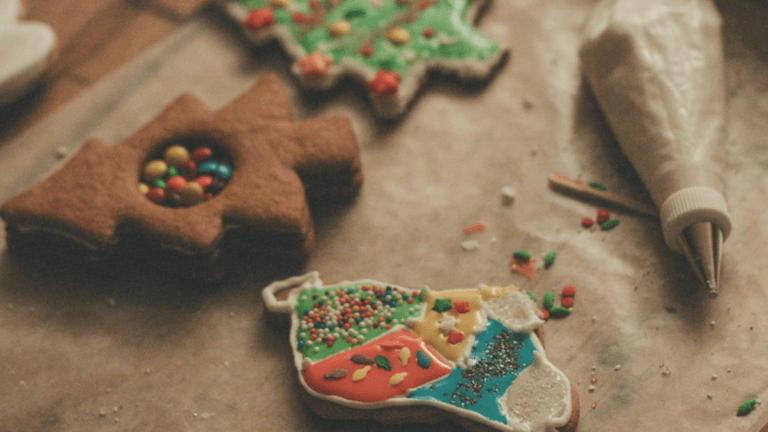 Real Women Share the No. 1 Holiday Tradition That's Inspiring Them Most This Year
Hint: They don't include after-Christmas sales.
We've all been there. One minute, you're enjoying Thanksgiving, and the next minute it's December 24, and you're frantically Googling "Christmas Eve hours" for the nearest mall or boutique. It's all too easy to let our good intentions (Thoughtful gifts for everyone!) spiral into a frenzy. Somewhere in the shuffle, the spirit of contemplation, gratitude, and generosity that ought to define the holidays gets lost or forgotten. This is precisely why practicing holiday rituals and traditions can be so important; they are grounding reminders of what—and who—truly matter most during this special season.
01. Make your own holiday decorations.
Luckily, in the age of Instagram and DIY blogs, there's no shortage of (p)inspiration; making wreaths, garlands, and other seasonal décor items force us to slow down and reflect on the advent of Christmas. Rather than a whirlwind trip to a busy store, side-step the sticker shock (those ornaments and premade wreaths add up quickly!) by opting for something you can create at home. Whether you're collecting branches, berries, and greens from your own backyard, or you're snapping them up from your local florist, you'll save considerable amounts of cash and still wind up with something extra special. Bonus: the undone, natural holiday décor that's dominating our feeds is ultra-approachable for beginners.
02. Bake classic recipes for cookie season.
Whether it's an old family recipe for sweet bread, Irish snowball cookies, or traditional sugar cookies, revisiting familiar favorites reminds us of our relatives and the family traditions they've passed along to us. Marci, a mother of two and school librarian in Eureka, has a cookie decorating contest each year. "I cherish the time we are all huddled around the table decorating, talking, complimenting, and definitely laughing," she explained. "The decorated cookies are full of imagination, beauty, and sometimes a touch of inappropriateness that would bring us all to tears from laughing." Megan, Verily's Director of Marketing, has made a yearly tradition of baking several batches of Food52's Ginger Spiced Molasses Sugar Cookies for family and friends each time she's home for the holidays.
03. Send handwritten holiday cards.
As much as we all probably hated being reminded to send thank-you notes, it seems our parents were onto something. "Mailing holiday cards is actually something my mom does," Elizabeth, a 22-year-old account manager, shared with me. "One of my favorite things is that it's basically the only time we hear from old friends; my mom did missionary work in Iceland when she was my age, and she still gets cards during Christmas time from her fellow missionaries in Iceland." The older you get, the harder you should hold onto friends who knew you when you were young.
04. Celebrate the long history of holiday traditions.
You don't have to be religious to enjoy learning about the historical roots of some of our most beloved holiday traditions. Remembering the story of St. Nicholas and his compassion for the poor is a special way to inspire generosity in our own giving, both to family and friends as well as to those in need. Want to get in on the fun? Celebrate at home with the German tradition of filling your family's shoes or slippers with goodies, or sneak a potted poinsettia plant onto your neighbor's porch as an anonymous gift.
05. Give handmade gifts.
We're thinking less macaroni necklaces and more like small-batch soaps or infused liqueurs. For anyone with a lengthy list, the prospect of gifting something for everyone can be daunting. When it comes to Little House on the Prairie level DIY-ing, keep it simple and play to your strengths; everyone has a trick up their sleeve they can share with others, whether you're whipping up cinnamon face masks or knitting chunky, hygge-inspired scarves. Whatever you're into, tie it up with a bow and share it with the people you love.
06. Visit a Christmas tree farm.
This one seems obvious, but for apartment-dwellers, this special tradition can get lost in the shuffle. "My husband and I have a fake tree since we are traveling most of the holiday season and living in a third-floor walk-up, but we still have a tradition of sipping lattes and browsing the Christmas tree farm," Rebecca, a Dallas-based photographer shared with me. "That way, we spend time together but skip the effort of carrying a tree up three flights of stairs." The moral of the story? There's always a way to make beloved traditions work for you and your #currentsituation.
07. Play together.
Maybe someone in the family is a musician, or maybe you're all wordsmiths really into Scrabble. Think you have to live in snow-covered mountains to enjoy a little seasonal play outside? Think again. "We don't really get the whole snowy, white Christmas scene in Texas, but that doesn't stop my family from having a 'snowball' fight from balled up wrapping paper every year," shared Monica, a 26-year-old Dallas native. "I honestly think we may all like that more than the gift-opening." Don't let that holiday magic fade just because you're a grown-up; playfulness is an important part of creating happy memories for the people we cherish.
08. Try a reverse take on the Advent calendar.
The Advent calendar is a popular tradition that helps us prepare for the holiday ahead, but like many Christmas traditions, it's easy to get caught up in getting rather than giving. "I want to try a 'reverse' Advent calendar this year, where you put something nice in a box to donate every day of Advent," said Sandra, a mother of five living in Mississippi. The tradition still builds anticipation for the holiday but shifts the focus onto others instead of ourselves. Create your own 'Random Acts of Kindness Advent Calendar' with this simple tutorial by Alice & Lois.
09. Learn from other cultures' unique traditions.
Many cultures have rich holiday traditions that we miss altogether as we race to keep up with the holiday frenzy here at home. In Sweden, for instance, it's customary for children to celebrate St. Lucia Day by waking up early to prepare a traditional sweet bread and coffee to serve their parents in bed, a story that inspires kids with a tale of selflessness during the holiday season. (The perks for grown-ups go without saying). No little ones around? Celebrate as they do in eastern Europe by planting Christmas wheat on December 13, in a small pot indoors and adding it to a nativity scene once it sprouts. 
10. Stay at home.
Those who were around during the era of It's A Wonderful Life would do anything to celebrate the holidays at home. Yet today, they are some of the biggest travel days of the year, which means that instead of spending actual quality time with family and relaxing, many people are fighting massive crowds at airports and train stations under stressful time constraints. Travel might be inevitable for families spread across the country, but it may be worth it to consider traveling on days leading up to or following the holiday so that you're free to be fully present the day of, and maybe enjoy that second cup of mulled wine. Cheers!