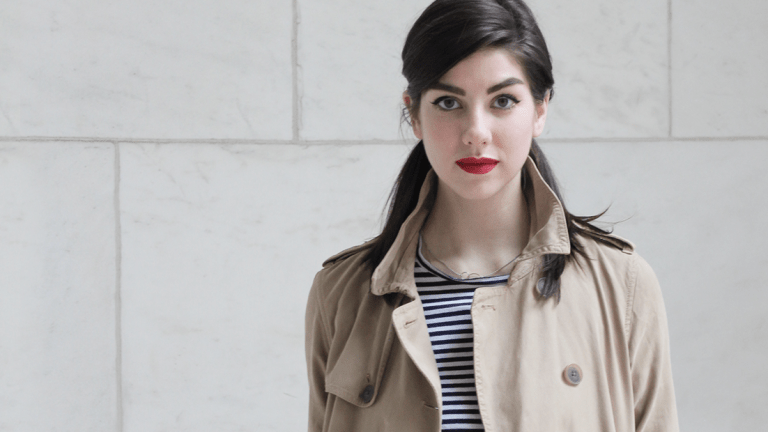 Forget the Gym, These Beauty Resolutions Changed My Perspective on New Year's Goals
These are resolutions you won't dread.
"So this is Christmas and what have you done, another year over, a new one just begun." 
I don't know about you, but John Lennon's "Happy Xmas" lyrics throw me into an existential crisis every year. "What have I done?" I ask, wondering who put the last twelve months on fast forward. Entering into a new year is like waking up from an intergalactic hibernation chamber. The dial says 2018 but I still feel like my 2017 self (or 2014 self, for that matter.)
And despite those 2017 New Year's resolutions that were going to totally transform me, I have yet to discover a six pack of abs, Gisele Bundchen hair, or my dream wardrobe hanging in the closet of my dream apartment. I realize that I, like many, associate the word "change" with physical change. New Year's resolutions tend to resurrect the hope that we will achieve a false standard of perfection over the next twelve months. Of course, these standards are almost impossible to meet and maintain, which makes us feel hopeless when we fail to attain them. It's a vicious cycle of feeling hopeful at the start of the new year to hopeless at the end. 
So this year, instead of creating a list of physical ways to change, I'm making some different resolutions on how to grow in internal beauty (as cheesy as that sounds.) The goal is to make meaningful changes I can look back on without panicking when I hear John Lennon's song next year. You might like them, too!
01. Give Yourself Permission to Not Look Perfect
Whether on Instagram, reading a mainstream magazine, or watching a movie, we're constantly being fed the message that we should look like women who have either hit the genetic lottery, have had work done, or been Photoshopped. It's easy to start repeating those subliminal messages to ourselves, ultimately believing we aren't good enough if we don't look like that. But we can combat those messages by verbally telling ourselves, "It's okay to not look perfect." More than okay, in fact.
Last year, I signed up for the gym and worked out 4-5 times a week until July. Despite endless hours put into working out, I didn't feel any more confident or like I was any closer to the "perfect" ideal. I had to ask myself, "Who am I doing this for?" So I stopped excessively working out. I decided to give myself permission to not be perfect, and since then I've actually felt more confident in my body. I was able to realize and accept that I was worthy regardless of how I looked. It's empowering to finally recognize our worth has nothing to do with our appearance. Finally, we're able to truly see ourselves.
02. Stop Obsessing Over What Is Conventionally Flattering, Wear What You Love
This year, I fell in love with a pair of pants that made my hips look wider. To put it simply, they aren't conventionally flattering to my body type (hello, pear shape!). But wearing these pants made me feel more myself than I had in months. Why? Because I was wearing something I loved for the sake of it, not for how they made my body look. I realized I got caught in the trap of associating the word "flattering" with looking thin. As a result, I lost the joy of dressing. Letting go of worrying about how my body looked by choosing whatever pants I wanted was liberating.
Now, don't get me wrong, it's not a bad thing to flatter your body. It's a great way to celebrate your beautiful shape, but we have to remember there isn't just one ideal body shape. Sometimes it's good to let go of worrying about what our bodies look like to other people and to just wear what makes us happy. The message we communicate in the things we wear is vastly more important than how proportionate our bodies look. 
03. Allow Yourself to Make Fashion Mistakes
In recent months, I've noticed my style changing. I've become less inspired by the ultra-feminine styles of the 1950s that dominated my wardrobe last year. Now, I'm focusing more on fabrics and textures, while experimenting with structured silhouettes. Style evolution is natural, but, boy, let me tell you, some weird outfits have been a result of this developmental process.
But I've realized that the perfect outfit is a myth and we have to let ourselves fail as we experiment with new styles. We can't take ourselves so seriously that we never try anything different. It's okay to laugh at our mistakes, rather than become horribly embarrassed. By being open to fashion mistakes, we're allowing ourselves to learn and grow so we may discover a style that is just right.
04. Take a Day (Or Seven) Off
Do you ever feel exhausted just at the idea of waking up and getting ready for yet another day? Showering, shaving, blow drying, styling, makeup—the average beauty routine is full of steps that can be draining. I'll be the first to admit that I don't always show up to work with my hair and makeup all done. I actually probably show up without makeup more than the days I do. I might look a little washed out and tired but all of that is worth it in order to give myself a break. 
OK, yeah, it's partially out of laziness (which is also totally okay), but it's also out of a commitment to regularly recognize I'm perfectly fine without my makeup if I choose to not wear it. I'm just as worthy as a woman with a cat eye as I am without it. Opting out of the liquid liner, mascara, and red lipstick forces me to take a break and realize that I'm just as good with a completely bare face. I once met a woman who didn't recognize me in person because my Verily headshot was of me with a red lip, cat eye, and no glasses. She exclaimed, "You look so different!" to which I replied with a smile, "No, it's still me."