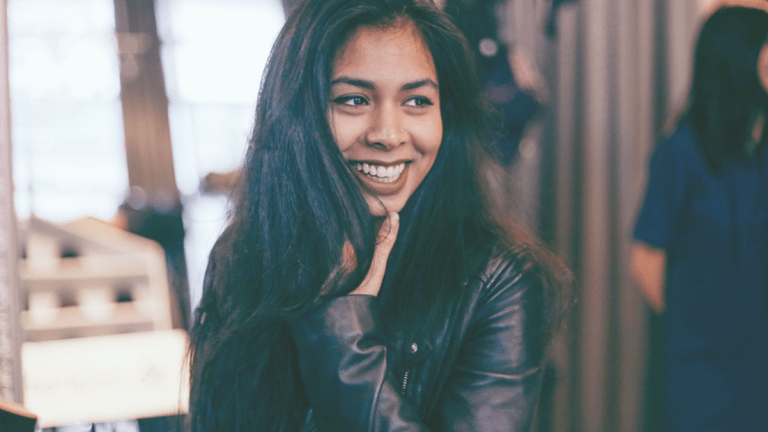 6 Real Women Share New Year's Dating Resolutions that Changed Their Lives
Stuck in a dating rut? Read this for some real inspiration.
As the clock struck midnight on New Year's Eve and the ball of lights dropped in my friend's backyard, Joe and I kissed for the very first time and my whole world changed. That snowy night full of new beginnings was three years ago. Joe and I have already been married for two of them.
This new year might be what changes everything for you, too. But the truth is, the real transformation usually begins long before the first kiss. By setting a New Year's dating resolution, you're able to frame your own approach to dating—one that keeps you happy, sane, and true to who you are—the perfect foundation for a relationship. In gearing up for the fresh year ahead, we talked with women whose dating resolutions actually changed their lives. 
Their novel approaches may just be the exact inspiration that will help kick off the new year.
01. I will stop being so darn agreeable.
Before sticking with her New Year's dating resolution, Olivia found herself agreeing to too much. Too caught up in pleasing others, she didn't consider what she really wanted when it came to a relationship. "One day I found myself agreeing with a statement [on a date] that I didn't have a strong opinion about, but if I really thought about it, I would have an opposing viewpoint." 
While it's sometimes easier to nod and agree in the moment, Olivia realizes she would have saved herself time and energy by expressing her real thoughts from the beginning. 
Moving forward, she determined that she would be true to her thoughts and actions when it came to dates. "If I take the risk to speak my mind and the guy isn't into it, it's a sign that it wouldn't have worked out in the end anyway." Since making her resolution, she's found that "My relationships are so much better... I can now focus my energy in the right direction, and, in the end, the relationship is more fulfilling and natural for both sides."
02. I will let dating be fun—period.
Before the end of last year, Morgan was trudging through the heartbreaking conclusion of a seven-year relationship. After rebounding hard, she decided to change the game with a New Year's resolution. "Dating should be fun—and not for drama," she determined. Within a few month's time, she delved into the world of online dating. "Rather than approaching dating as looking for 'The One,' I stopped heading into dates with expectation. I thought of it as getting to know a new friend."
If Morgan noticed herself becoming excited about seeing someone and envisioning their future together, she would commit to the idea that she needed to get to know them better, rather than trying to fit him in an idealistic mold. If she was dreading a date or feeling nervous, she would cancel. She also arranged more activity-based dates like hiking, sailing, and paddle boarding, instead of meeting up for coffee or a meal. "These active dates took the pressure off and resolved the anxiety I had around dating... And now, I've just started dating someone really great!"
03. I will be open to new experiences and people.
Fed up from a year of dating highs and lows, Jen was ready for a change. "She knew she needed a break from online dating (and promptly deleted all of her apps), but made the resolution to be open to other dating experiences. That was three Januarys ago.
"I met my now-husband in January of 2015, about two weeks into the New Year. A girlfriend of mine asked me if I was free on Friday night—she had someone she wanted me to meet." Normally, Jen would have been hesitant for this kind of set-up, but she decided to go with it. "I stuck with my resolution and said 'yes' to the new experience." Turns out, it's here where she met her husband.
"But if you had just put him on paper when I met him, I'm not 100% sure I'd have the same level of excitement at that time. You should never settle on your morals and values, but as far as the other stuff goes, you might be surprised!" 
04. I'm going to keep doing what I love, not what others think I should do.
"Always the bridesmaid, never the bride," is an expression that once described Chrissy. She has loved the beauty of it all—but marriage always felt like a far-off intangible for her. After an almost non-existent dating life, Chrissy stumbled upon a quote that resonated: "Keep doing what you love, not what others think you should do... because how great would it be to meet someone who's doing what they love at the same time?" 
Well, for Chrissy, travel is what she loves. She set off on a solo travel adventure across Asia and Australia. Although it wasn't the normal approach for trying to date someone, it was the right decision for her. "My year of growth, of travel, of doing things for me and doing things I loved, learning about myself and others was part of the process of getting me to this point where I feel ready to start dating," explains Chrissy, who just signed up for Bumble. "I want to go on the adventure called dating! I'm very open-minded now. There are so many interesting people out there. I'm excited for what lies ahead in 2018!" 
05. I will prioritize my health and my career.
"I have a tendency to put other people's needs before my own. And in a relationship, this can cause an unhealthy imbalance," reflects Winona. After reaching a point in her relationship where she'd become so supportive and involved with her boyfriend's life and career, she was left with little time and energy to pursue her own career and interests. "I ended up depressed and feeling like a shell of my former shelf," recalls Winona.
After landing in the ER with chest pains, she knew something had to change. "I resolved to prioritize my health and career. I was still there for my boyfriend, but I made a concerted effort to improve my life and my health. I set boundaries with him, set time for myself, started seeing a therapist, and even went away for a few months to give myself space to focus on myself. I had a lot of time to make up for!" admits Winona. Now, she's experiencing tremendous success in her own career, has her health in better control, and is still able to devote time to her relationship. In fact, her strong resolution helped her to take a more honest look at all of her relationships and find a better balance.
06. I will focus on my relationship with myself first, rather than forcing a romantic relationship.
Once she turned 30, Cathy put a lot of pressure on herself to find love. "Society seems to put the pressure on as well," she admits. After spending plenty of time and energy trying to meet the expectation of being in a relationship, Cathy hit a mental rut. "I realized how important it was for me to be the best version of myself before trying to start a relationship," she reflects.
"In order to put myself out there, I had to be proud of who I was and know my worth." By first making herself feel confident and content, Cathy was able to step back from some of the pressures she previously felt. With her newfound focus, she now feels at ease about her dating future. "It isn't worth putting the extra stress on yourself...Be happy, and the rest will fall into place."