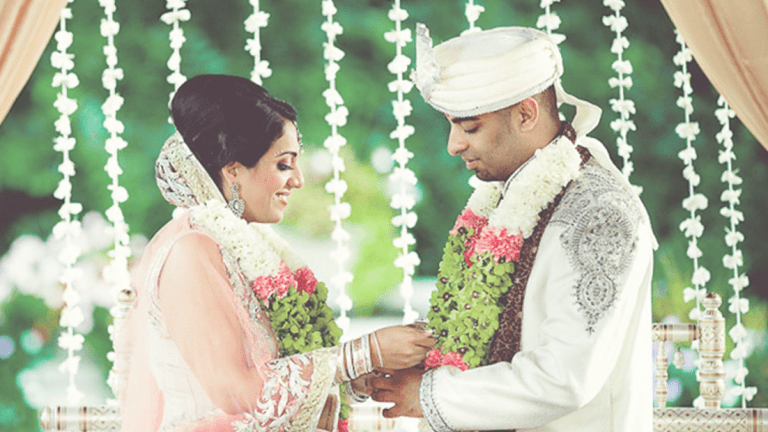 People Look Down on Arranged Marriages, But Here's Why It Worked for This Couple
This old-school way of meeting your future spouse is still going strong.
How will you meet your future spouse? I never really gave this pivotal question much thought, vaguely imagining, as many of us do, that I'd stumble upon some kind of spontaneous meeting—maybe I'd meet my dream guy while browsing Victorian literature in a bookshop or standing in line for a concert. What I discovered, however, as many people do, is that it can often take a lot more work than you envisioned to meet someone you're actually compatible with.
For this reason, more and more Millennials are experiencing dating app fatigue and turning to professional matchmakers as a result. And yet, while plenty of us would trust a stranger or an algorithm with our dating lives, we are still somewhat reluctant to turn to our friends and family—the people who arguably know us best.
I ended up meeting my husband through my sister; he began to know my family and had quite a few Sunday lunches with them before I ever met him. Ultimately, the fact that he got on so well with my family was an essential part of what made our relationship initially click.
I may not have been "set up" with my husband by my family in a traditional sense, but I do have a close friend who met her husband via more formal matchmaking on her mother's part. My friend Anusha* is a British Indian, from a practicing Hindu background, and she tells me that virtually every Indian friend from her background turns to this cultural tradition when they are ready to meet their future spouse.
Intrigued, I asked Anusha and her husband Vikram what it's like to date within a culture that accepts family matchmaking as the norm. While the system they describe is far from perfect, it may open up your mind to allowing your nearest and dearest to set you up.
*Note: Names have been changed.
So, how does it all work?
After you reach a certain age (often in your twenties) you announce to your family that you want to start dating more seriously. When my friend reached that point, her mom started giving her the details of different guys, and their family member or friend would give them her details, and then the suitor would get in touch with her. They'd text back and forth a bit and then arrange to meet up. She was only allowed to see one guy at a time; if she didn't like him, she'd tell her mom, who would then give her the details of the next guy on the list.
"My parents are so traditional, my mum desperately wanted to find me my husband—she would have been really disappointed if I hadn't met my husband this way," Anusha explains. "But it's not just traditional families who do things this way; it's very common in British-Indian culture. I'd say roughly 75 percent of people my age from my background are dating to find their partner this way."
What goes on this epic-sounding matchmaking list?
"My mum is always in contact with loads of people who are asking if she knows any girls or guys, and she's been keeping a list with lots of names and details of different people; half of the time it's not even for her own children, she's just being the messenger for someone else," Anusha says. It's very much a community-driven initiative.
Anusha wanted the guys her mom chose for her to be a few years older than her "but not too old," to live in the same city, to be "the same height or taller, not shorter [than me]", and to not be living with their parents. (Luckily for her, her mother didn't listen to that last rule because her future husband was actually living with his parents when he met her—unlike the loser she had imagined, he was cutting back on rent so he could save for a house.)
Anusha's mom was also following some strict traditional criteria that Anusha herself didn't care about much either way: "From her perspective, he had to be from the same background, come from a good family . . . and he had to be able to provide for me, which means having a good education or a good job." Essentially, her mum believed he needed to have his professional life in order before he was ready to start a family.
How long does the process usually go on for, and what is it like?
Anusha dated this way for about three years, and Vikram for about two. "I think when you first start you're not sure what to expect; you hear a bit about what it's like from other people, and it's fun to start with because you get to meet lots of new people," Anusha shares. "Even though it's serious in the sense that it's about trying to find the person you're going to marry, it can still be fun if you take a relaxed approach to it."
"The best advice I had was to just go out and have fun," Vikram says. "When I met Anusha, we had a good time and got to know each other slowly."
What are some benefits of this way of dating?
The most obvious benefits are that if it works out, your family is bound to approve of the match (no small thing for some families), you share a similar background and upbringing, and you know you have the same end game going into the relationship. "You both want to eventually get to marriage, whereas with a dating app, it's different—it could just be a bit of fun," Anusha says.
And then there's the fact that being set up by people you know forces a certain level of accountability and good manners: "When your mum sets you up with someone, you have to play it a bit careful; you're both more committed to it going well," Anusha explains.
Vikram was a bit more explicit: "You can't do the nasty things that you can do on a normal date with a random person, like seeing them in a bar and deciding you don't like how they look and turning around and leaving before they see you. If you do something like that, it will get back to the people who set you up–your reputation is on the line. Everyone has to be polite."
Are there any downsides?
"Even though it's a lot more laid-back with our generation than it used to be, I'd say the majority of people feel some kind of pressure and expectation on them from their families," Vikram says. "They feel pressure not to act a certain way in case it gets back to their parents." This is especially a problem if you're not close to your parents or if your parents don't know you as well as they think they do. "People 100 percent feel like they have to report back to their parents after the date," Anusha adds. After all, if she didn't click with the guy, she had to explain why in order to get to the next name on the list.
Vikram also says that he met a lot of people who didn't seem interested in being there: "It felt like they were being forced to be there—people who said yes to their parents but they didn't actually want to get married. I got to a point where I had to tell my mum that she was choosing the wrong kind of people."
Just like any other method of dating, you can get burned out and weary of the process, so it's no magic bullet. "You do definitely get to a point where you meet a few people in a row and they're just not right, and you don't want to keep going, you don't know if it's all worth it," Anusha says. It just so happens, that's the point Anusha found herself at when she met Vikram.
As it turns out, even when you're being set up on dates by your mother, the same laws of attraction and compatibility apply. When you do find the right person, however, having your family involved from the get-go can keep you both on the same page. It emphasizes the transformative and deliberate step you are taking as you begin your own unique family—taking the tradition you've come from and making it your own.