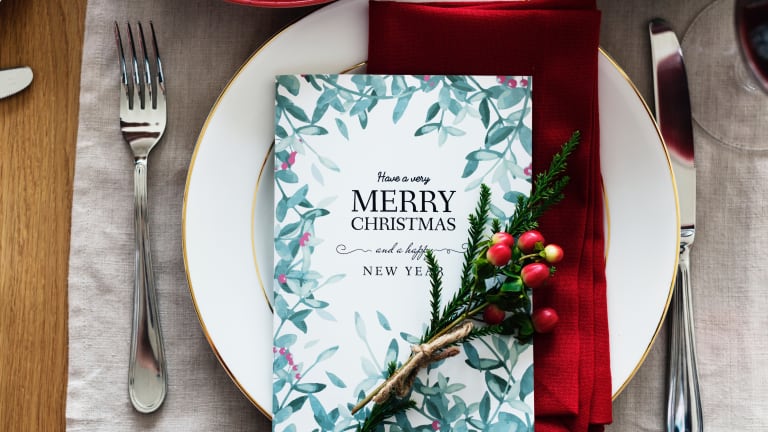 This is The Gift You Should Give Instead of Presents This Year
Some of the best presents we've ever received weren't actually gifts.
The gift-giving season, while joyous and generous, can also be fraught with complications and expectations—like affordability, RSVPs, and other gifting etiquettes. We take for granted that "it's the thought that counts," yet what we yearn for aren't pricey displays of affection—but gifts that make us feel truly heard, appreciated, and understood. 
Dr. Gary Chapman, the author of The 5 Love Languages, says that most of us tend to express our affection through one of five love languages. However, this doesn't mean that we can survive without the other four!
When you look back on this year, have you prioritized spending quality time with those you love? The answer is a wonderful way to inform your giving this Christmas, especially when it's tailored to the ways your family and friends feel most loved. Below, find inspiration on giving the gift of quality time according to each primary love language.
Physical Touch
Maybe your sister loves to snuggle while watching a movie, your husband never leaves without a kiss goodbye, or your best friend is a hugger. People who give—and receive−affection in a physical way are much more likely to feel appreciated when they can connect on a similar level. Instead of dropping cash on something to put under the tree, drop in on dance lessons that let you and your S.O. hold each other close, or schedule some girl time with a spa treatment.
Quality Time
In a culture that glorifies busyness, quality time is a scarce commodity. The ever-increasing pace of life especially takes a toll on the sensitive souls whose love language is primarily quality time. Maybe you know that your best friend hasn't had a date-night in a while; offer to watch her little ones while she enjoys an evening out. Think your mom has been missing her tribe? Plan an intimate get-together with your siblings and make her a dinner of family favorites. Your proposal for an opportunity to spend special time with loved ones goes far for those who are competing against a ticking clock. 
Words of Affirmation
Is there someone in your life who extols her parents' virtues, praises her nieces and nephews, or writes love letters to her significant other? Taking the time to pen a thoughtful note is more meaningful to your words of affirmation friend than most gifts that can be bought. Other ways to show you care? Round up favorite songs, poems, or a book that reminds you of the recipient. Thoughtfully communicating your sentiments with words (even if they aren't your own) is what makes this gesture particularly touching and memorable.
Acts of Service
From the dad who tunes up your car to the sister-in-law who drops off your favorite meal when she's nearby, these do-ers keep the world turning by lending a hand to those around them. Without being asked, they communicate their affection through action. All of those kind works keep them busy! Return the favor by providing some unexpected help that lightens their load; deep clean for your mom when she isn't expecting it, or tackle minor maintenance around your apartment to take the burden off your roommates. Not sure you have the know-how? Enlisting professionals to get it done (try TaskRabbit!) is still a gesture that shows you know how hard your loved ones are working. With the time saved, offer to embark on another project they've been meaning to do—and tackle it together!
Receiving Gifts
This person spends hours searching for just the right thing for everyone on her list. She's the one who remembers to send cards on anniversaries and birthdays. What makes giving and receiving gifts so special to this person isn't the cost or frequency, but rather the feeling that something has been chosen just for them. Think about the recipient's interests before you buy. Is she learning to cook? Choose a cookbook or a few recipes neither of you has tried, gather all the ingredients, and invite her over for an at-home lesson. Or maybe your guy is an aspiring photographer. Getting him a new piece of camera equipment (like this $20 Movo for taking seamless panoramic shots) and bringing him to the perfect places to test it out shows you've been paying attention. If it's unique to the recipient, you know they'll feel understood.