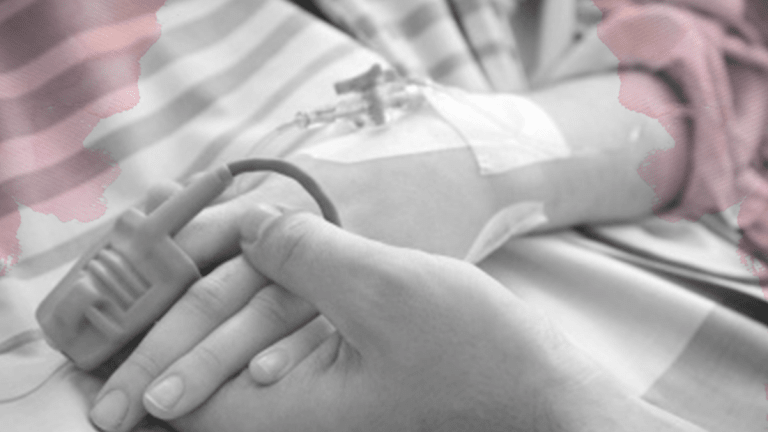 My Cancer Diagnosis Taught Me the Power of Vulnerability
And I'm reminded of this even more during the holiday season.
After her TED Talk in 2010 on the power of vulnerability, Brené Brown's theories about this enigmatic quality spread quietly but quickly throughout our collective conscience. "Because true belonging only happens when we present our authentic, imperfect selves to the world, our sense of belonging can never be greater than our level of self-acceptance," she has said. Although I knew of Brown's work and agreed with most of what she taught, I never understood the magnitude of vulnerability until earlier this year when I was diagnosed with cancer.
Some Eastern medical practices argue that the key to health is a positive mental outlook. My own doctor once told me that the fundamental cure for cancer isn't surgery or even chemotherapy; it's the conviction that it can be beaten. Faith like that, however, can't be created in a vacuum. There's no amount of yoga or meditation that can create a positive force powerful enough to destroy disease without your relationships.
On September 21, I was diagnosed with stage three breast cancer. I was confused, I was afraid, but I've never felt alone. My initial research confirmed my need for support and connection, so the first thing I did was surround myself with the people closest to me—taking my husband's advice that now was the time to be honest and vulnerable. I knew this meant possibly being hurt and shut down, but I knew it was what I needed in order to build a fortress of love and support as quickly as I could.
I knew I needed to be vulnerable to beat this.
When I was truly open and vulnerable, friends were willing to move mountains.
I must have made about seventy phone calls that first day, and who knows how many after that. I told people I had cancer, that I didn't know how bad it was, and that it was the most treatable kind. I repeated it over and over to almost everyone I knew until the diagnosis started to sink in.
But something else started to sink in, too. Friendship is one of the most powerful, humbling forces on the planet.
Before I knew it, I was accepting ready-made homemade dinners as friends knocked on my front door. Later that night, I soon found myself on my living room floor praying and talking with those closest to me. I didn't ask them to come in my time of need; they just came.
They sat with me in the dark and listened while I laid out what little information I had. Others immediately began researching all the stuff I didn't have time to investigate myself. As weeks passed by, I was astounded. From deliveries of juicing produce, to gift bags, to someone even sending a maid to clean before I started chemotherapy, I was overwhelmed, humbled, and supremely touched by the hundreds (yes, ultimately, hundreds) of people who have gone out of their way to make my journey easier. Between my husband and my friends, I never have to go to the infusion lab alone. Over the weeks and months, we've laughed, chatted, texted—and, yes, cried. Death and boob jokes are not only allowed but also encouraged as part of my treatment plan.
By letting people in, I recognized that they were being vulnerable in their sacrifices, too.
Almost two months in, I keep going back to love and vulnerabilty.
"This is what marriage is all about, guys." My husband, Brian, wasn't wrong when he said that before shaving off all my hair. But although our marriage is strengthened by these challenges, I've realized our marriage also doesn't live in a vacuum either. We don't just live for each other but for our family, our community, and our friendships.
Sitting in my apartment after my second round of chemotherapy, watching my hair fall out in clumps, was not the easiest thing I've ever done, but I know that I'm not doing this by myself. Even though my body is the one with cancer. Brown has said, "Authenticity is a collection of choices that we have to make every day. It's about the choice to show up and be real. The choice to be honest. The choice to let our true selves be seen."
The healing strength of positivity comes from the real relationships, rooted in love, that require sacrifice. And true sacrifice always requires being vulnerable. Real human beings have invested in my life: with food, with time, with open hearts. You see, when you have cancer, people do look at you differently. I know it's not just my bald head—it's just that people don't know what to say or how to act. They clench up. And, I get it. But it's the people who push past the awkwardness and allow themselves to connect with me on a deep level who brighten my day. They boldly ask questions. They comfort without asking for anything in return. Essentially, they're vulnerable, too.
One of my first days back at work after losing my hair, a friend asked to see my head. It was a vulnerable moment for me—and for her, too—but it was a moment I really needed. I realized that I didn't just need to be honest, I wanted to be honest; I want people to see all the easy and difficult moments, as it brings everyone closer. 
Every holiday season, I'm inspired to reflect on the things I'm grateful for. This year, I certainly am grateful for smaller tumors and medical advances—but more than that, I am constantly grateful for the people in my life who are working to make this journey easier by responding to my vulnerability by being vulnerable, too.