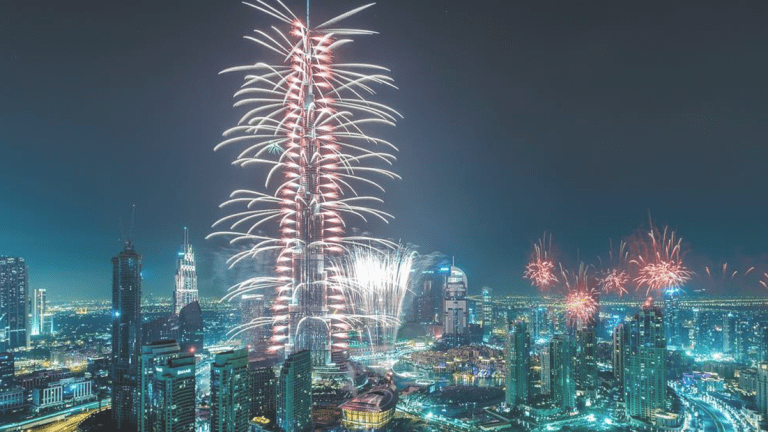 5 Stunning Cities Around the World Where We Wish We Could Ring in the New Year
Wanderlust-worthy proof that Americans aren't the only ones who know how to throw a fabulously Instagrammable fête.
There is no better window into another culture than to watch how it rings in the New Year. From Brazilian's all-white outfits to our very own Times Square Ball Drop in New York City, each celebration has its own local flavor that is unique from our familiar "Happy New Year!" excitement. If money, time, and distance were no object, here's where we would be spending New Year's Eve this year:
سنة جديدة سعيدة in Dubai, United Arab Emirates
Dubai holds one of the most famous New Year's Eve celebrations in the world every year with a spectacular fireworks show, but consider that a gross understatement. This year, they are announcing a "never-before-seen" spectacle and replacing their traditional fireworks display with a blazing light show along the 2,722-foot Burj Khalifa, the world's tallest building to date. What a thrill to be in that crowd!
Bonne Année in Tignes, France
Imagine watching the city below explode into New Year's cheers from the top of a ski lift over Tignes, France. Tignes is a group of historic villages in south-eastern France that boast a famous ski resort in the French Alps near the Italian border. Every year, the resort turns into a festive open-air nightclub with music, dancing, and, of course, fireworks to ring in 2018.
Feliz Ano Novo in Copacabana, Rio de Janeiro, Brazil
The party is on the beach in Rio de Janeiro, Brazil where they hold their unique annual New Year's celebration called Reveillon. Everyone wears white to symbolize the peace and prosperity they hope for in the new year. Local music, dancing, and partying on the beach goes on until the wee hours of the morning. A spectacular fireworks show is held over the ocean as the clock strikes midnight. ¡Ay, caramba!
Bliadhna Mhath Ùr in Edinburgh, Scotland
Just like the Gaelic language, the Scots celebrate the new year and the coming of winter in an other-worldly way. Castles, bagpipes, candlelit concerts, street parties, gigantic torchlight processions, and 4.5 tons of fireworks? We're itching to hop on a plane to take part in Edinburgh's famous New Year's celebrations. There is so much to do that it takes three days to ring in the new year Scottish style—they call it Hogmanay and it begins on December 31st through January 2nd! We wish we could have three public holidays to celebrate 2018 too.
Happy New Year in New Orleans, Louisiana
For those who appreciate a warm New Year's Eve stateside, we're dreaming about visiting New Orleans to watch the famous Fleur de Lis drop in Jackson Square. Then we would make our way over to Bourbon St. to catch the famous balcony parties, music, and dancing that the French Quarter is known for over the holidays (not just Mardi Gras)! And of course, we couldn't leave without stopping for some smokey chicory morning coffee and signature beignets at Cafe du Monde to start the brand new year on a delicious note.