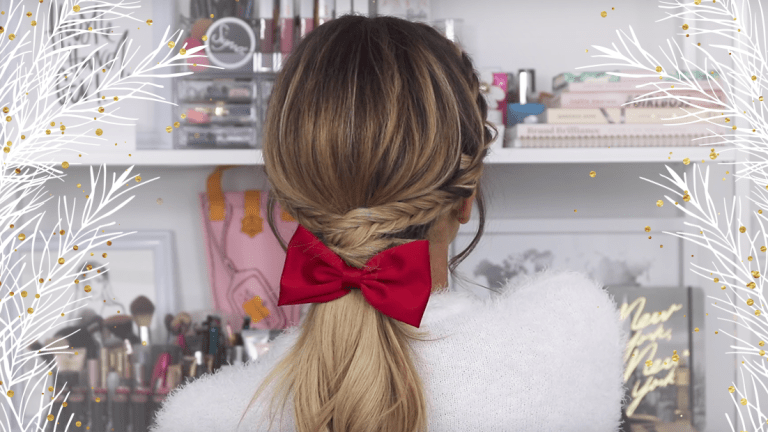 Forget Buying a New Outfit—Try These 7 Holiday Updos That Will Upgrade Your Look
Look fancy without spending a dime.
'Tis the season for holiday parties and family get-togethers, which means getting dressed up more than we're used to. The pressure to buy a last-minute party outfit is real, so instead of dropping more cash this holiday season, try a hairstyle that will do all the work for you.
A stunning updo can transform any basic ensemble into a regal nighttime look, which is why we've rounded up the best tutorials for any holiday event on your calendar. No matter how experienced you are at executing updos, we've got a look just for you!
For the Low-Maintenance Girl
If you love a fancy updo but aren't a fan of the effort, this tutorial from Abby will help you create a sophisticated look without the hard work. Just twist and go!
For the Girl Who Likes Hair Accessories
Perfect for more casual Christmas parties with friends, Ashley's adorable updos show you how to add accessories without looking too young.
For the Girl Who Wants Options
Ideal for the girl with too many holiday parties and not enough time, Kayley has an updo for every holiday party you could ever anticipate.
For the Sleek & Simple Kind of Girl
If sleek and simple is how you approach any formal event, stick to a polished ponytail that highlights all your features. Dacey shows us exactly how to keep this look secure all night long.
For the Bohemian Braid Lover
While some of us prefer the sleek look, the rest might like something a little more romantic and free-flowing. This bohemian half-up hairdo with a fishtail braid and loose curls by Jackie has us feeling all kinds of festive.
For the Girl Who's Not Scared of a Challenge
If you face even the most complicated hair tutorial with determination, we think Milabu's intricate braided updos will be right up your alley. Your family and friends will be impressed with your skills, to say the least.
The Girl Who Wants to Master the Basics
There's absolutely no shame in not being a hair tutorial pro. Most of us are just looking to master the basics, so if you want to conquer the feminine topknot, look no further than Camila's classic bun tutorial.