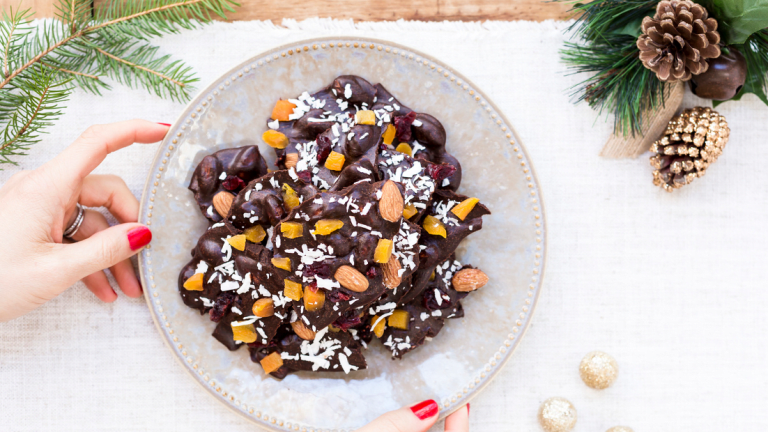 Holiday Etiquette You Should Definitely Learn Before Your 30s
During the giving season, who do you tip, and who can you skip?
Ah, the winter holiday season for ugly sweater wearing, party hosting, and fumbling for the proper greeting. We love this time of year, but holiday etiquette can get confusing. As we juggle the influx of invites, family reunions, office festivities, cultural traditions, and gifting decisions, we often have to stop and think, "Am I doing this right?"
Whichever way you spread holiday cheer, we figure a good goal would be to master these must-know, expert-recommended etiquette standards before you turn 30 (or ASAP) to celebrate free of faux pas.
Respect All RSVP Deadlines and Host Requests
It's important to honor the wishes of the host or hostess who is putting in lots of time, energy, and love to prepare and host a festive gathering. This means observing a list of "don'ts": Don't RSVP past the host's deadline, arrive unfashionably late, or overstay your welcome. Arrival etiquette can depend on the type of event, whether it's a drop-by buffet, a seated dinner, a white elephant gift exchange, a volunteer activity, or drink reservations. If it's unclear whether there's a hard start or end time, it is your duty to ask. Party planning is stressful enough, so be a respectful guest by following the host or hostess's wishes—dress code included. And when it comes to plus ones, don't assume it's OK to bring along your significant other. Etiquette and manners expert and author Diane Gottsman explains, "Don't bring a plus one unless you have spoken to the host in advance."
Never Show Up Empty-Handed
You'll likely grace several parties with your presence, so you don't need to splurge on extravagant host or hostess presents. But do always bring along a hit hostess gift for the hard-working organizer. Something sweet and simple will do: homemade treats, a scented candle, a bottle of wine, holiday decor, flowers, etc. Sometimes a helping hand is the most appreciated—and most affordable—gift for a party planner! Even when the party-thrower insists on not needing anything, a thankful holiday card won't be unwelcome. And remember to be an engaging guest. Gottsman shares, "If your host asks for your help, by all means, oblige. If she says she's got the job covered, it's your responsibility to continue to be an interesting party guest." There is no better way to help your host than making their other guests feel welcome and at ease.
Set Expectations for What (and How Much) to Give
The art of tactful gift-giving is all about setting clear expectations. If your funds are tight, be honest about it. There's no shame in frugality! There aren't any widespread guidelines, so just have open conversations with your family, friends, significant other, and coworkers about what you're willing to do or spend. Quality time can be a more valuable gift than material things, so suggest an activity such as ice skating, hiking, or a game night instead. Playing secret Santa and white elephant is also a fun and affordable way to get everyone involved and limit expense. As Lizzie Post, co-president of the Emily Post Institute and co-host of the Awesome Etiquette podcast, suggests, "Stick to whatever you decide. Don't go above and beyond and then make the other person feel lousy." Finally, be aware of the rules of re-gifting as a frugal gifting option. Keep it as a last resort and make sure the recipient has absolutely no connection to the original giver.
Offer Tips to the People Who Serve Your Everyday Needs
Holiday tips are appropriate to thank those who are involved in your daily life but may not be in your personal circle. The Emily Post Institute team explains, "Tipping is an end-of-year cash gratuity to a service provider such as your doorman, hairdresser, newspaper delivery person, babysitter, or dog groomer, to thank them for their consistent and outstanding service." As a general rule, it's best to tip the full cost of one service: the price of one haircut, the cost of one day of dog-walking, or a normal babysitting shift's pay. If you don't feel comfortable giving cash, a gift card is totally acceptable.
Don't Skip the Office Holiday Party
No matter what your office dynamics might be, don't miss your team's holiday party. Etiquette expert Joy Weaver, author of How to Be Socially Savvy in All Situations, believes it's a mandatory holiday event. She shares that not going "shows disrespect for your company, supervisors, and colleagues and can be a career-killer." While there, make sure you're on your best behavior. Though you might get tipsy at your best friend's New Year's Eve bash, avoid overindulging on alcohol to prevent any career-limiting moves or rumors. Feel free to let the out-of-office side of you a little loose, but as Weaver advises, "It's just not the time to be over-served."
Educate Yourself About Other Holiday Traditions
Learn about the customs and practices of religious or cultural holidays different from those you celebrate. From Christmas and Hanukkah to Kwanzaa and the Chinese New Year, broadening your understanding will help you stay informed and sensitive to the different values and traditions of others. Do some research or just chat with someone to learn more about their culture's holiday practices. Mark the key dates on your calendar to know when the festivities start and end. This knowledge will also improve your holiday etiquette by decreasing the chances of unintentional tone-deaf salutations, gifts, or expectations. Don't be shy about sharing your own beliefs and traditions, too!