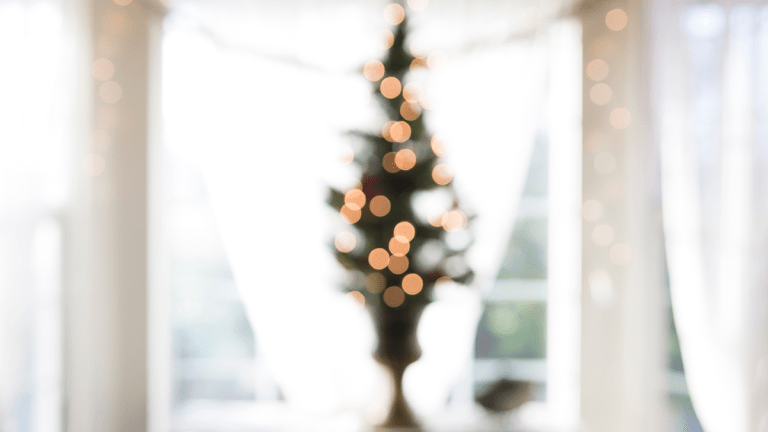 What I've Learned Navigating Grief During the Most Wonderful Time of the Year
You're not alone.
"Honey, I don't think this is going to work."
I watched as my husband gingerly stepped down each rung of the chrome extension ladder leaning precariously against our two-story home with a string of Christmas lights draped over his shoulder. I had hoped to join our mildly competitive suburban neighbors with a festive light display, but the daunting height had my husband clamoring for the safety of our asphalt driveway.
Much to his dismay, I began to cry.
But I wasn't emotional about yet another year without twinkling lights lining our roof line. I was actually thinking about my dad, who had calculatedly hung Christmas lights on our family home for years (and only ever fell down once). I knew that if he hadn't unexpectedly died last November, he would have casually scaled any height with my husband in tow to attach strings of lights underneath our shingles as one of the many acts of service he blessed us with through his fifty-six years.
During the holiday season, grief finds a way to squeak out in between the endless line-up of cookie exchanges, work holiday parties, and family gatherings. The pervasive feelings of loss and sadness follow grievers every day of the year, but the nostalgic, family-oriented foundation of the days between Thanksgiving and New Year's makes us more susceptible to grief's impact. It's supposed to be the most wonderful time of the year, but without a cherished love one, the magic of the holidays may feel out of reach.
My own experience and the welcomed guidance of others has shown me that the holidays can still be joyful despite sorrow. You just have to face it head-on.
The Elephant in the Room
During special events, it's impossible to forget that the guest list is one person less or there's one fewer place setting around the table. The holidays are steeped in tradition, and when the person who always carved the turkey, kept the party going into the late evening hours, or knew just how to secure the star on top of the tree is no longer there, the emptiness can be overwhelming.
Add in the stress of having multiple family members in one room, all with different quirks and personalities, grievers may feel tempted to cozy up next to a bottle of pinot rather than a well-intentioned, but misguided relative. (P.S. Overindulging when emotions are high is not recommended.) If grief has befallen your family recently, some may still be reeling from the loss, while others may be wondering why a death weeks or months ago has cast a shadow on the holiday cheer. It can be awkward to acknowledge the unwelcome elephant in the aptly decorated room, but I've found from personal experience that breaking into the casual small talk before hors d'oeuvre are served will usher in a more authentic and supportive holiday gathering.
Slate senior editor Gabriel Roth recommends that you get everyone's attention, and confront the issue head-on. Acknowledge the loss you're all feeling and that everyone feels anxious about facing the holidays in a new way. But be sure to add that you're looking forward to spending time with everyone.
We've historically done just that in our family, either with a personalized prayer or an impromptu dialogue like Roth referenced. This allowed us to break through the nearly impenetrable wall of uncertainty over what to say. We took the reins and called it out, acknowledging that yes, this is difficult (#understatement), but we're going to work through this together.
Triggers Under the Tree
Just like any time of year, grievers encounter daily triggers that usher in a wave of emotion, sometimes expected and other times completely unpredictable. Certain songs and maybe even some movies are infamous for prompting memories and sadness. But more mundane things can also sink our spirits as we're reminded that our loved one is no longer here. It can be difficult to emerge from these moments and re-enter into forced conversation about the homemade pecan pie or your niece's potty training progress.
"Grief is in two parts. The first is loss. The second is the remaking of life," said writer Anne Roiphe, whose husband died from a heart attack after 39 years of marriage. Coping with the immediate loss is only one hurdle. Navigating through a life that's been forever changed, including an endless string of emotional triggers, is another.
The ability to recognize these triggers gets better over time, but they will always exist. For me, seeing bubble wrap inside a package makes me think of my brother, Michael, who died at age 13. He loved pressing each and every bubble, showcasing a mischievous grin with every loud pop that left me, his older sister, rolling my eyes.
To anyone else, it's simple packing material, but to me, it's a lingering reminder, especially around the holidays, of someone I lost and still love. So if you see a friend or family member getting teary-eyed over "A Charlie Brown Christmas" or your grandma's beloved mashed potatoes, resist the urge to raise an eyebrow and extend your arms for a hug.
A Season of Picture-Perfect Expectations
At the core of the holiday season, buried deep beneath the layers of sugar cookies and almond bark, lies the stark contrast of what the holidays should be and what they really are for grievers. Every gold-trimmed holiday card, perfectly-filtered Instagram pic or Christmas-morning Snap reminds us of the seemingly perfect, complete families. We all know that in reality, the angelic newborn likely had a massive diaper blowout only moments after the expertly posed photo or that later that day, the parents bickered over how to properly prepare the traditional ham. But they still have each other, while we're left with personalized stockings that go unfilled.
Many grievers expect the holidays will be miserable as they cope the loss of a loved one, but in many cases, they're not, according to research. We're resilient after all, and chances are, you'll be able to see past the edited perfection of the season and embrace the imperfections of a life that includes loss. The positive memories and experiences will win out over the negative ones more often than not, and when they don't, the tears will serve as a reminder of a love that continues on.
You'll find a new person to decorate the tree with. You'll enlist a handy neighbor to string lights on your roof. Maybe you'll opt out of the traditional holiday meal altogether and order pizza instead. It's your grief, and unlike your loss, you're in control of how you press forward through the tinsel and wrapping paper, the awkward family games and gift exchanges. Life is forever changed after a death, but just like Christmas, there's hope in something new, a birth of new memories and traditions that honor the legacy of those that have gone before us.