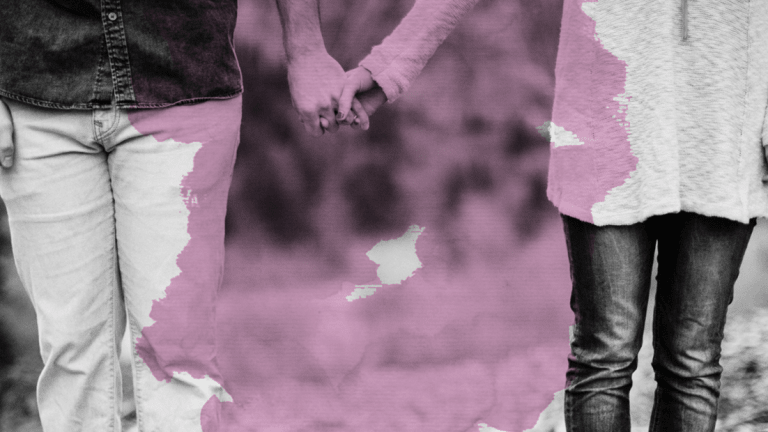 Our Miscarriage Forever Changed Our Marriage—Here's Why
What psychologists call 'cellular memory' reminds me of what we don't have—and what we do.
As a holiday person, the season of giving, good tidings, mistletoe, and really obnoxious bright lights, is always a sheer joy to me. But inevitably, in those rare moments of quiet—when I'm drinking my morning coffee and looking at the stockings over the mantle, I will find myself awash with grief, reminded of the child I carried for three months and never met.
What happened six years ago left a permanent mark on, not just me, but also my marriage. It's a wound that many couples struggle with in silence. But for us, somehow, it has only made our relationship stronger.
It was a bit of a trial at first, but here's how we've allowed our loss to transform our marriage.
We discovered that our loss is a physical phenomenon I will experience on a very visceral level every year.
When the two-year January anniversary of our miscarriage approached, the tension in me built without my awareness. At this point, we had welcomed another baby into our family, so this was the first anniversary that my brain wasn't eclipsed by newborn baby feels (and exhaustion)—making it the first time I could really grieve on the anniversary of the loss of our little boy, Ethan.
And it surprised me. After all, we'd been in a good place since our youngest was born. We both knew that this child did not replace the one we'd lost. So why was I feeling these emotions of grief all over again? At first, I blamed it on the holidays, but I've actually since learned that it's more than that—and it has a name. Psychologists call it "cellular memory," a phenomenon in which our bodies remember something that isn't at the fore of our minds.
As Megan MacCutcheon, LPC, writes for GoodTherapy.org, "The day you lost a loved one, found out about a betrayal, or experienced some event that made you feel as if your world was crashing down gets imprinted in your cellular memory, and you may find yourself feeling especially vulnerable on the anniversaries of these events." This describes my experience precisely.

Yet my husband doesn't have the same memory. So again, just as I had to explain my emotions when we first lost our child, I had to explain yet again on this second anniversary why I'd disappeared into our room to cry.
This time, around, though, we were more equipped for this bout of sadness. Our communication has become more open and honest since the miscarriage. We now understand that grief comes in waves—and often when you least expect it.
We learned that it's OK to grieve differently.
My husband didn't experience our loss the same way I did, neither initially nor as time passed. After all, he had no physical comprehension of what we lost. I, on the other hand, had wonky technicolor dreams every single night, was often nauseous during the day, and, had to consciously pick out different clothes in anticipation of my growing belly—and then again when the pregnancy ended too soon.
When the miscarriage first happened, saying I was "so sad" didn't seem like enough, as words rarely do grief justice. Of course, my husband was also sad for our loss, but as time went on, he was more concerned about what this sadness meant for our marriage. I had changed more noticeably than he had, and it was unclear how things would be between us going forward. What had happened to the woman he married?
He didn't understand, and I had a hard time explaining. Turns out, we're not really alone in this. But instead of staying befuddled at each other's reactions, we tried to empathize.
Each year following, I've found that every anniversary has been different. I always experience a sense of anticipation as the calendar page turns. How bad will is be this year? Will it hit hard right away, or will it be a more gentle remembrance—a small acknowledgment from loved ones, a bit more time spent in prayer, a quiet day when the true anniversary comes to pass? And most importantly: how will we deal with it together?
One year, I thought he had forgotten. I was upset, only to discover that he'd been thinking about me and praying for me all day. I reminded him I wouldn't know that unless he told me. So the next year, he brought me flowers. When he handed them to me, he said softly, "For Ethan's mommy."
This experience made me accept that he wasn't going to cry or outwardly struggle like I did. It didn't mean he didn't love me or our child; rather, it was a reflection of his temperament, of the easy-going, peacefulness that I loved about him in so many other situations. He had made as much sense as he could of the loss and was ready to move on. He, however, was beginning to learn that I didn't operate the same way, that I would have to find a new normal, rather than getting back to normal.
We discovered the power of empathy.
The numbers aren't exact, but anywhere between 10 to 25 percent of pregnancies end in loss, making miscarriage a socially significant health issue that an incalculable amount of couples face—a hushed issue point of contention that, statistically speaking, even increases the chances of separation or divorce. A recent University of Missouri study shows couples who intentionally practiced empathy, or what the study refers to as "communicated perspective-taking," were able to cope with the loss.
Technically, we didn't know anything about this "communicated perspective-taking," but in retrospect, it describes what we did, and perhaps explains how our relationship surmounted the many misunderstandings and sadness the miscarriage caused. And while it took some serious and painful conversations to move forward, eventually, we learned to acknowledge that we were handling the loss differently—and that we shouldn't expect similarities in what the other was thinking or feeling. In giving each other that space, we could cope more thoroughly as individuals and support each other better as a couple.
In reality, we're still working on how to deal with the pain—and maybe we'll never find the perfect remedy. What I've found is that talking with my husband ahead of time, reminding him that the day is approaching and I don't know what it's going to be like, allows us to handle whatever we feel with more grace and understanding.
Our lives continue, but we'll always remember—each in our own way.
This year, six years after the miscarriage, I am expecting another child, another boy, the week of our sweet Ethan's anniversary. Part of me doesn't want the anniversary of one child's loss to be the same as that of another child's birth. I want them to stay separate, to be distinct moments. Maybe it will happen that way—but I know that life isn't always that streamlined or tidy.
Trying as it has been, our marriage is stronger now than it was before, because we've discovered parts of ourselves that we wouldn't, had we chosen to face the sadness in isolation. We've come to love one another more deeply. And we've come to respect our differences and recognize the things we love about each other in them.
Through merely being present with each other, all kinds of experiences are bound together in marriage: joy and pain, life and loss. There's very little we can control, and a whole wide world of things we cannot, but I am learning to accept this more through the calm assuredness that I see in my husband—as our love continues to give us meaning and hope.