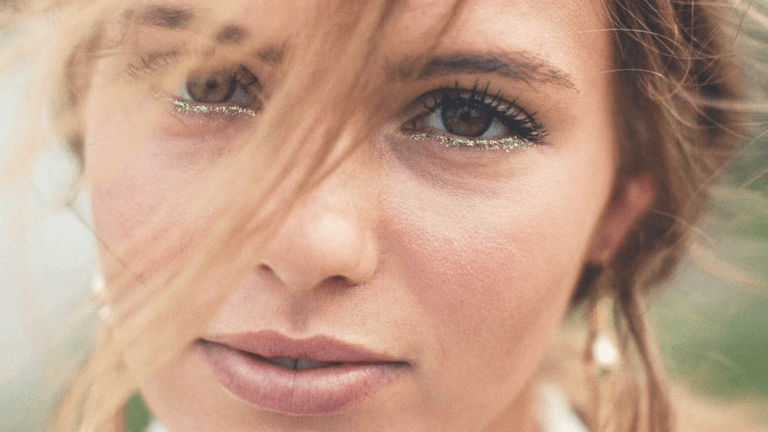 Glittery Eyeliner Is Going to Be Your New Favorite Simple, Feminine Makeup Look
Trust me—I tried it for a month!
Not since I owned a Caboodle have I given serious thought to the idea of glitter as makeup. But guess what? Caboodles are back—and for the past month I've been wearing glitter eyeliner nearly every day. I don't mean the cult-followed Urban Decay liners or some other subtly flecked product—I mean the real deal. Specifically, I've been using Revlon's Photo Ready Eye Art in "Topaz Twinkle." It looks more like a nail polish applicator than eyeliner, and you literally paint it on your eyes. It dries into a film meaning you wont be finding rogue flecks all over your face or in your eyes.
I can imagine the word springing to your mind right now is probably "tacky," but hear me out. A sparkly enhancement isn't as childish or costume-y as you might think. Especially on the bottom lash line, this makeup trick is a surefire way to make your everyday look ultra-feminine and ethereal. I've worn it to dinners out, to parties, and, yes, to work. 
At first I feared it was too much. Surely I look like I belong on stage or as an ornament on the Christmas tree, I thought. But slowly I became totally comfortable with it, and I have grown to love it as a really quick way to brighten up my face. (Not to mention all the compliments I got from people!)
Of course I'm not alone. Glitter has been having a moment for a little while now, from the runways at fashion week, to the hype surrounding Rihanna's Fenty Beauty Galaxy Collection, to Pinterest, which saw a 700-plus percent increase this year in people searching gold or glitter eyeliners. It's not just for the holidays—and it's not just for the daring. 
If you're feeling skeptical and thinking, "I could never!" well, you can. And for a little inspiration, check out New England blogger and Instagrammer Sophie Schumacher. Her glitter looks will have you seeing stars in no time!