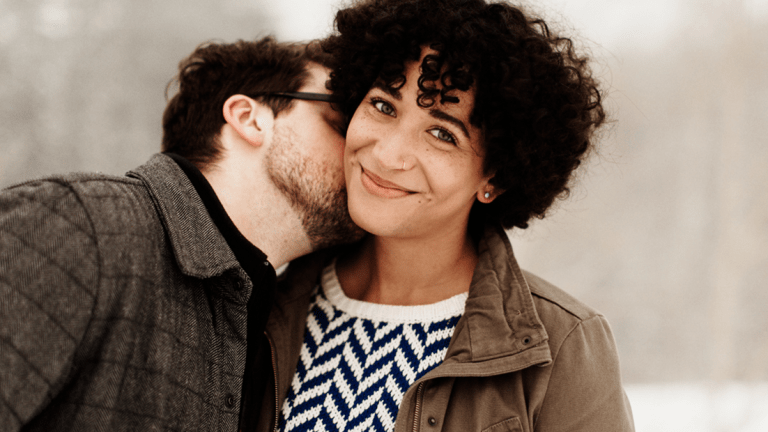 Real Women Tell Us How They Knew He Was Worthy of a Second Chance
Maybe he was just pulling a Mr. Darcy (in a bad way).
So he's in your life—again. Part thrill, part dread, part weak-in-the-knees. The tornado of questions swirling inside is about to take you down: Will things be different? Will I regret giving it another go? Will it hurt even worse this time around?
When there's a rocky history in a relationship, it can be hard to discern if there's a future. As the poet Steven Javan Jones writes, "Love can sometimes be magic, but magic can sometimes just be illusion."
While at times we know deep inside ourselves that a relationship just isn't right, there are occasions when we really can't quite tell. Sometimes giving it a second chance is worth it. So I spoke with women on how they instinctively knew their guy was worth a second go—and why they're happy to have reopened the door.
01. When he took full accountability for his mistake.
Fresh out of college, Cindy and Steve lived two hours apart. They normally visited each other on the weekends due to the distance. One weekend, Cindy planned to surprise him by popping in, but he surprised her instead by being with someone else. It was six months until they spoke again, when Steve gave her a call. "I was so mad at him," Cindy remembers. "But he was completely devastated."
Taking accountability and apologizing for his mistake, Steve expressed how he'd been wrong and how deeply he felt for Cindy. "We had such a strong connection—one unlike with anyone else. I always felt so alone when we weren't with one another," explains Cindy. They rekindled their relationship after Steve's apology and paid closer attention to their relationship going forward—building strong lines of communication and ensuring needs and wants of both partners were expressed. "We became a lot closer after going through all of that." And, they're definitely still going strong: Cindy and Steve have been married now for almost 40 years.
02. When he showed me there can be sparks in a stable relationship.
Having exited two relationships that each had a steady supply of romantic highs and lows, Catherine felt a bit uneasy about her new jolt-free situation. "The previous relationships I'd been so attached to had been emotional roller coasters. I was regularly reduced to tears. I never really knew where I stood."
After dating Matt for a few months, Catherine realized she was at an impasse and pulling back from him. "I wasn't sure if I could stay in a relationship that lacked the kind of tension I'd grown accustomed to in the past," shares Catherine. When she brought this to his attention, set on calling things off, he responded: "Well, you can do what you need to do, but I think I'm a catch." His reaction made her perk up. "He'd never really been one to talk about himself, but this time he responded to my doubt with a sexy self-confidence." She now wondered: "Who was he? Why did I think a few months was enough time to know all there is to know about him? What part was I playing in this perceived lack of romantic chemistry?
Catherine decided to keep asking questions and keep dating him. She shares that their relationship is remarkable, but the sparks that they've since built, are based on something stronger than doubts and suspicions.
03. When he was filled with remorse and wanted to repair the relationship.
"My husband and I briefly separated years ago," shares Diane. She was hurt and angry after she found out he was sneaking time with a friend and moving toward an emotional affair. "It hurt worse because I'd just been through cancer treatment and was overwhelmed by that and caring for our 4-year-old daughter." Her husband suggested counseling. "Even if our marriage didn't survive, we still had a child," Diane realized, so she accepted his invitation.
Through counseling, Diane found she'd really missed the connection they once had. "I wanted to talk to my best friend about everything I was going through and realized that it was him. With cancer, I was afraid of what might happen to our family if I didn't survive, so I turned to a different friend for support," she explains. "[His] reaction of feeling neglected was childish and hurtful, but he took full responsibility for his actions and never shied away from being honest with me. I actually had to curb my empathy for him because I completely understood what had happened to us." Diane and her husband stayed together, and are open and honest with each other—just like they were before. "We don't let hurts build up and we respect that we can't always be everything for each other."
04. When he demonstrated he changed (without any prompting).

Brittany was adamant she didn't want to date her ex again. "The first time around, he rarely focused on me," she says, "and it was draining. He tried to convince me for seven months to get back together then realized I wasn't budging, so he started dating someone else."
But one night, while hanging out together with a group of friends, he told the person cooking the meal to make sure her steak was well done because she can't handle blood on her food. He also asked someone else to stop smoking (she's allergic to cigarette smoke). He did this all without her saying or doing anything. "I suddenly realized that he actually had changed and was capable of considering me," remembers Brittany. "It was kind of like being struck by lightning. I wanted to give it another shot." She waited until his other relationship fizzled out before telling him. That was six years ago; they've now been married for three.
05. When he thoroughly impressed me with his sheer persistence.
Verily's own lifestyle editor, Krizia, and her husband, Francisco, had a crazy, yet picture-perfect beginning that would honestly give rom-coms a run for for their money (seriously). It was an unlikely start, but a sweet slowly growing affection—and then, BAM. He leaves for a trip. "He asked me if it would be OK to see his ex-girlfriend while he was there. Without a thought, I said sure, why not!" But Krizia was missing two pieces of information: One, she had no idea that they had broken up not long before she and Francisco had met, and second, she had assumed seeing his ex-girlfriend would be like seeing an old friend. "Then he emails me—EMAILS me—that they decided to get back together, and he's so sorry and that he hoped we could be friends."
Krizia was crushed. "I ended up telling him that no, I couldn't be friends because I really liked him and he clearly hadn't been honest with me. And I said maybe someday we could be friends but not now."
Well, a year later, that someday came. Turns out the rekindled relationship with his ex-girlfriend didn't last very long. So when they bumped into each other (they just so happened to live a few blocks away from each other in Manhattan), they decided to give their friendship a shot. And over the years, they grew to be a part of the same social circle—much to Francisco's efforts.
While initially, he thought all chances with Krizia were blown, overtime—we're talking years—he discovered he was in love with her, and his emotions weren't going anywhere. After several declarations of serious intent (to her, as well as to their now-mutual friends) over the course of months, Krizia realized that perhaps, maybe, this time around, he was worth the risk.
"As I cautiously let my guard down, I had to tell him, 'Listen, if you mess this up, that's it. This is it,'" she explains. "He's never ever, ever wanted to leave me since."