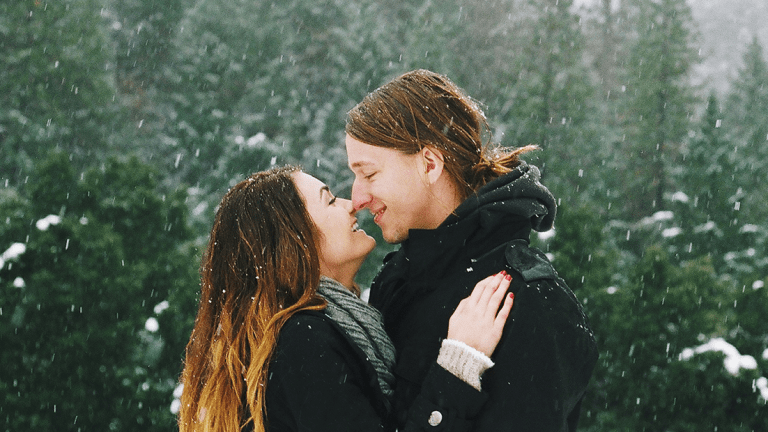 The Best Ways to Tap Into the 5 Love Languages Before the Holiday Crazy
Feeling disconnected? Dr. Chapman has your back.
The holidays are a lovely time for romance. I picture myself flitting in and out of shops as the "White Christmas" melody drifts through the streets. I buy heartfelt gifts for loved ones and return home to snuggle by the fire with my sweetheart.
Yet the reality is always a little different, somehow. There's more rushing and budget-checking and looking at my husband across a room of relatives, wondering how long it's been since we've talked. The holiday bustle can quickly turn into the holiday crazy.
Perhaps, then, this just means there's no better time than the holidays to work toward greater intimacy as a couple. One great tool for kindling romance is Dr. Gary Chapman's Five Love Languages. The following are ideas to help you speak your guy's love language and feel more connected than ever this holiday season.
Words of Affirmation
Verbal expressions of admiration, pride, encouragement, kindness, and love communicate your affection best to a words of affirmation guy.
Write a thoughtful note. Tell him why you're thankful for him, and be specific! Slip a note in his suitcase or leave it on his pillow for him to read in a quiet moment. When you exchange Christmas gifts, include a card telling him how he has made your life more wonderful this year.
Praise him in front of others. At your holiday gatherings, praise him in front of your families. Bring up a success at work or mention how he's such a good husband, dad, or boyfriend. He will probably light up like a Christmas tree. If you're apart for the holidays, a few affirming texts will send him floating back to the dinner table.
Words are all-powerful for this guy, so as much as you can, be direct, be specific, and be personable. "Gosh, you're smart." "I love to walk into a room with you so that everyone knows you're my guy." "I really love you." If it feels awkward for you, just remember that it's heaven for him.
Quality Time
If this is your guy, you may have noticed his heart beats a little stronger when you do something together. Little adventures and fun activities make him feel bonded to you. Between holiday gatherings, set aside a time to go to a football game, go ice skating, attend a concert—whatever you know he'd love.
Choose activities that encourage conversation. Think about creating moments to connect when you talk. Making dinner or going for a snowy walk without TV or phones will give you a great opportunity to check in. This will be especially important when you find yourself inundated with relatives and gatherings. Slip out for a quick trip to the store with a detour for hot chocolate—perhaps your mother-in-law will happily take the baby, and you'll have a chance to reconnect. Win-win!
Make your gift a special moment. Try and focus on gift giving as an event, a special moment—light some candles and turn on your Frank Sinatra Christmas Pandora station. For the gift itself, consider an activity—a weekend trip to explore a new city sounds fun, or maybe a gift certificate to his favorite restaurant. He can hold your hand and take you on an adventure.
Acts of Service
If you have an acts of service man, he feels your love best when you do thoughtful and kind things for him. A little favor goes a long way. Be especially in-tune to him when things get stressful during the holidays—your acts of service will fill that love tank and fuel the romance.
Fix a special dinner. I don't know any man who doesn't love dinner; try making him one of his favorites, even if it's labor-intensive and even if you're busy.
Clean his car. Does he love a clean car? Wash it and fill it up with gas before a road trip to see relatives.
Take on one of his least favorite errands. On a Saturday morning, stop what you're doing and ask, "What would you like to get done today, and how can I help?" Maybe you head to the mall to help him finish his Christmas shopping.
Offer a back rub—and don't ask him to reciprocate. Let's face it, a back rub is work . . . but receiving one is a special treat. Roll up your sleeves and let him know this deep tissue massage is on the house, no need to return the favor (at least for now).
Physical Touch
The nice thing about having a physical touch guy is that showing him love in his preferred way mainly takes awareness—and doesn't take much time at all. When you find ways to physically connect with him throughout the day or at a party, he feels secure in your love.
This love language can be a little hard to speak when you're spending multiple days in a row among friends and relatives when it just wouldn't be appropriate to nuzzle on the couch. But you can be savvy. Brush against him as you pass him in the kitchen, put your hand on his back as you talk to his grandma, claim a spot next to him at the table, and create opportunities to touch. On the drive from his parents' to yours, hold his hand and play with his hair. Maybe along with your Christmas gift, include a coupon for a massage from you. And remember, physical touch isn't just about being sexual—there are so many other ways to communicate love.
Receiving Gifts
'Tis the season of gift giving. However, that doesn't mean he automatically will feel loved just because he's opening presents. For this kind of guy, what really matters is the thought behind the gift you give. The gift itself is an expression of love, a tangible "I love you and was thinking of you."
Give when it's not expected. Get creative during the crazy times, and don't feel like you have to spend a bunch of money. Sneak a bag of his favorite Christmas cookies into his work bag with a little note: You are sweet! Make a quick homemade card that simply says I love you or a construction-paper ornament for his tree.
Be intentional. When it comes to the actual Christmas gift, don't skimp. Start planning now. Put real thought and love into picking just the thing. If you're short on cash, put together a box of mementos and photos, or create a scavenger hunt with little treasures. Make it unique—show him that you put effort into getting him something.
One of the best things about learning to speak your partner's love language is that you learn the value of putting him first. An added bonus is that he'll probably reciprocate. And that should really make for a fun, romantic holiday season, no matter the budget!