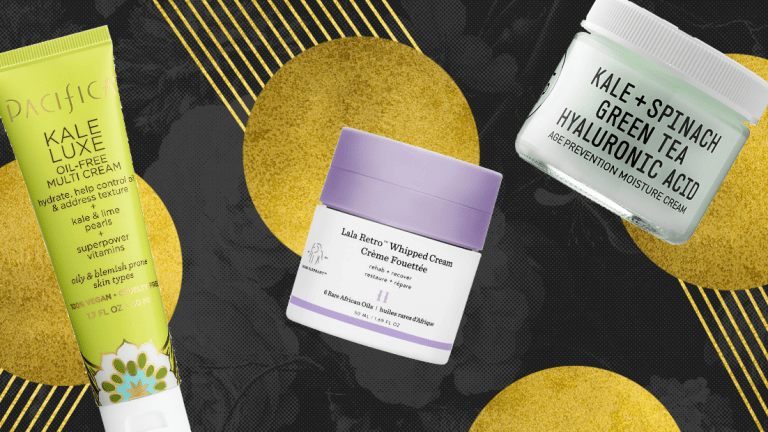 The Best Winter Moisturizers For Every Skin Type
Tight, dry skin? Find out which moisturizer is best for you.
The first day of winter is just around the corner, which means the indoor thermostats are up and the outdoor winds are bitter. Skin naturally becomes much more dry and dehydrated during these months, meaning decreased oil production and water retention. Excessively dry and dehydrated skin can also cause cracking, diminish radiance, encourage premature aging, and even inflame acne. Whether you have the symptoms of dry and dehydrated skin or not, your skin needs a moisturizer to combat the dry environment in order to stay healthy.
Finding the right moisturizer for your skin type is vital. Oftentimes, getting the wrong cream results in irritation, which can exacerbate or create skin problems. To find the right cream for your skin type, use the guide below, and your epidermis will be feeling (and looking) hydrated in no time.
If you have dry skin, you're familiar with an uncomfortable tightness and those pesky white flakes disrupting your day. This simply means your skin isn't producing enough sebum (oil). This is usually genetic, but many products that contain alcohol, such as exfoliants and toners, can strip your skin's natural oils. To replenish your moisture barrier, try these creams that contain noncomedogenic oils.
Option 01: Skinfix Nourishing Cream // $24.99
Skinfix promotes the use of natural ingredients in all of its products. The Nourishing Cream offers an intensely healing formula without synthetic ingredients that can especially irritate sensitive, dry skin types. Jam-packed with nutrients from rice protein, aloe leaf extract, macadamia oil, and shea butter, this moisturizer has a five-star rating along with rave reviews on Ulta.com.
Option 02: Glossier Priming Moisturizer Rich // $35
On the more affordable side of luxury price tags, Glossier's Priming Moisturizer Rich has been making waves beyond its cult following. With ceramides and fatty acids that help retain moisture in the skin as well as red algae that works as a natural humectant, this moisturizer also soothes redness.
If you have normal skin, you probably don't naturally struggle with excessive dryness in cold months or oiliness in warm months. The natural oil production on your cheeks, forehead, chin, and nose are the same. It's important, however, to find a moisturizer that maintains your skin's balance.
Option 01: COSRX Honey Ceramide Full Moisture Cream // $26
COSRX, a Korean beauty line that has made its way into the States, focuses on simple yet effective ingredients, and the Honey Ceramide Cream is no exception. Manuka honey is famous for deeply moisturizing without leaving any oiliness whatsoever. It's also super-gentle as it naturally fights bacteria, draws in moisture, and brightens.
Option 02: Drunk Elephant Lala Retro Whipped Cream // $60
Winning the highly coveted spot as one of Allure's Reader's Choice Award, Drunk Elephant's Lala Retro Whipped Cream is a cult favorite that blends six African oils to deliver intense hydration without the greasy texture. Also included are powerful ingredients such as green tea seed, an antioxidant boost for the skin, and sodium hyaluronate, a derivative of hyaluronic acid known to deeply hydrate and promote suppleness.
If you have oily skin, you definitely know it. Your skin produces excess sebum all over, resulting in a slick sheen that comes back quickly after wiping. The key to finding a moisturizer for your skin type is to avoid super-heavy creams and sticking to lightweight noncomedogenic formulas.
Option 01: Pacifica Kale Luxe Oil-Free Multi Cream // $16
This cream, made specifically for oily and blemish-prone skin, adds the perfect amount of hydration without adding more grease. The primary ingredients include aloe vera and kale, natural moisturizers that soothe and don't clog pores. To make it even better, this product contains natural alpha hydroxy acids, which improve skin texture and tone. This formula acts as a useful treatment for oily skin while also fighting off the effects of winter weather.
Option 02: Youth to the People Age Prevention Superfood Cream // $48
Another brand that's newer to the market and highly focused on all-natural products, Youth to the People uses primary ingredients such as kale, spinach, green tea, and hyaluronic acid to help balance, restore, and hydrate skin. The antioxidants included also help protect from environmental aggressors and pollution. The lack of comedogenic oils and butters make this cream perfect for people with easily clogged pores.
If you fight both dryness and oiliness, you probably have combination skin. This means some parts of your face produce excess oil, while other parts either lack or produce normal amounts of oil. Keeping your skin healthy is all about finding a moisturizer that targets all skin types.
Option 01: Derma-E Hydrating Night Cream with Hyaluronic Acid // $20
The goal is to hydrate your entire face without irritating any parts. Derma-E's cream is chock-full of vitamins and natural ingredients such as macadamia oil and green tea, as well as hyaluronic acid, which gently retains moisture for all skin types.
Option 02: Farmacy Honey Drop Lightweight Moisturizer with Echinacea GreenEnvy // $45
Again, honey-based products are ideal if you don't want to use anything too harsh or heavy on your skin. Farmacy is a brand especially known for its honey-based products. The Honey Drop Lightweight Moisturizer is strong enough to aid dry areas of the face but lightweight enough to sink in quickly without leaving skin oily.