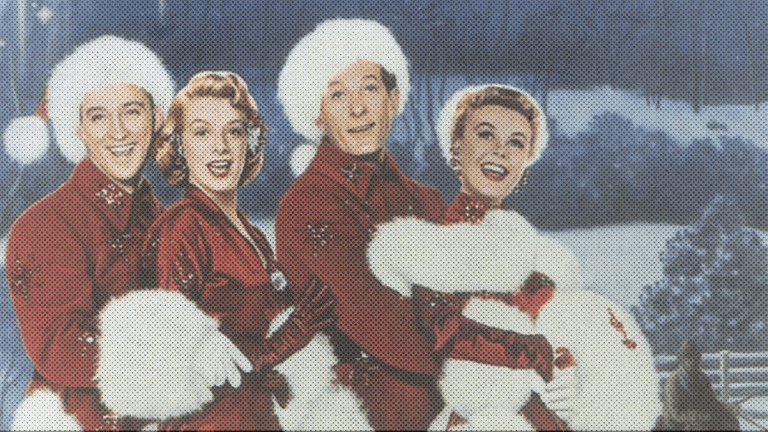 5 Old-School Holiday Classic Films to Stream Now
Because sometimes we just want the yuletide of yesteryear
There is something about the magical combination of the holidays and chilly winter weather that makes you want to curl up on the couch with someone you care for. Sure, drinking a warm beverage, snuggling under a soft blanket, or putting on a pair of those ultra-plush socks can help set a festive mood, but nothing punches up the relaxation quite like a carefully curated holiday flick.
Before reaching for reliable modern classics such as The Holiday or Home Alone (who doesn't love them?), try mixing up your regular queue this year with some old-school classics. You may be surprised to find that these festive (and romantic!) holiday stories transcend generations. For some inspiration about what to watch, keep reading.
It's a Wonderful Life
This beloved Christmas classic is in black-and-white, but the heart-warming story will have you experiencing every emotion in true color. George Baily, a deeply frustrated businessman, sees what his life would be like had he never existed. With the wintery season providing a festive backdrop, the heart-warming conclusion embodies what the holiday spirit is all about—learning to appreciate your loved ones.
Despite being more than 70 years old, the movie touches on the emotions we (probably) all feel this time of year: A deep sense of gratitude for the positive forces in our lives, as well as a desire to express one's true feelings. You may even itch for that classic Hollywood ending in real life after witnessing it on film.
White Christmas
Available to stream on Netflix and for purchase on Amazon and Google Play
Nothing says Christmas quite like a good old-fashioned sing along—and that's saying a lot, as much of the movie takes place without a flake of snow on the ground. When a song-and-dance team combine forces with a sister act to save a Vermont inn from failing after a particularly snowless season, some serious cheer (and a little love) ensues.
Sure, this classic movie's premise may sound a bit whimsical, but why not embrace it and have your own small-scale winter celebration in the comfort of your own home? Even if you have yet to experience this 1940s film, chances are you've heard its title song, "White Christmas" enough times to know its movie counterpart is going to be good.
Holiday Inn
Available for purchase on YouTube and Amazon
This 1940s classic hits all the right notes and lands every last step. And how could it not with with lead actors, Bing Crosby and Fred Astaire? Centered around a New York City crooner and professional dancer who go toe-to-toe to win the graces of a stunning and talented female performer on the rise, the flick exudes holiday cheer. The backdrop is a charming (and rural) Connecticut inn, but there are glimpses of New York City on Christmas Eve for good measure.
If you are looking to turn up your joy level, nothing works better than popping on a film that centers around song and dance. With just enough flirtation peppered throughout, the result is a sweet Hollywood ending that'll have you glowing like the lights on a tree.
Remember the Night
Available for purchase on Amazon
Who said that crime doesn't pay? If this more than 70-year-old movie is any indication, certain crimes may be absolved in the name of love, and of course, Christmas. Here a shoplifter and her prosecutor fall for one another in frosty New York City during the holiday season; it doesn't always make for a good relationship origin story, but it is undeniably romantic.
If you are feeling inspired by shopping this holiday season, and are maybe a little spiteful about some of the prices you've seen, this is the perfect movie for you. Besides, it may be a reminder that gift shopping can sometimes be full of surprises.
Holiday Affair
A very expensive model train set plays a crucial role in bringing a young war widow and a sales clerk together around the holidays in more ways than one. When Connie Ennis, a spy for a competing department store, is revealed to be snooping by a rival store employee, Steve Mason, it is a true meet-cute. But this is where the love story just begins for Connie, Steve, and her young son.
This 1949 film proves that love can spark in the most unlikely places when you least expect it. Despite starting off on a sad note, the story and ending do not disappoint if you are craving something that lightens the mood.