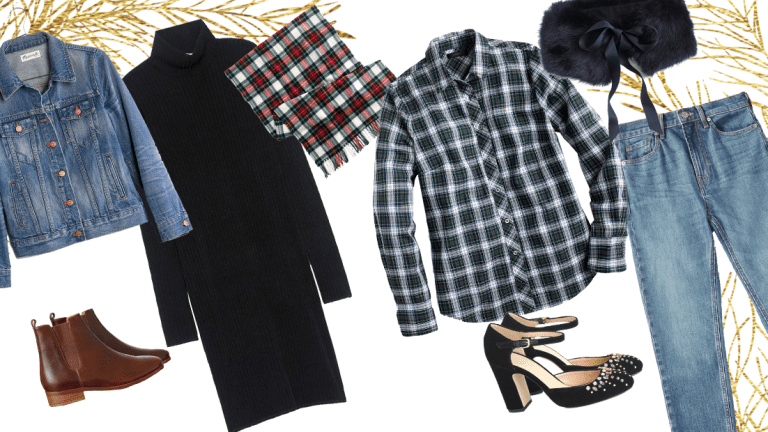 Forget Buying New Clothes—These Holiday Outfits Are Already in Your Closet
Three Christmassy outfit formulas with items you already own
After completing your gift list, decorating your home, buying tickets for travel, and hosting parties, it's safe to say we're all collectively broke at the holidays. So when those party invites roll in, approaching our wardrobes with new eyes and a creative spirit is vital if we want to avoid a trip to the mall. That's why we've come up with three basic outfit formulas based off of items typically found in the average wardrobe.
Knit Sweater + Pencil Skirt
Usually worn with jeans or something else within the comfy realm, the oversize knit sweater is actually an item that can be dressed up. The traditional white fisherman's sweater already has a more polished appeal due to its neutral color and ornate knit pattern. Pairing it with a pencil skirt elevates it to look even more sophisticated. A pair of heels and statement earrings are the perfect final touches to make this cozy winter classic ideal for a more formal party setting.
Flannel + Jeans
Now, who doesn't have a trusty pair of blue jeans and a comfy flannel button-down somewhere in their closet? If you don't have a plaid button-down, a plain white one will also do the trick. The key to making this formula look a little more Christmassy is to accessorize with much fancier items. Items such as a faux-fur stole, glitzy statement earrings, and a pair of heels will help create a casual-meets-regal outfit with a creative edge your friends will love.
Little Black Dress + Denim Jacket
A classic LBD is ideal for wearing to occasions that you're unsure how to dress for. The sleek color is versatile for any event, so you can easily dress it up or down. To make it a little more casual, consider throwing your go-to denim jacket over it to keep you warm. To make your ensemble even more comfortable, wear flat boots and tights. A festive plaid scarf is all you need to make this look holiday party–ready!