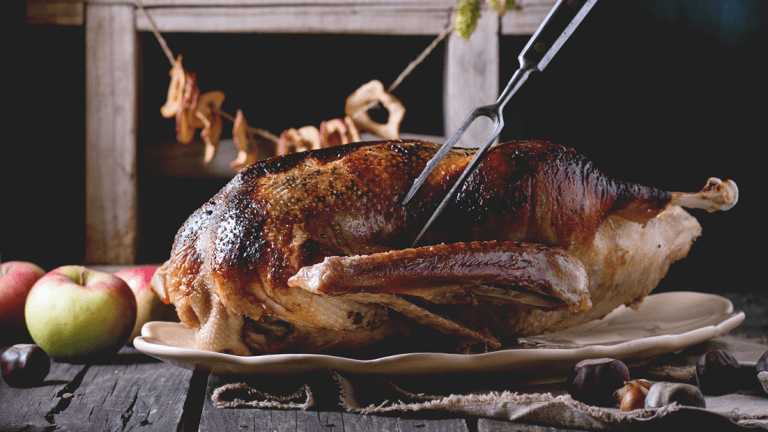 6 Thoroughly British Christmas Traditions Every Anglophile Needs to Know
Meghan Markle's first Christmas in the U.K. is likely to include some of these pastimes.
Seven years ago, my American husband spent his first English Christmas with my family, and a year later I had my first American Christmas with his in Pennsylvania. We both discovered, in our turn, that despite sharing so much common language and culture, there are some quirky differences between our two great nations that you only really realize when you spend some time together (and with each other's families) during the holiday season. And I don't just mean the strange looks Americans gave me whenever I wished them a "happy Christmas."
I can't help but chuckle when I think about another couple navigating the "special relationship" this Christmas, too; what will Meghan Markle be discovering about the way that the British celebrate as she gets ready to join the royal family? Here are a few things that make Christmas a truly British affair for me.
01. It's all about the food, baby.
We take the saying "Eat, drink, and be merry" very seriously when it comes to Christmas. At first I was very surprised to discover that Americans aren't quite as obsessed with food at Christmas as the British are; it took the experience of my first American Thanksgiving a few years later for me to realize that this is probably because you've all kind of burnt out on feasting a month earlier.
There are certain traditional staples that we all associate with the feasting of the season, some of which we've gained from our European neighbours: mince pies, yule log, roast goose, lebkuchen, Brussels sprouts, Christmas cake, Christmas pudding, mulled wine, spiced-ham, and panettone, amongst other things. It's not Christmas if you don't end up in a food coma, after all.
02. The carols are much more traditional.
Of course, American culture is so pervasive that we all enjoy the Crooners' classic Christmas songs, and I did hear a fair bit of caroling while I was Stateside for the festive season. But as lovely as that was, I found myself missing some of the traditional, old-English Christmas carols that I grew up with. These ancient songs often have rather a melancholy turn, but I think they're beautiful and add to the magic of the season. Some of my favorites include "The Coventry Carol" (this version is particularly heart-rending), "God Rest Ye Merry Gentlemen," "The Holly and the Ivy," and "Tomorrow Shall be My Dancing Day."
Attending a candlelit carol service in a beautiful old church is a true must of the season, and as the future wife of Prince Harry, I'm sure Markle will benefit from the finest the country has to offer. If you're not lucky enough to make it to a carol service in person during the Advent season, every self-respecting Brit tunes in to the Nine Lessons and Carols service broadcast live from King's College Chapel, Cambridge, broadcast annually to the nation via the BBC on Christmas Eve. It's a wonderful thing to listen to while you wrap presents and do some last-minute Christmas baking.
03. Oh, and then there are the pantomimes.
One particularly quirky seasonal British pastime that my husband hates with a passion is the pantomime: growing up with this Christmas staple, I'd never thought to question it until I met him. Every theatrical establishment, from schools and small local amateur theatre companies, to the biggest West End theatres in London, has a pantomime on at Christmas time.
A pantomime is basically a hilariously hammed-up take on a fairy tale, usually with some kind of festive twist; they always involve grown men in drag (playing some over the top comic role such as the Ugly Sisters), hugely inappropriate jokes that go right over the kids' heads, plenty of pop culture and current affairs references, gaudy and bright costumes, and A LOT of glitter. There's always a "He/she's behind you!" moment, a moment when one of the actors throws sweets into the audience, and lots of other kinds of audience participation; it's a strange, hilarious, rowdy bit of fun that you have to experience to really understand.
Personally, I think all Shakespeare scholars need to see a pantomime at least once in their lives to understand the comic, bawdy parts of the great Bard's plays; this cross-dressing, dirty jokes, rowdy audience style of entertainment is as old as the hills, and as an essential part of the British personality as drinking tea—maybe even more so.
04. Everyone watches the Dr. Who Christmas Special (even if you don't like Dr. Who).
There's one tradition that I'm not sure the royal family partakes in, and that's sitting down as a family to watch a TV Christmas special on Christmas afternoon. Christmas specials are episodes of popular TV shows that are made especially to be aired on Christmas Day; in the time of Downton Abbey, that was usually our firm favorite (we all still bitterly remember the rather un-festive Christmas special when Matthew unceremoniously died, enraging the nation), but another unmissable classic is Dr. Who.
There's a strange sense of community to it; you can practically hear the nation sigh with contentment as they settle into their armchairs, full to bursting, sleepy, and ready to be entertained. Personally, I don't even like Dr. Who (a show about a space-traveling Time Lord with ridiculous and hilariously low-budget special effects), but I have to admit it's fun to get into the community spirit and watch it with everyone else, just for that one day.
05. The British get a little pyro at Christmastime.
To outsiders, our obsession with setting things on fire and making things bang around the Christmas table is probably a little alarming, the first time you encounter it. But Christmas isn't Christmas without dousing the Christmas pudding in copious amounts of brandy and setting it on fire—it burns with beautiful blue flames for a few minutes and then dies out, before you all tuck into it with a generous dollop of brandy butter. For my first American Christmas, my mother-in-law very sweetly managed to hunt down some Christmas crackers so that we could all pull them and spend the rest of dinner wearing silly paper crowns and reading each other hilariously awful jokes.
06. And don't forget Boxing Day.
Boxing Day, the day after Christmas Day, is typically the day that you go visiting extended family or friends to wish them a "happy Christmas," walk off some of the Christmas food coma that you induced the day before, eat leftovers, and play board games. Traditionally, it's the day that the owners of businesses would treat their employees to a bonus, a good cut of meat, or some other kind of present; these days, it's also the British equivalent of Black Friday, with lots of shops hosting flash sales.
Are any of these Christmas traditions totally new to you? What are some of your own personal favorite traditions that are either unique to the place where you live, or to your own family? Whatever special Christmas traditions make your holiday season merry and bright, I hope they bring you a lot of joy this year and always.