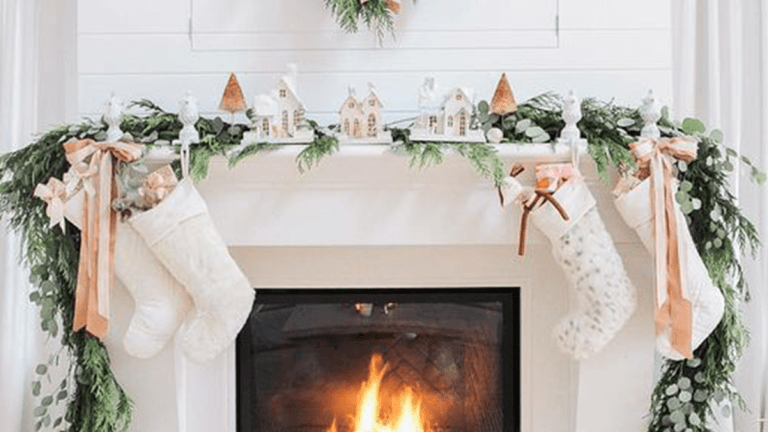 12 Stunning Holiday Fireplaces to Gush Over for Every Home Decor Style
Don't blame us if you start shopping for a faux mantel after seeing these beauts.
During the festive season, I'd argue the next best thing to decorate is the mantel above the fireplace (a close second behind the Christmas tree, of course). And, our holiday Pinterest board is bursting with stunning mantel inspiration for any style and taste; from rich, draping garland to modern pops of color to cool and minimal shapes.
Whether you have a fireplace or not, these unique and gorgeous mantels dressed up for the holidays are sure to give you all kinds of heart eyes. So grab a cup of hot cocoa, and check out the merry mantels below.
Traditional + Rich
These classic and elegant mantels are actually quite simple to achieve. Full, fresh, long garland made with traditional evergreen greenery such as cedar, boxwood, myrtle, or fir, as well as modern eucalyptus, makes a big visual statement. Pair this with loads of candles, and it's a stunning, warm focal point for the room.
Bright + Eclectic
The polar opposite, these fireplaces showcase punchy pops of colors and fun kitschy objects that give off a bright, lighthearted atmosphere to a room. Bold, primary color candles, tassel garland, and paper lettering are elements that will bring out the kid in you.
Modern + Minimal
Everything Scandinavian seems à la mode, especially when it comes to holiday decor. These simple and stark mantel scenes are easy to imitate (start by scouring IKEA's winter holidays section) yet still impart happy Danish hygge. Keep the backdrop neutral and bring the winter wonderland in with a few evergreen or holly sprigs in vases, a handful of pinecones, or even decorative boughs. Mix with graphic shapes for a cool, modern yuletide season everyone can chill around.
Rustic + Graphic
Modern farmhouse lovers (I'm looking at you, Fixer Upper fans), these mantels are made for you. Large, graphic signs bring in color and visual interest to the otherwise plain and neutral fireplaces. Rustic antique finds and frosty greenery are the icing on the sugar cookie for a snug country-style holiday space you'll want to cozy up next to all winter.
May your mantels be merry and bright!