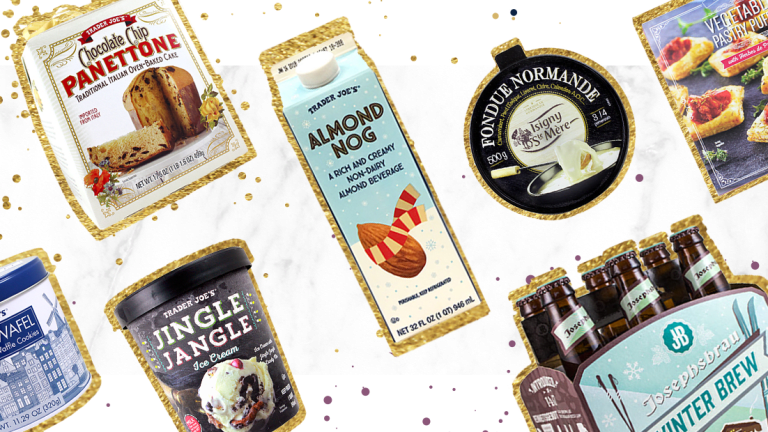 The Best Seasonal Goods at Trader Joe's That Are Only Available Over the Holidays
These warming treats are limited and fly off the shelves, so stock up before they're gone.
We love Trader Joe's, but there's one thing we don't love about it: There is no guarantee that it'll stock your favorite item forever. Except for basic ingredients that it will faithfully carry until the end of time, falling in love with a TJ's product can be risky business.
The next time you're in a store, ask a crew member how long they'll stock Candy Cane Joe-Joe's, and they'll probably answer along the lines of, "While supplies last. / Until we run out. / We never really know. / It's an experiment." The ambiguity! Steer clear of Trader Joe's FOMO this holiday by treating yourself to some of its best seasonal goodies you may (or may not) see on store shelves next year (or even next month). Get 'em while the gettin's good!
Bacon, Brie, and Beer – Oh my!
Sweet Arizona-grown dates stuffed with warm California goat cheese, wrapped in a crispy piece of uncured apple-smoked bacon—it's sweet, salty, soft, and crispy all at once. $5.99
They clearly thought of everything with this one: a buttery rich set of Truffle & Swiss quiche for the vegetarians and Bacon and Sautéed Onion for the omnivores. Though we predict a dilemma in choosing between the two flavors, so buy another box just in case. $3.99
Take part in the French tradition of enjoying this buttery vegetarian puff pastry topped with a Provençal vegetable sauce as an aperitif with a pre-dinner drink. $3.99
Top each creamy Brie bite wrapped in a delicate crust with your favorite preserves. No judgment if you eat all 10 pieces in one sitting. $4.99
TJ's supplier makes three soft kinds of soft cheese then mixes them with butter and apple brandy. Serve with a big spread of vegetables because you're going to need something healthy to balance out eating an entire pot of melted cheese. $7.99
Inspired by traditional Christmas bread, the fruit and nut (and 'Other Stuff') include almonds, dried apricots, tart cherries and cranberries, flaxseeds, poppy seeds, and orange oil. They're the perfect thing to dip into that luscious Normandy fondue. $3.99
Cut all those comforting flavors with this rich, dark double malt made with only the finest hops imported from Bavaria. Happy holidays indeed! $5.99
'Tis the Season for Sweets
When these traditional Italian treats were introduced last year, I bought about 10 as Christmas gifts—I ended up eating 3 of them. The texture is a tender, light and cakey bread generously dotted with big dark chocolate chips. Addictive is an understatement. If you decide to try it, may the self-control be with you. $4.49
Surprise your inner child (or your actual children) with this trifecta of sweet and salty pretzels covered in chocolate and crushed almonds, rainbow sprinkles, or peppermint bits. $6.99
Candy Cane Joe Joe's gussied up in deep dark chocolate and topped with candy cane crumbs look and taste chic enough to earn them a spot among the fanciest holiday desserts. $3.99
Our dear Dutch friends first introduced us to this chewy caramel sandwiched in between two thin slices of waffle cookies. Trader Joe's stroopwafels taste just like they were made in the Netherlands; oh wait, they were! Enjoy them the Dutch way by placing one stroopwafel atop a piping cup of coffee or tea—the heat will make it melty and delicious. Buy two tins because one is not nearly enough to survive the weekend. $2.99
If you're a fan of Almond Roca, you'll fall for Trader Joe's traditional English toffee made the old-fashioned way—slowly cooked in kettles roasting over an open fire. Goodbye, chestnuts. Hello, almonds enrobed in toffee, chocolate, and nuts. $9.99
When it comes to eggnog, why should non-vegans have all the fun? They shouldn't. This vegan nog has all the richness and creaminess of its classic cousin without the dairy, soy, or gluten. Hurrah! $2.99
There's regular old hot chocolate, and then there's rich sipping chocolate. Make like European cafés by mixing the dark chocolate powder with hot milk for the most decadent drink-slash-dessert you'll indulge in all holiday.
There's always room for ice cream. Top your holiday off with a scoop of sweet cream ice cream carrying treasures of chocolate covered pretzels, peanut butter cups, and Joe Joe's cookies. Jingle Jangle all the way to a very Merry Christmas this year! $4.49