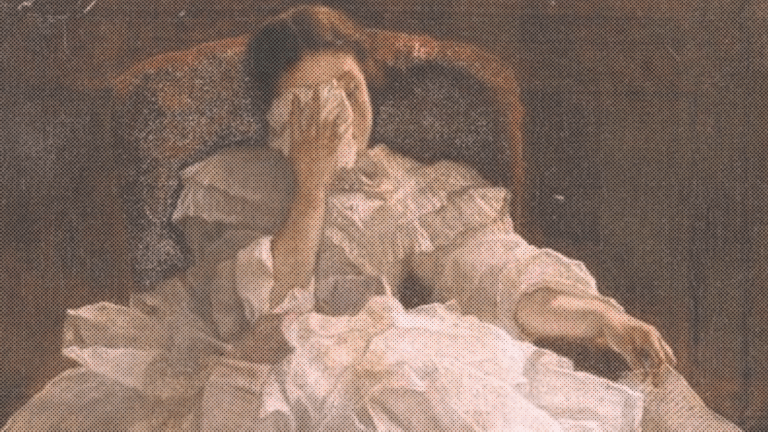 The Little Bit of Wisdom I Found in Terrible, Horrible, No-Good, Very Bad Dates of 2017
Oddly, I'm so glad I've gone on these three real dates (and two non-dates).
As this year comes to a close, I've started reflecting on my romantic adventures over the past 12 months. It hasn't exactly been a banner year for me in love, but not because I'm still single. (But spoiler alert: I am!) Like many things in 2017, all didn't quite go as planned.
Now, since this is the season of giving, I'm going to lay my mistakes and misadventures bare for you, because we can all learn something from them. Yes, there's even a lesson to be learned from that time I went out with a guy who turned out to be married.
Here's what I learned from my five worst dates of 2017: 
The Great Date … That Didn't Go Anywhere (Except Just Two More Great Dates)
This spring I matched with a very handsome financier on Tinder. (I know, what are the odds?) Date one was wine at a cozy back table followed by tapas at an even cozier spot hidden away in the East Village. Date two was a Greek feast of shared plates followed by beers at a bar and some kissing. Date three was at a sophisticated new Mediterranean spot in my neighborhood—with more kissing. 
And then? Nothing. Vague plans weren't kept, flirty texts went unanswered. Like any single person actively dating in Manhattan, I've been ghosted before, of course, but this disappearing act felt different. Most of the time, I can spot a guy with an ambivalent attitude or wavering interest from a mile away. But these dates were rock-solid excellent—and I felt burned. Our conversation was starting to get real; I had just started to share personal pieces of myself with him. 
Tip for next time: Dating is unpredictable. People are unpredictable. When you're dating casually, putting all your feelings in one basket can leave you vulnerable when you don't need to be (yet). Being open to love is important, but guarding yourself against being hurt is important, too. One way to do that is not to assume a kiss means exclusivity. Another is to keep personal details about yourself close to the vest until he shows signs that he's worthy of your trust. 
The Touchy-Feely Guy
After I was told to keep an open mind because he was "short," I went on a blind date at a cocktail bar in the West Village. As it turns out, his being short was the best thing about him. This guy did not understand personal space—not only did he touch me without my permission but he also repeatedly tried to kiss me. After walking me home, he even had the gumption to ask to come into my apartment to "use the bathroom." (I'm sorry, what? You're not coming inside!) 
I was more baffled and upset than I had been after any date in my life. I sent a scathing email to the person who set us up—but all she did was politely apologize and move right along.
Tip for next time: Always, always remember that just because a guy foots the bill for your date doesn't mean you owe him anything. An unwanted kiss, or even just a hand on your arm that you don't like, is grounds to put a full stop on the date and walk away.
The Guy Who Turned Out to Be Married 
Ah yes, the one who has come to be called "Married Guy" amongst my group of girlfriends. This was another Tinder match—and one that seemed to be going well at first. He was 35, tall, dark, and handsome. We hit it off immediately, and I eagerly agreed to a second date. Over escargot and french fries, he confessed that he had gotten a divorce about a year prior. I figured that this was bound to happen while dating in my 30s—so I agreed to the third, trying to stay open-minded. 
After a drink or two had loosened him up during that date, he admitted that he was actually still married—though separated—from his wife. Completely flabbergasted, I did not accept a fourth date. 
Tip for next time: The older you get, the more baggage your peers will have. And for the most part, that's okay. But know your dealbreakers—and stick to them. 
The Non-Date I Hoped Would Turn into More
Can I confess something to you guys? I have a crush. Like right at this very moment, the crush is happening. He's a friend, and when he does this very intense "smiley eye contact" thing, I blush like a schoolgirl. So, being the totally cool and confident dating expert that I am (sarcasm, my friends), I invited him to a big charity event where I'd know tons of people because I was co-hosting it. He came and brought a buddy with him, and I was delighted. We chatted and he made "smiley eye contact" throughout the night. He even sent me a picture of the two of us from the photobooth the next day. And since then? Nada. No texts and certainly no asking out your favorite single-and-dating writer (that's me). 
Tip for next time: Take it from me, people—if you treat someone like a friend, then, these days, a friend they will probably be. While it may be the more traditional role to take a backseat and let a guy take the lead in moving things forward, you can't expect a guy to make a move if he doesn't think there's a chance—as most guys will do almost anything to avoid a bruised ego. After all, good guys are respectful of their female friends and careful not to cross lines. So if you want to give him the green light for romance, go ahead and touch his arm ever so briefly. Intonate that there's potential. Wink even, if you're feeling sassy! (Stay tuned to see how that goes for me…)
The Accidental Non-Date with an Ex
Okay, not a date—but an outing. The day before Thanksgiving, I went to a bar in New York with a couple of girlfriends. Not long after we had settled in with our second round of drinks, I noticed a guy who looked familiar, and all blood left my face. My friend caught my eye and said, "What's going on? It looks like you've seen a ghost!" And you know what? I had. Chatting amiably with a friend on the other side of the room was a doctor I had fallen hard and fast for more than five years ago, who had ghosted me not once but twice. (You can read that story here!) I thought perhaps fate was tossing us together again—this time for a reason.
I couldn't act normally, so eventually, his friend came over and said, "Something weird is going on here. Did one of you date my friend over there?" We all burst out laughing, and all the tension in the room evaporated. He summoned my former fling to join us, and…yikes. What followed was one of the more stilted and uncomfortable conversations I've had in a long time. So much for fate. 
Tip for next time: Most of the time, men in your past are meant to stay there, and sometimes a chance run-in is just that: chance. I often put weight on these types of coincidences, hoping that they mean something. But the truth is—this guy didn't treat me well in the past. So why was I suddenly so eager to forget all that bad behavior in favor of a twist of fate? 
Sometimes, the past comes back to haunt you for no reason at all other than to congratulate you for moving on. So, 2017, thank you for your many lessons, and may 2018 be the year that I really put this wisdom into practice.