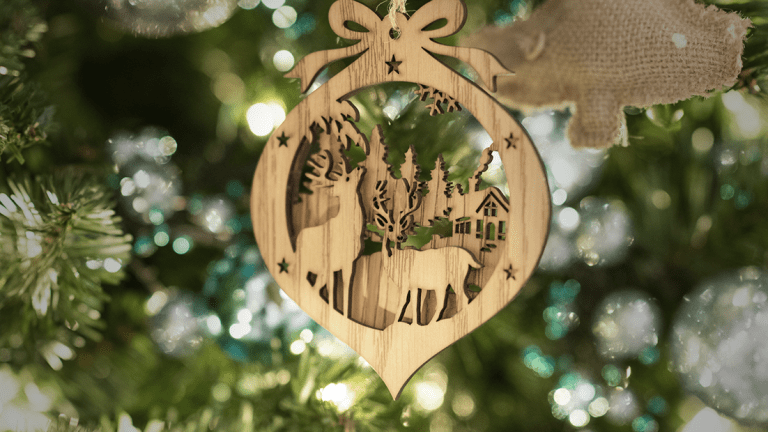 These French Christmas Traditions May Change the Way You Celebrate Big Holidays
A native of France shares four glorious tips to holiday the French way.
Editor's Note: The author, Cynthia Moos, is the founder of Best French Forever, a biweekly newsletter for francophiles. This French native who now lives in the U.S. shares her perspective on this holiday season and why it's an important time to focus on what matters most.
Born and raised in southern France, now a resident of Chicago, I've been able to experience the holiday spirit in both countries and spot many differences in the ways people celebrate across the pond.
My first Christmas in the USA was enchanting and overwhelming at the same time: lights everywhere, Salvation Army bells ringing in the streets, nonstop attractions at the mall, and impulsive shopping as a result. I soon realized that Americans get drained after the holidays (if not before) and need a break to recover! It made me reminisce of my Christmases in France: excitement and impatience were definitely there yet also a feeling of peace and serenity—as if time were stopped forever.
If you wonder how we French keep calm and collected during this very busy time, keep reading for some practical tips to live a more meaningful, less stressful holiday season this and every year.
Cherish the simple moments—one at a time.
As Andy Williams put it, "It's the most wonderful time of the year," and we want to make it last! In France, the holiday season kicks off December 5 for the feast of Sainte Barbe and lasts until the Chandeleur often associated with Candlemas on February 2. That's two full months of celebrations!
Growing up, we didn't have many decorations, but we would spend hours and hours placing and adjusting ornaments on the Christmas tree and setting up the nativity scene (called la crèche). Rather than worrying about spending money on gifts, our holiday season was all about enjoying visits from out-of-towners, looking at the holiday street lights, preparing for the Christmas feast, and delighting in the coziness that comes with winter.
Le secret: Take a step back this month. Look around and appreciate what is dearest to your heart. Usually the most meaningful things in life are right under your nose.
Pick traditions that mean the most to you—or create your own.
Each French region and family have their own traditions. They're meant to celebrate what makes you feel good (whether it's spiritual or personal).
As a kid, our holiday season would officially start December 1 when I opened the first compartment of the Advent chocolate calendar. Four days later, we would plant wheat in a cup for the feast of Sainte Barbe and watch it grow every day. As the tradition goes, if it flourished through December 25, you'd have a prosperous year ahead.
In the new year, we would send handwritten cards to our loved ones and receive a New Year's gift from our grandparents (called étrennes)—I never understood why but also never refused!
Le secret: Your traditions are most likely different than mine. My advice is this: Don't try to follow all of the traditions by the book. Baking cookies and hanging garlands everywhere are for some people, but not for everyone. Instead, pick the ones that make you feel happy and excited, and embrace them!
It's not about quantity, it's about quality–and intention.
What struck me most during my first Christmases here is that Americans seem to enter into a gift race for the holidays, starting on Black Friday. I've seen American homes filled with presents and kids on Christmas day being more excited about the wrapping paper than the actual doll or game inside it. I grew up without the expectation of receiving many gifts and instead with the hope that my parents would pick the one or two gifts I really wished for.
Le secret: Take time to listen to your little (and big) ones' hints and drop the race. A few well-thought-out gifts will suffice to bring plenty of joy and lasting memories.
It's OK to indulge—with moderation.
I can't believe we're almost at the end of this article and I haven't yet talked about the food! You've probably heard about the never-ending French dinner. Well, that is not a lie. And Christmas is no exception: A typical Christmas meal lasts about six to seven hours. Everyone gathers around the same table and enjoys the food cooked by the host.
The menu is thought out well in advance and approved by the whole family. It always includes foie gras and seafood (les escargots!) as appetizers, accompanied by the best wine saved just for this occasion. The entrée varies from lobster to capon (a rooster) or lamb—typically the best that the host can afford. And at the end, thirteen desserts (traditionally in reference to Jesus and his twelve apostles) are placed on the table for the guests to try.
The French don't feel the guilt of indulging because the Christmas meal is more about sharing a feast with their families than getting their bellies full. Besides, they eat slowly (remember, six to seven hours!) and with pleasure, which results in eating less.
Le secret: Don't panic at the sight of so many more dishes than usual: Try a bit of everything if you feel like it, and don't forget to savor every bite.
I could go on and on about the holiday season in France. Just remember to focus on what is most meaningful to you and your loved ones: joy, peace, and love. This year, my Christmas is going to be extra-special: My French family is making the trip to Chicago, and I can't wait to bring some of our French traditions to our American table. Joyeux Noel!