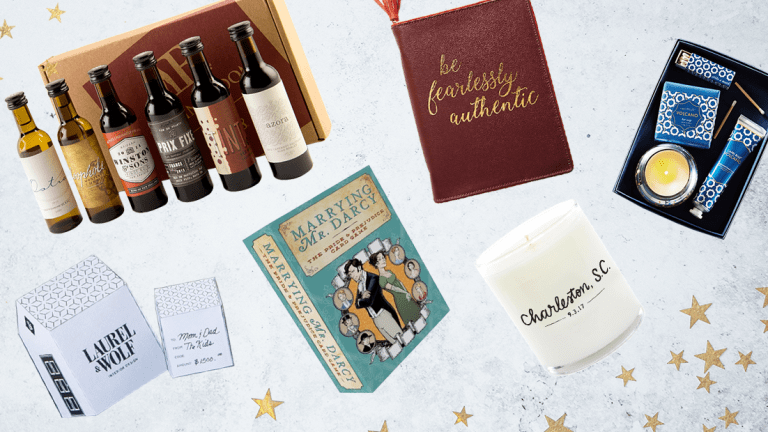 Find Just the Thing with Our 2017 Holiday Gift Guide Based on the 5 Love Languages
These presents are the perfect fit and are all under $50.
If your Christmas gifts list turns you into a total stress case this time of year, worry not—our annual gift guide based on Dr. Gary Chapman's book The 5 Love Languages is here! Dr. Chapman discovered that everyone "speaks" a primary love language—their preferred way of expressing and experiencing love. When we choose a gift unique to a person's love language, we're not just giving, we're giving better. The holidays are a special time to love others the way they need to be loved—it's part of how to think like a great gift-giver. So use the 5 Love Languages official test to find out your loved ones' love languages. Then check out our 2017 guide to meaningful gift inspiration that is practically made for them.
Acts of Service
01. Make dining in a lot more delicious with a week's worth of a subscription meal service that delivers fresh (never frozen) prepared food developed by a team of chefs and nutritionists. They're fully cooked, so each meal is ready to heat up and eat in only three minutes. No more worrying about what's for dinner (or lunch or breakfast). No shopping, chopping, or cleanup. But also no artificial ingredients, preservatives, or added sugars. $49.99 for four meals, Freshly
02. Gift time to exercise with an online health and fitness membership such as The Balanced Life Sisterhood, which includes a monthly workout calendar, full-length workouts, recipe bundles, and an engaging community of other members. $19 for one month, The Balanced Life Sisterhood
03. Get her life organized with a one-month subscription to Clean Mama's Housekeeping Society. Your friend who craves order in her home might not be able to hire a housekeeper (and maybe neither can you!). But this includes a homekeeping calendar, a to-do list, a menu plan, seasonal preparations, and a print with words of wisdom, tailored to each month. $10 for one month, Clean Mama
04. Bring design magic to her home with a holiday home decor service from Laurel & Wolf for five days of design time with an expert and a shopping list for one concept or room. We know that nesting benefits our mental health and sense of peace, but for those of us who are juggling jobs and maybe even kids, decorating can feel like an overwhelming chore. Maybe your friend is expecting and wants a beautiful nursery or doesn't know where to start furnishing her living room. It's a bit over budget, but this is the best interior design deal on the market. $59, Laurel & Wolf
Words of Affirmation
01. Show her she's your gold-standard friend by sending a curated gift in a card that also serves as the gift box. Write your custom message inside for her to read when she opens it—we like the Cheers to the New Year Greetabl, with its Times Square ball drop–level nail lacquer and golden confetti design. You can even choose another small gift such as mini copper mugs or MAST Brothers chocolate. Or totally design your own. $27, Greetabl
02. Send her fresh inspiration all year (or two) with a Magnolia Journal subscription by the beloved Chip and Joanna Gaines of HGTV Fixer Upper fame. $20 for one year or $30 for two years, Magnolia Market
03. Share the meditative art of writing by sending her a thoughtful handwritten note in your best longhand on the inside cover of Written By Hand, modern calligrapher Erica Tighe's guidebook on how to turn everyday scribbles into mini works of art. $16.99, Be a Heart Design Co.
04. Give her a good story. Snag a Book of the Month subscription and get a free month for yourself. 😉 She'll feel giddy opening the box to find one book of her choice out of five curated for each month, including access to debut authors, early releases, and the ability to skip a month if she gets busy. $49.99 for three months, Book of the Month
Quality Time
01. Be game for anything like planning an afternoon tea while playing the Marrying Mr. Darcy board game. If that isn't her cup of tea, score The Woman Cards instead—a full 54-card deck featuring fifteen original, hand-drawn portraits of American women who changed the world—for a rousing game of bridge with the greats. $40, Marrying Mr. Darcy Board Game // $19.99, The Woman Cards
02. Try something new together with a customized wine tasting kit that includes six mini bottles of wine from all over the world. She picks her favorites and gets a personalized wine profile that matches her preferences, plus a shipment of full-size bottles of her choice. $39.95 for one month, Tasting Room
03. Learn something new together such as an online course on floral watercolor painting in under sixty minutes with artist Jenna Rainey of Mon Voir. You'll brush up on color theory, strokes, and shading techniques. And you'll each walk away with a finished piece of art and some quality bonding time. $29, Brit+Co
04. Picnic wherever you please using this clever Table in a Bag from Food52. This table rolls up in a bag, making a literal movable feast feasible, Food52 notes. So you're "ready to host your entire picnic spread, whether at an outdoor concert, the park, the beach, or your backyard." $49, Food52
Physical Touch
01. Surprise her with soft hands and a warm heart with L'Occitane's Festive Crackers Trio that contains three of its most popular products inside, including its famed hand cream. Choose from Cherry Blossom, Almond, or Aromachologie. $34, L'Occitane en Provence
02. Surround her with loveliness through Capri Blue's iconic Volcano Beauty Travel Set. Everyone's favorite soy candle at Anthro now comes with an equally intoxicating vegan hand cream and bar of soap, both in the same signature scent. $48, Anthropologie
03. Deliver sweet dreams daily. The Ace Hotel sums it up best: "We spend a full third of our lives in bed—decades of dreams, all born in the space of a few dozen square feet." They'll be good ones if she slumbers on 100 percent organic cotton bedding with a luxuriously soft 200 thread count—the exact same kind they sleep on at boutique Ace Hotels. Starting at $15, Ace Hotel Shop
04. Begin and end her day with dewy, hydrated, and happy skin using an easy-to-wear Phase 1 Set by Glossier, the new girl on the beauty block. Milky Jelly Cleanser gently dissolves makeup, Priming Moisturizer hydrates and minimizes redness, and Balm Dotcom soothes dry skin from her lips to her cuticles. $40, Glossier
Gift-Giving
01. Speak to her unique personality through one of Anthropologie's signature personalized gifts: a marble cheeseboard for the foodie, a velvet flower pouch for the friend who has it all, or a leather-bound journal for the introspective introvert with a quote that's just right for where she is in life. When it comes to this love language, it's the careful thought behind it that matters most to the recipient. $38 each, Anthropologie
02. Preserve a memory of her in a new light with an original painting of her personalized portrait. The artist can even illustrate her home, pet, or children—whichever would make her smile each time she sees it. $55, Common Folk Paper Co. via Etsy
03. Capture the scent of what inspires her by crafting a Totally Custom Candle in a personalized scent with a custom message on it. They're hand-poured, fair trade, clean-burning, and scented with special blends of essential oils. Each one is signed by the artisan, a female refugee at Prosperity Candle in the United States, whose work you support with each purchase. $36, The Little Market
04. Keep her most treasured trinkets safe in this jewelry box with a customized calligraphy of her name. This love language expresses sentimental ties with even the tiniest, most seemingly insignificant objects. She'll finally have a place to store anything precious to her, from the dried flower of a "thinking of you" bouquet to the wooden token from a first date at a brewery. $35, Southern Scrip Designs via Etsy