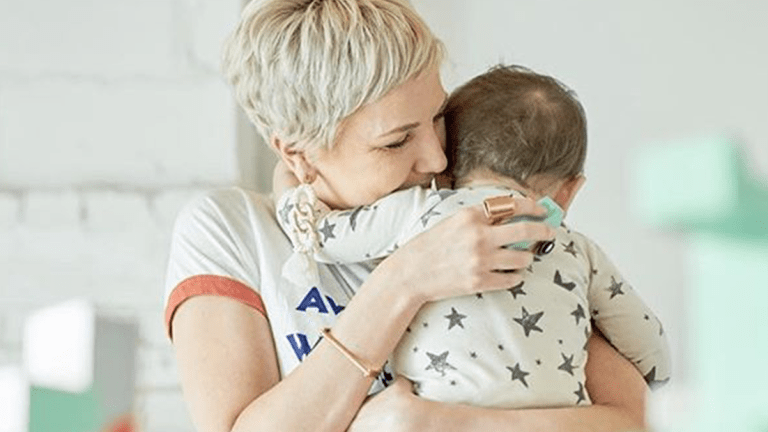 The Unconventional Time Hack That Allows This Instagram Influencer to Put Family First
How Erin Loechner built a successful career without sacrificing her priorities
Meet Erin Loechner, a mother to a toddler and a 5-year-old, a wife striving for "less in most areas except for three: joy, grace, and goat cheese," and the epitome of "having it all," an elusive dream that many find impractical. Erin is a successful entrepreneur as the founder of Design for Mankind—a website, blog, and brand dedicated to inspiring women in areas like motherhood, style, and travel. She is the author of Chasing Slow, a book about simplifying your life. She has achieved enormous success with millions of fans worldwide through many channels including her highly regarded Instagram page. Her work has been showcased in The New York Times, Dwell, Marie Claire, Huffington Post, and more in addition to her two-season HGTV.com web special in which viewers watch the process and story of her home remodel. While she grew from blogger to a worldwide recognized writer and stylist, she also started a family. 
Erin doesn't think it's easy, by any means. She emphasizes how hard it is to make sure she is achieving the optimal work-life balance. And she is not alone. One in three employees says that work-life balance is becoming increasingly difficult, according to a study conducted by Ernst & Young. And yet, studies emphasize work-life balance leads to increased productivity, reduce turnover rates, reduce stress, and lower levels of family conflict. Though Erin doesn't claim it's simple, she does think work life balance is achievable. Here is a glimpse of what she does to maintain her career without sacrificing any of her family values.
She has a Rhythm, a "Waltz," and she sticks to it.
Erin explains that both she and her husband are freelancers and that over time they have developed an "odd little waltz" that works for them. Her day starts at 2 a.m., when she has complete privacy to work. Her normal daytime hours are then free to be "present for [her] family," she says. She'll host playdates and keep up with errands all the while finishing up her work. Then at 6 p.m. she goes to sleep and her husband takes over for bathtime and bedtime. Though the first week on that schedule was tough, Erin says she and her husband adjusted pretty quick. "Our bodies are malleable, and eventually you get tired enough your body screams for sleep whenever it can get it," she says. No technology in bed is the easiest way to ensure she falls asleep at the time she sets out.
Both Erin and her husband are able to work full-time and split equal share of their family responsibilities. Though some view "full-time" as something that must occur from 9 a.m. to 5 p.m., Erin has created a new schedule that expands her day, allowing her to successfully accomplish her career goals and her goals as a mother and wife (don't worry, she prioritizes her husband too!). Erin is a prime example of how getting creative with untraditional routines can lead to success and happiness.
She schedules time with her husband.
Erin accepts that they aren't perfect at carving out time for one another but they are both "fiercely independent" so this is part of the balance that works for them. All relationships are different. For Erin and her husband, the way they maintain their relationship is through scheduled dates. "We Sharpie the calendar for date nights monthly," she told Verily. They choose to do this in advance as part of their balance and "waltz."
Another trick is to understand when their busy seasons are. For example, if one of them takes on a larger project, the other is supportive. They understand that there will be times that the other has less time than usual. Their secret is to be aware of this and to understand that "the day will come soon enough when [they] are both well-rested and can have an uninterrupted conversation without the baby throwing food or [their] daughter perfecting her dog bark." While they wait for that time, they write love notes and express their love through tasks—like grocery shopping. "We rely on those small things—random acts of kindness, words of acknowledgement."
She completely dedicates herself to her children while they are present.
Erin's schedule may seem challenging but there is a very serious upside—the amount of time she is able to spend with her family. In order to do this she practices several tactics. She homeschools her 5-year-old so they spend much of their time working on puzzles, reading books aloud, and practicing math programs. She keeps her phone in the kitchen drawer to ensure it doesn't distract her or her kids during their dedicated time. She also takes her daughter to Chinese lessons. But Erin emphasizes that it is best to stick to one task at a time. She doesn't try to homeschool while also writing. That time is reserved for her children.
She admits that not every day is perfect. Sometimes she will take her phone out to play Spotify for "kitchen dance parties" and find that she gets distracted by a notification. Her trick in these situations is to ask herself, "is this a good time?" The idea came from her mother-in-law who asks this question whenever she calls with a question that takes more than a quick response. Erin explains that this courtesy is kind and a "respect for someone's time." She uses this same tactic to ensure she is present for her children. If a notification is distracting she has the ability to consider if that moment is the appropriate time to take care of a task or check Instagram. If the answer is "no," as it so often is she will wait. It's that simple! It can almost always wait until her designated times to work.
Erin wants everyone to know that "anyone who is honest about the trade-off" knows it isn't simple to achieve balance. She compares it a tightrope artist noting that it is delicate and difficult. In fact, she writes all about balance in her own words, "Do you want balance? Peek at your morning so far. Look at your day. I'm willing to bet you've had highs (just enough eggs in the fridge!) and lows (where are the keys?), and it's what, 9am? Highs and lows already? Do you know what I think that's called?
Yes. I think that is called balance.
I think that's called the low bringing down the high. I think that's called the high bringing up the low.
Up and down.
Up and down."
Read her full article about balance here.