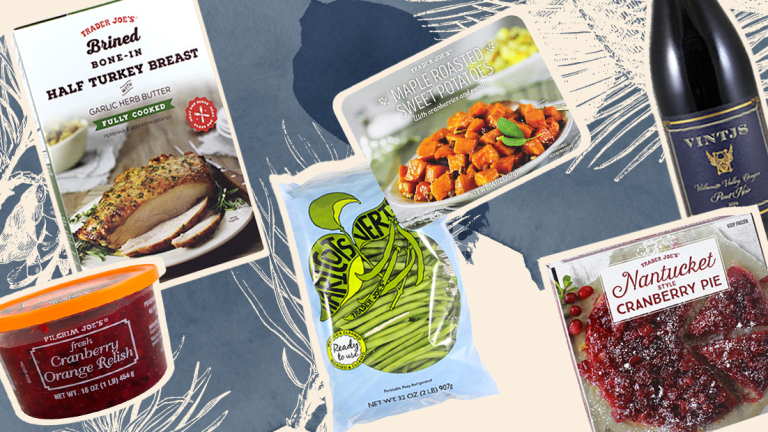 Impress Everyone with This Affordable Thanksgiving Meal Entirely from Trader Joe's
No one ever has to know how you totally nailed Friendsgiving.
My grandma, mom, aunts, sisters, and I grew up hustling and bustling in the kitchen together at least seventy-two hours before Thanksgiving. With rooms to clean, groceries to buy, ingredients to prep, recipes to cook, and tables to set, our home was a madhouse. And while the family dinner was always a success, we usually ended up exhausted with a ton of stress and a month's worth of leftovers. My sisters and I would collapse on the couch proclaiming, "We're never doing this again."
Fast-forward a decade to my first time hosting Thanksgiving in our new home. My husband and I have crazy schedules and two little ones, which forced me to figure out how to rustle up something impressive in not much time. Naturally, I turned to Trader Joe's. I learned a lot from that experience, but the most important lesson is that "store-bought" doesn't have to be a holiday dinner faux pas. Here's how to make an entire Thanksgiving dinner for six people in less than two and a half hours using only Trader Joe's products.
The Cheese Plate
Place small, even slices of cheese on a cutting board between rows of crackers and grapes. Choose three or four of your favorite fromage, such as buttery Brie, sharp cheddar, tangy and crumbly Cranberry Chèvre Fresh Goat Cheese ($3.99), and Creamy Toscano Soaked in Syrah (contact the TJ's crew for current price and availability). It's a substantial starter, but the petite portions leave room for the feast to come.
Pro Tip: Prep all the cheese slices the night before, and store them in your fridge. Pair with a bubbly flute of Incanto Prosecco ($12.99), which comes in twice the size of a regular wine bottle.
The Turkey
We aren't huge fans of turkey, and we had a small guest list, so I got away with serving a Fully Cooked Brined Half Turkey Breast ($6.99 per pound) arranged in even slices on a pretty plate. It's cooked in the sous vide style (cooked slowly in a bag immersed in warm water), so you'll have a moist, juicy, and tender turkey breast with a rich, slow-roasted flavor in just forty minutes. My buddy TJ thought of the Turkey Gravy ($1.49), too. Heat it up in a microwave-safe gravy boat, and call it a day. Thirty years and going strong, serve with a bowl of Pilgrim Joe's Cranberry Orange Relish ($3.49), made with fresh cranberries and California Valencia oranges.
Pro Tip: Pair with 2016 VINTJS Pinot Noir Willamette Valley ($8.99). It's smooth and dry, with bright cherry and raspberry notes to cut the richness of the gravy while complementing the tangy cranberry relish. Hints of spice, tobacco, and oak go well with the herby stuffing below.
The Sides
Having a wide assortment of sides will make your table look like it's overflowing with food, but the portions are just right. Stuff everyone in no time with savory Gluten-Free Stuffing Mix ($5.99). In the frozen aisle, you'll find Mashed Cauliflower ($2.99), Mashed Potatoes, or Mashed Sweet Potatoes ($2.49). Maple Roasted Sweet Potatoes ($4.49) tossed in cranberries, pecans, butter, and maple syrup and Corn Pudding ($3.99) are both parcooked and ready in fifteen minutes. You'll have plenty of time left over to cook traditional Haricots Verts ($2.99) that have been picked at their peak, de-stringed, and cleaned (huzzah!). Sauté and then steam them until they're tender, sweet, and perfectly crisp, and then toss them in butter, olive oil, garlic, herbs, and seasonings. Grandmama would be proud.
Pro Tip: Borrow antique serving ware, pick some up at a local antique shop, or buy chic modern ones at the dollar store. Placing each side in beautiful serving bowls makes them look extra-fancy and, dare I say, homemade.
Dessert
You could go with the same old pumpkin pie, or you can switch it up with a dessert traditionally served on many New England tables. The Nantucket Style Cranberry Pie ($5.99) is a cross between a pie, cake, and cobbler with tart cranberries, walnuts, almonds, and vanilla on a buttery crust. Serve warm out of a 325-degree oven for twenty minutes, or leave it out to defrost for one to two hours while you prep the turkey and fixings. It's delicious served on its own or with whipped cream, ice cream, or a light dust of powdered sugar.
Pro Tip: Cap off your unforgettable feast with a bottle of Eggnog Holiday Liqueur ($8.99) made in California of smooth spiced rum, brandy, and cinnamon, blended with a base of real cream. Put guests in the holiday spirit by pouring it straight into their glasses, adding it to an espresso or latte, or blending it with leftover vanilla ice cream to craft a very merry milkshake.