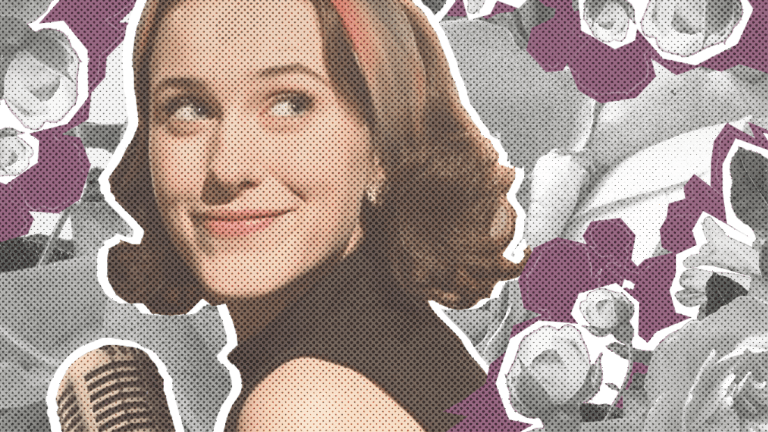 From the 'Gilmore Girls' Creator Comes 'The Marvelous Mrs. Maisel,' a Surprisingly Smart 1950s Dramedy
Should you spend your weekend streaming it? Here are the pros and cons.
Gilmore Girls creator Amy Sherman-Palladino's latest project, The Marvelous Mrs. Maisel, is now streaming on Amazon. Before I get into it, though, I'm going to share a very unpopular opinion. I don't like Gilmore Girls (I hear you gasping). I watch it when friends or my sister have it on and sometimes even by choice. But my loyalty to the show is minimal.
Having now seen four episodes of Mrs. Maisel (provided by Amazon), I can say it shares one trademark in common with the Lorelai and Rory set. That is, rapid-fire dialogue that I, for one, find annoying.
But in a departure from Stars Hollow, I found Miriam Maisel, aka "Midge" (played by Rachel Brosnahan and loosely based on Joan Rivers), to be actually laugh-out-loud funny and much more inciting in her rogue ways than Lorelai. Fair warning, though, the comedy here is much more vulgar.
The Marvelous Mrs. Maisel pilot has been out since March. Even before its full release, it has already secured a multi-season pickup, the first ever for Amazon. I guess we could consider that a win because the previous feminist 1950s drama on Amazon, Good Girls Revolt, met a much more grim fate. Perhaps more women see themselves in Maisel than they did in the spunky young researchers on the rise at News of the Week.
In short, Miriam "Midge" Maisel is a gal's gal for any era. Indeed I marveled at her gumption and quiet vulnerability in equal measure. For being set sixty-some years ago, I felt that Midge's feminine but edgy resolve was exactly the tonic women (and men) of today are longing for. For me it was a source of comedic relief, but it was also a way to rethink some of what's happening today through a slightly different lens. She faces gender discrimination, societal expectations, and the complexities of marriage and motherhood in a way that I think most women can resonate with in some way.
Midge is a Jewish housewife reveling in a life of child-rearing and Yom Kippur entertaining on New York's Upper West Side. On her wedding day, she proudly announced that her main goal was always to find a man. She supports her husband's amateur comedy hobby and practices the kind of unimaginable wifedom that has her falling asleep full-faced alongside him only to escape to the bathroom to wash her face and put in curlers after he's out and returning to her made-up self before he rises. She's neurotic to the point of taking her size measurements every day to maintain a figure that has not changed since her wedding day. Her mother is the type who sees her in a nightgown and cries out, "What are you wearing?! It's not thinning!"
Midge, at first, is hardly a vision of feminism. Yet when her husband announces he's been unfaithful and is leaving her, bolstered by a healthy dose of Manischewitz, she takes the stage at his go-to comedy club and proves that where he had just lofty dreams, she has a real talent for making people laugh. Just like that, she finds herself equipped with a self-appointed talent manager and a mind to consider comedy for herself.
Her onstage rant in the pilot episode is really just the start, though. What unfolds reveals Midge to be an unlikely 1950s foil to modern women of today.
Her subsequent impromptu stand-up acts stab right to the heart of quintessentially female dilemmas from beauty standards to motherhood. Over the first half of the season, Midge allows herself to feel, but she self-soothes. She gladly fulfills the standards her family sets for her but not to the detriment of her intuition and self-respect. She puts her foot in her mouth, but she isn't so proud that it's a turnoff. If the main character and her complex conflicts and relationships aren't enough, the well-executed fifties aesthetic that elevates the show, from Pyrex to Patsy Cline singing in the background, is worthy of praise in its own right.
Like I said before, the comedy isn't exactly the mother-daughter sort that Sherman-Palladino fans might be longing for. At any rate, The Marvelous Mrs. Maisel pleasantly surprised me with its sharp wit and modern relevance.