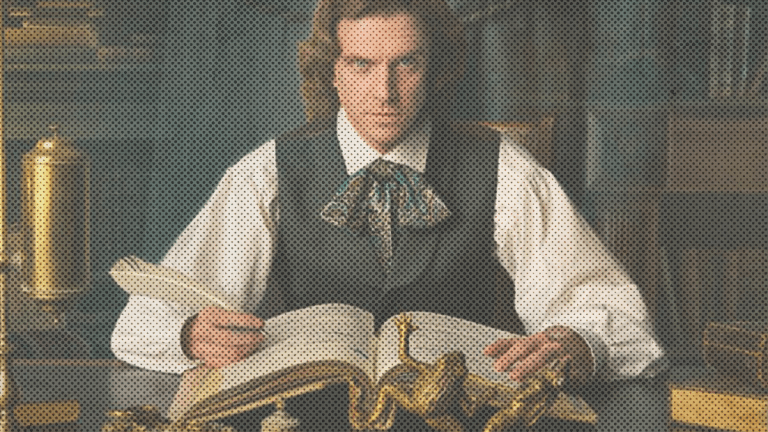 Matthew Crawley as Charles Dickens Is a Christmas Gift to Us All—Here's Why
I expected a holiday treat, but I got a really unexpected reminder instead.
Chances are high you've either already seen or are considering seeing The Man Who Invented Christmas. Why? Because Matthew Crawley, that's why. Since his tragic and premature leave from Downton Abbey, our hearts just haven't fully recovered. But with this reimagined telling of Charles Dickens' A Christmas Carol, Dan Stevens comes to us clad in period garb once again. Indeed, "God has blessed us, every one." But period charm and holiday feels aside, this movie might be more of a reality check than you bargained for. It was for me. (Warning: some spoilers ahead.)
Stevens shines as an imaginative Dickens creating the characters, such as Ebenezer Scrooge and Tiny Tim, who still to this day define much of how we think about Christmas. Gifts, decorations, and Michael Bublé aside, Dickens was the man who really tied the holiday, which has become rife with consumerism, to something more meaningful. A bit slow-moving at times, the film nevertheless radiates a simple message: Dickens' Christmas legacy of family and giving back is worth preserving. But what I liked most about the film wasn't really anything to do with getting in the holiday spirit or how the lore of the ghosts of Christmas past, present, and future came to be. The value of this film is really found in Dickens' own transformation.
I'm a sucker for any period piece (who isn't?). It's easy, though, to see the lifestyles of eras long ago as fantasy. They don't dress like us, talk like us, live like us. They have candlesticks; we have LED screens. They wear corsets; we wear Converse. Often when I tune into Downton Abbey or a Jane Austen movie, it's more about escapism than anything.
In this portrayal of Dickens, though, I saw financial stress, creative burnout, the inconvenient burdens of childhood traumas on the adult psyche, relationship strain, and a very real desire to connect to people. Now, does that sound like the far-off travails of a bygone century—or does that sound like . . . you?
Christmastime does lend itself to self-reflection. We're around family; we're thinking about our loved ones as we search for the perfect gift. But we're also reminded of pain. The person we wish was still around, the things we desperately want to be different in the new year. When I went to see The Man Who Invented Christmas, I didn't expect to come face-to-face with my own struggles. But I did.
Dickens has dark memories of being separated from his parents at a young age, and he struggles to forgive his father for it as an adult. He feels defeated by a recent book failure, which stymies his ability to move forward and trust his creative instincts. His wife feels taken for granted, yet he retreats even further from her. He lashes out at those around him because his mind is so uneasy. Haven't we all been in similar situations? I know I have.
Studies show that job pressure, money, and relationships all fall in the top five causes of stress among Americans. Some 50 percent of respondents went on to say that their stress manifests with irritability and a lack of energy. It's safe to say, Dickens' experience isn't the exception but more like the rule.
The best part of this movie, though, was watching him pull through. He learns to trust himself again, to forgive, to apologize. Far from cheesy, his resolution feels very genuine. He learns from the counsel of trusted friends and family, and he slowly addresses the things holding him back. I couldn't help but imagine similar things playing out in my own life.
The Man Who Invented Christmas transported me to a different time and place, but unlike other period dramas, I learned something I know I can use right now in my life. That is, to confront my struggles and weaknesses head-on and know that in doing so, I have the chance to write, as Dickens did, a far better narrative for myself than I had previously imagined.