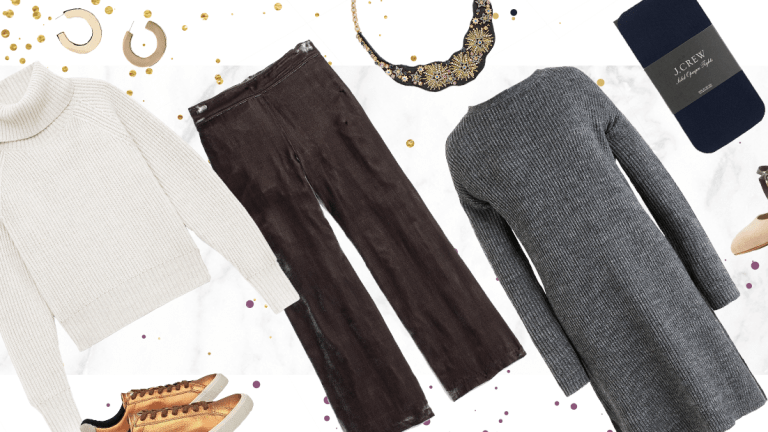 The Classiest (and Stretchiest) Outfits for Thanksgiving Dinner
How to look classy when you're feeling stuffed
Thanksgiving is a cherished time for family and friends. But let's be honest, it's mostly about eating with them, which presents us with a predicament—how do we dress for this food-centric holiday when the inevitable tryptophan nap from overindulgence hits? Although humorous, it's something to consider given all the times we've wished for looser waistbands at the turkey day dinner table.
Thankfully, comfort dressing and classy outfits are not mutually exclusive. If you're in need of some stretchy-chic outfit inspiration, look no further than our favorite ensembles below.
Couch-Lounging Luxe //
There's a level of laziness when it comes to Thanksgiving—especially if your family is the type to lounge while eating. Normally, this would call for a day in pajamas, but because it's technically a holiday, we like to put in a smidgen more effort. Comfort, however, will not be sacrificed. Without ever feeling like you left bed, dress up in luxurious velvets and knits that look fancy but feel like a buttery dinner roll.
Room-for-Seconds Regal //
In this getup, you won't even have to think twice about loosening your waistband at the dinner table. A loose-fitting, chunky-knit sweater dress is the best way to stay comfortable when going back for seconds (or thirds). The thickness of the knit and the breeziness of the fit will have you saying, "What food baby?" To stay comfy and warm, try wearing a pair of tights, too.
Turkey-Coma Trendy //
Lest we forget the main takeaway here, knit items are the way to go for your Thanksgiving day feasting. A head-to-toe knit outfit might sound like too much, but the key to making this stretchy ensemble work is to balance each item's proportions. A more form-fitting pencil skirt paired with a slightly oversize sweater will prevent the outfit from looking and feeling too tight. It'll feel like you're already wearing a blanket when you finally curl up for your nap.