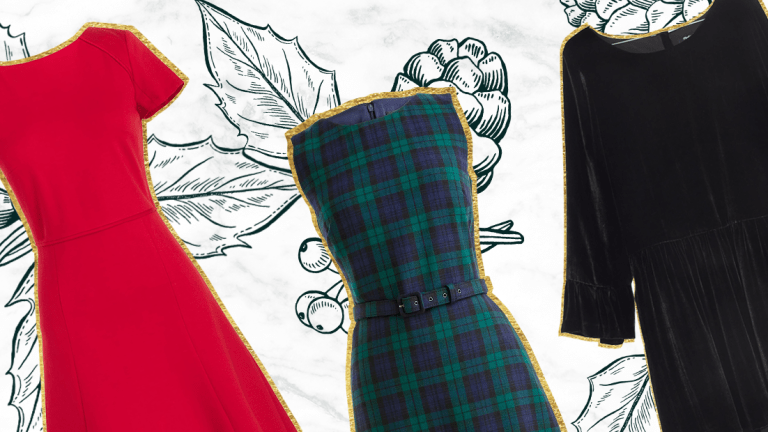 The Only Dress Styles You Need for the Holidays
Three fits that will see you through every event
Upon receiving a party invite, one of the first questions a woman will ask herself is, "What will I wear?" And let's be honest, one of the most exciting parts of the holiday season is getting a little dressed up! A chance to put on our holiday best and feel extra-glamorous for a night? Where do we RSVP?
That said, for those of us who don't have a closet bursting with festive party dresses, some economies must be made. But, thanks to our roundup of versatile holiday dresses, you won't need to worry about wearing the same ensemble twice.
The Little Red Dress //
Although Christmas-themed by default, the little red dress is a wardrobe staple that will serve you far beyond the holidays. Despite its bold appeal, the color and fit of a little red dress is oftentimes just as versatile as the little black dress. The blue undertones of the LRD is complementary to every skin tone, while the fit-and-flare silhouette is equally flattering.
The Plaid Pencil Dress //
Plaid is a print most of us immediately write off as being tacky. The classic tartan, however, is surprisingly chic when worn appropriately. A plaid pencil dress, for example, instantly looks sophisticated because of its classic fit yet experimental because of its unconventional print. This makes for the perfect holiday party dress that is both festive and ladylike! P.S. Get ready for compliments.
The Velvet Shift Dress //
Velvet is the fabric for Christmas, so why not relish in its luxury? A deep charcoal hue is great for formal parties, plus it's super-easy to dress up even more with jewelry. The rich fabric also allows you to get away with a more comfortable fit that would otherwise be too casual. It's a great way to give yourself a little break during the busy season while still looking regal as ever.