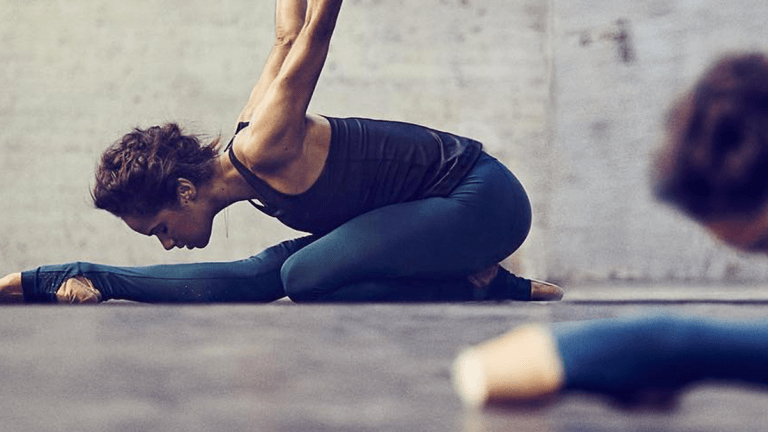 Ballet Is Known to Destroy Body Image, So Why Is It Trending Right Now?
The beloved dance has become something else entirely—and it's pretty awesome.
I started dancing as soon as I could walk and dreamed of becoming a professional ballerina. Back then the thrill of being on stage elicited such a strong natural high, I never thought I would be able to stop. When I was a teenager, I spent hours a day in the dance studio practicing routines. We were engaged in exercise that required an intense level of physical energy. Yet, we were still encouraged to keep our calories down to maintain as low a weight as possible. This incongruence didn't strike me then, but it does now. Years later, I'm amazed by how ballet has managed to remain so relevant in my own life as much as it has in our society. 
According to Dance Magazine, the "skinny dancer" started to amplify in the 1960s. Gelsey Kirkland, an American ballerina has been outspoken about her experience in the New York City Ballet. She wrote that she was told by Balanchine, a famous choreographer in the sixties, that he wanted to "see the bones." This type of pressure doesn't just lead to self-deprecation, it also leaves a physical impact. "Extreme thinness often leads to individuals cannibalizing their protein stores, which results in losses in strength and power, and, in my experience, increases their chances of injury, particularly stress fractures," says American Ballet Theatre physical therapist Peter Marshall.
I will never forget when a former coach said that if I didn't find a way to keep my bust from bouncing too much, she would "walk on stage and pull [me] off in the middle of my solo." Instead of holding my head high and accepting my body for what it was, I bought special bras so I could keep my solo at any cost. In reality, very few ballet dancers actually make it to the professional stage in front of New York audiences. Nevertheless, women (and men) everywhere have been engaging in dangerous eating disorders and fitness routines for decades, clinging to that small hope that it'll be them.
From the sixties up until when I was dancing in the nineties, ballet was able to exist in a kind of vacuum. The perils of the sport were known, yes, but mostly ignored in the name of the beauty that prevailed on stage during a performance. But thanks to the advent of social media and a greater societal awareness of body image in recent years, all that has changed—and ballet has quietly become a huge cultural influence. In 2015, Misty Copeland broke barriers when she became the first black woman to garner a coveted position of a principal dancer with American Ballet Theatre. That same year TIME named her to its 100 Most Influential People in the World list. But Copeland's influence went far beyond race. She became an Instagram star with 1.5 million followers, wrote books, and committed herself to showing another version of the ballerina. One who was healthy (and, yes, thin) but not starving. One who was unimaginably disciplined yet happy. She brought ballet into our lives in a totally new way. And others took note.
Ballet has edged its way into our modern lives in a variety of ways. Look at fashion, for instance. This past spring J.Crew included a tulle skirt in its collection that was a quintessential nod to the ballerina. On Instagram, photos featuring the skirt have garnered nearly double the likes that most of its other photos get. Miu Miu inspired a new ballet flat craze in 2017 that featured ribbon ties (doesn't get much more ballerina than that). Leotards also became a thing (for better or worse!). In the fitness world, barre classes, a sort of reimagined workout complete with a ballet barre and pliés, has surged in recent years. Meanwhile, light pink, the color we most associate with ballet, has literally been branded to the current generation of twentysomethings as "Millennial Pink."
So, you can see, ballet really is an undercurrent of the modern woman, and I think it goes beyond the proliferation of our toddler dreams of twirling in tutus and, thankfully, beyond the hyperfocus on thinness.
As a young dancer, I felt heavily bombarded by the pressure to maintain an unbearably thin image. It took me years to overcome this unfortunate side effect of my ballet years, but I never lost my love for dance—nor would I ever want to. Ballet represents a yin and yang of struggle and beauty, not unlike life itself. Especially in these modern times—when life has become so dictated by technology, speed, and efficiency—I find myself craving loveliness. I want to appreciate beauty not just functionality. I want to marvel at human achievement, not just mechanical ability. That is where ballet, rather unexpectedly, fills a void. The art has taught me both discipline and appreciation that has extended into every realm of my life. I pour my heart and soul into every project, job, or class I have ever had. Maybe that is why I was compelled to dance, maybe that is what ballet taught me, or maybe it was a combination of the two influencing one another.
Dance is empowering and influential for many reasons. Physically, it's a means of controlling and connecting to our own bodies. But in 2017, the empowerment of dance has collided with the progressive attitude that influencers such as Copeland bring to the table. Ballet is now more diverse and more accessible (in different ways) than ever. The heyday of ballet body extremism was before the Internet. It was before social media. It was before women had a larger platform to speak up and protect ourselves from body shaming. Now ballerinas of all genders can showcase their work outside of the theater, and we get to benefit from that. Women can wear pink as a display of feminine strength not girlish subtlety. And thanks to the accessibility of fitness, we don't have to be aiming for a solo in Swan Lake to experience the empowering mastery of ballet moves. Just head to a barre class.
Modern ballet culture is giving a new face to what it is really like to be in the community. Dancers share pictures of injuries, bloody feet, physical therapy, mistakes in class, and much more. They also show the beautifully ethereal side of ballet that we all love to take in and bring into our own lives.
Social media is not the only evidence of the progress in the dance community. Artistic directors are choosing to be more open-minded when hiring dancers for the stage. Royal Ballet Director Kevin O'Hare says, "Being a dancer is not about denial but about strength and vigor." Though Instagram is not the only proof of body positivity in ballet, it is one of the easiest and most fun ways to follow amazing dancers.
There will always be those who exclusively highlight the stereotypical waifish, pale dancer. But ballet, as it exists in the mainstream, has come a long way. These dancers, and those who let ballet inspire their clothes and imagery—show us what life looks like in one of its most beautiful art forms—dance.