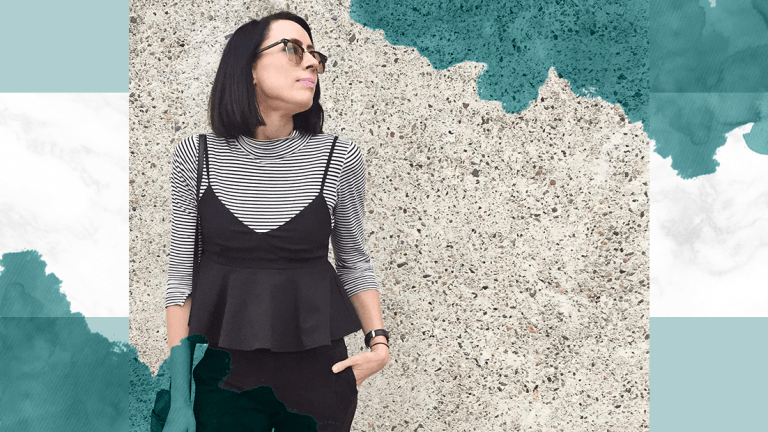 5 Practical Layered Outfits You Never Thought of Trying (But Will Love)
Why not look cute while layering up?
If there's one styling hack to master during the cooler seasons of the year, it's layering. Every fall we look out for new ways to wear items in our wardrobes, which often involves looking to our favorite style bloggers for inspiration. Our new outfit muse, Hannah Klose, owner of sustainable fashion blog Never Ever Pay Retail, happens to be an expert at creative layering. We sleuthed through her outfits and found some seriously steal-worthy looks! Here's how to make these layering combos work for you, too.
Button-Down + Dress
With the holidays coming up, your dresses will be on rotation. To switch up your look, try Hannah's seamless layering trick that totally transforms her outfit! By layering a button-down underneath, her sleeveless dress becomes a long-sleeve dress that has a more fashion-forward edge to it.
Turtleneck + Cami
A strappy cami is definitely too chilly to wear alone during the winter, but there are ways to still wear these fancy tanks! Layering it over a turtleneck is both elegant and practical. That way, your outfit is dressed up a bit but you're still warm. It's a win-win!
T-Shirt + Duster + Blazer
Layering is all about getting creative, so why not try an unconventional combination of items in varying lengths? For example, a longer duster jacket underneath a fitted blazer creates a unique silhouette that's still flattering to your shape because it highlights the waist. Like Hannah's casual rock 'n' roll vibe? Complete the ensemble with a pair of jeans and shades.
Button-Down + T-Shirt + Jacket
When temps are plummeting, it's hard to find ways to stay warm without bulking up. Take a cue from Hannah, who keeps herself insulated with thinner layers that contribute to her entire look. The button-down offers polished academic vibes that perfectly contrast against the casual striped tee and tough leather jacket.
T-Shirt + Shirtdress
Have a summer button-down dress you're not quite ready to say goodbye to? Instead of packing it away, wear it as a duster over your T-shirt and jeans like Hannah does. It will immediately dress up these basic wardrobe staples for a visually interesting ensemble.