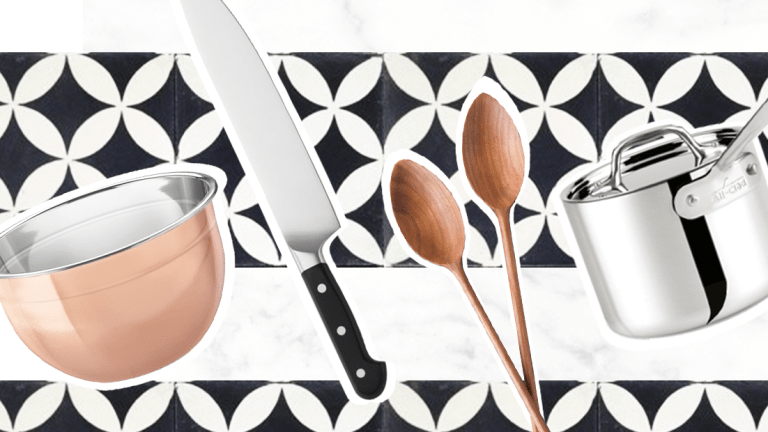 10 Essential Tools Every Starter Kitchen Needs (and Doesn't)
Building a kitchen from scratch is a complex recipe, but with our checklist, you'll have the basics in no time.
We'll be the first to admit it. Watching Ina Garten on a lazy afternoon, we aren't just drooling from the sumptuous food on camera—we're also gawking in envy at her picture-perfect, ever-stocked Hamptons kitchen. And this goes for any cooking show! Pro-grade home kitchens on television leave us feeling intimidated. But all you really need to sharpen your amateur chef skills—and start stocking those cabinets—are carefully selected kitchen tools. With holidays and weddings on the horizon, use this shopping guide for your Christmas wish list or wedding registry. 
These are the basic accoutrements of any kitchen toolbox.
Wooden Spoon
Ah, the classic wooden spoon. You use it for stirring, mixing, tasting, serving, smacking people when they dare enter your kitchen domain . . . wait, what? Now, you can purchase one for as little as $1 at a standard kitchen supply store, but because it will be one of your most used tools, you can always go for something that will lend a bit more personality and elegance.
Pro tip: To prevent splintering, never wash a wooden spoon in the dishwasher.
Low: 12" Wooden Spoon, Webstaurant Store, $0.99
High: Cherry Stirring Spoon, Sweet Gum Co., $65
Chef's Knife
Ask any restaurant chef, and they'll tell you that their most prized tools are their knives. To start, get a basic 8"-10" chefs knife, made in the German style (which is to say a flat handle, and not the rounded Japanese style). As famed chef Jacques Pépin has said, "The best knife is a sharp knife." For your first knife, no need to splurge. A standard $20 to $30 piece will do the trick until you have the skills (and confidence) for something fancier.
Pro tip: When choosing an adjoining cutting board, go for standard plastic (which is used in most commercial kitchens). They are easier to sanitize from meat prep and other raw foods.
Low: Zwilling Kolor ID 8" Chef's Knife, Chef's Toys, $27.90
High: Zwilling J.A. Henckels 8" Pro Chef Knife, Williams-Sonoma, $140
Pyrex 1-Pint Glass Measuring Cup
Pros sprinkle a little of this here and a little of that there. But as a novice cook, you'll be doing plenty of measuring. For a measuring device that is functional, sturdy, and microwave-safe, a reliable standard is the Pyrex 16-oz. cup. You can also purchase some metal dry measuring cups, but your trusty Pyrex is a great starting point.
Low: Pyrex 1-Pint Glass Measuring Cup, Bed Bath & Beyond, $5.69
3.5-Quart Metal Mixing Bowl
Again, this is a tool that serves a variety of functions from mixing up a salad to making cookie dough. Keep function in mind. First, go for higher edges as opposed to wide bowls, which allow for more vigorous mixing without losing the contents of your bowl. And second, go for non-reactive metal instead of glass, which will allow the tool to double as a double-boiler if need be.
Low: Tovolo 3.5-Quart Stainless Steel Mixing Bowl, Bed Bath & Beyond, $11.99
High: Copper 3.5-Quart Mixing Bowl, Williams-Sonoma, $24.95
10-Inch Stainless Steel Sauté Pan
Now to turn up the heat with the actual cookware. To start, every chef from the novice to Julia Child needs a sauté pan. Back in the day, the gold standard would have been copper, but now, clad pans (aka copper sandwiched between stainless steel) is the go-to. All-Clad is super versatile and if you maintain it well, it won't stain. A bit pricey? Yes. But with care and proper use, these babies will last you a good 20 years.
Pro tip: To thoroughly wash skillets after use, steel wool with Bar Keeper's Friend and water will restore the piece to its original sheen.
Low: 3-quart Classic Stainless Steel Sauté Pan with Lid, Calphalon, $50 on sale at Amazon
High: 10-inch Stainless Steel Sauté Pan with Lid, All-Clad, $99 on sale at Amazon
Stainless Steel Saucepan
While you're rounding out your cookware collection, a saucepan is another essential that cannot be missed. Naturally, it's for more than simply sauce. This can be used for making soups, vegetable prep, risottos, as a double-boiler, you name it. As with the sauté pan, go with a clad pan for better heat distribution.
Low: 1.5-quart Stainless Saucepan with cover, Cuisinart, $20
High: 1.5-quart Sauce Pan, All-Clad, $79
8-Quart Heavy Stock Pot
Finally, to finish off your cookware necessities, you need that heavy bottomed pot, which is essential for boiling pasta, blanching vegetables, making large quantities of soups, stocks, and sauces. Again, All-Clad is the gold . . . [cough] I mean stainless steel, standard. You can opt for a much cheaper (though still functional) restaurant supply version.
Low: 8-quart Heavy-Duty Stainless Steel Stock Pot with Cover, Webstaurant Store, $27
High: Stainless Steel 8-quart Stock Pot, All-Clad, $320
Cast-Iron Skillet
You may be saying to yourself, "Wait, I already have a sauté pan . . . why do I need a cast-iron, too?" Well, cast-iron skillets are the most versatile in terms of cookware as they can easily transfer from stovetop to oven and back. Though they are a little harder to care for, what with proper cleaning and seasoning (baked-on cooking oil), they are invaluable investments that can be passed down. (Literally, in the South, people leave their cast-iron pans to family members in their wills.)
Pro tip: A good starter is the Lodge 12-inch skillet ($39.50) with tempered glass lid ($29.50). Lodge is very inexpensive but highly functional, plus it's easier to maintain. Simply wash with water, dry, and rub with a very light layer of cooking oil.
Baking Dish
And now that we're moving into the oven, let's talk bakeware. You'll probably recognize this one from your mom's casseroles, but the 9x13 Pyrex Glass Baking Dish is an essential in any home. Whether you're making a roast for the family or a cake for a friend's birthday, this piece is versatile and durable. You can always spice it up with a Le Creuset, if you're feeling fancy.
Pro tip: Bonus if it comes with a lid for easy transport or storing leftovers.
Low: 9x13 Pyrex Glass Baking Dish, Bed Bath & Beyond, $9.99
High: Le Creuset Heritage Stoneware Rectangular Dish, Williams-Sonoma, $75
2 Sheet Pans
Lastly, for most any baking and roasting needs, a standard rimmed half-sheet tray will do the trick. Again, you can veer for restaurant supply store grade or splurge on something more refined. Grab two sheet pans so that you have the option of cooking an entire meal or double batch of cookies at the same time.
Pro tip: To make sheet trays last longer, always line them with parchment paper or aluminum foil to prevent sticking and scratches.
Low: Baker's Mark Quarter Sheet Pan, Webstaurant Store, $3
High: Goldtouch Quarter Sheet Pan, Williams-Sonoma, $29.56
Bonus: Kitchen Starter Don'ts
When it comes to tools to avoid, the general rule is that if it only fulfills one function, then you should skip it. That means spice grinders, garlic peelers, mandolins, rice cookers—the functions of these tools can all be fulfilled by becoming more skilled with your knives and other tools. For instance, replace a . . .
spice grinder with a coffee grinder, mortar & pestle, food processor, or microplane
garlic peeler by smashing cloves with the flat side of a chef's knife
mandolin with a vegetable peeler, cheese shaver, or a very sharp knife
rice cooker with a sauce pan (for most types of rice, the stove cooking ratio is 1:2 cups of rice to water)
To avoid buying every top-rated kitchen tool in the book, keep a running wish list. Perhaps juicing has become essential to your life or you've taken up artisanal ice cream making every weekend. You'll have a reason to splurge for some new tools to make your life easier (and more delicious!).