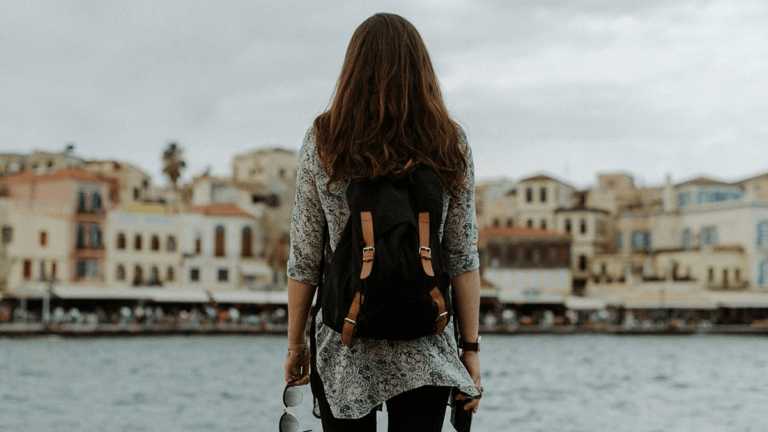 Whenever Dating Gets Me Down, These 7 Things Always Help
Think all the good guys are already taken? Think again.
Primped and prepped after an hour of getting ready while listening to my Pump Up the Jams playlist, I made my way out of the parking garage and toward the restaurant. That's when I saw him—my Bumble date—and I immediately just knew that this date would be a fruitless endeavor. I am perfectly open-minded to hairstyles and can support a fade or a man bun, but both at once felt like a bridge too far for me.
I actually considered bailing.
But I knew better. I was being shallow. The light changed, I crossed the street, and we had a perfectly pleasant evening—but no second date.
While I am glad I went on that date, I remember feeling so defeated. I had done everything I could to be friendly and optimistic (and to look great), and yet again, the date would lead to nothing. This was not the goal I had in mind when I signed up for a dating app. So if you feel me, you might already know that the most frustrating part of dating is the point when pessimism creeps in and no amount of pep talks from your mom can change those voices in your head.
So I came up with some tactics that have helped me learn and enjoy dating—as well as being single. You'll find that these pieces of advice are all connected by an underlying theme: reconnect with yourself. Sometimes we spend so much time focusing on finding the right guy that we're caught off guard when he actually shows up.
So try not to worry. Here's how to revive not just your dating life but also your actual life when you are feeling burnt out.
01. Reflect on bad dates, and try to learn from them.
In the immediate aftermath of a mind-numbing evening, it's easier to just forget that it ever happened. Whether it's a few days or a few months later, take the time to circle back and evaluate. No, I don't mean grade your dates' hair (guilty!) and clothes, but consider why the date didn't work out. Why didn't you enjoy it? Were you bored? What about the date felt wrong? Thinking through the date and asking yourself questions will develop your gut feeling and help hone your ability to make definitive decisions down the line.
02. Travel with friends—or go solo.
One major difference between my single friends and my friends in relationships is the amount of traveling we single people manage to fit into our calendars. A huge advantage of being unattached is that you only have one schedule and one set of preferences to consider when planning trips. Traveling solo or with friends is an incredible way to develop your sense of self and get the most out of your singledom.
03. Consider deleting your apps (at least for just a bit).
Admittedly, our relationships with dating apps can get complicated. But if you find yourself getting anxious every time you open your app (and not in the fun, butterflies-in-your-stomach kind of way), maybe it's time to take a breather. Taking time away might help you to recognize the patterns in your swiping habits and regain perspective. Online dating can be downright nerve-wracking, and sometimes you need a month (or twelve) to replenish your energy—and focus on the relationship opportunities in real life, right in front of you.
04. Find a hobby that makes you come alive.
This is my dad's favorite advice for anyone who will listen, and I think it's safe to say we have all heard it before. In my opinion, most people give or take this advice with misguided motivation. The point of getting a hobby is not to meet someone new while doing said hobby but to enrich your life and do something that energizes your spirit. When dating is the only thing that you're focused on outside of work, it becomes draining, and you become uninteresting. Remember, find something you love. Don't force yourself to enjoy rock climbing even if you find rock-climbing guys cute.
05. Try different types of dates.
Do you know what a fantastic second or third date is? Kayaking. It sounds adventurous but is easy, it's OK to either chat or be quiet while rowing down the river, and you can control the pace of the date. But this is just one idea. Getting creative has tons of advantages: It can be cheaper, you can focus on planning rather than nerves, it's more memorable, and you get to see how he acts in different scenarios. Doing something off-the-wall can make it easier to tell if there's a future, too. After all, if it actually works out with this person, you won't be going for drinks and dinner in perpetuity.
06. Maximize opportunities for spontaneity.
There are so few years where your only priority is you and you have the freedom to make spontaneous decisions to give into a whim or desire (within reason). So go on and see a movie when you walk by the theater, spend the day walking around downtown, or go to a party with a group of friends that you normally don't. Not only are new places great places to meet someone new, but you're also likely to have fun.
07. Try living alone.
If you have the means and ability to live alone, I highly recommend that you try it. You can decorate to your exact liking, learn how to portion and cook food for yourself, and figure out what you're like when it's just you. A huge bonus is that it provides a fantastic barometer when it comes to dating. If you enjoy having someone in your space and feel as comfortable with them as you do alone, that is usually the sign of a keeper!