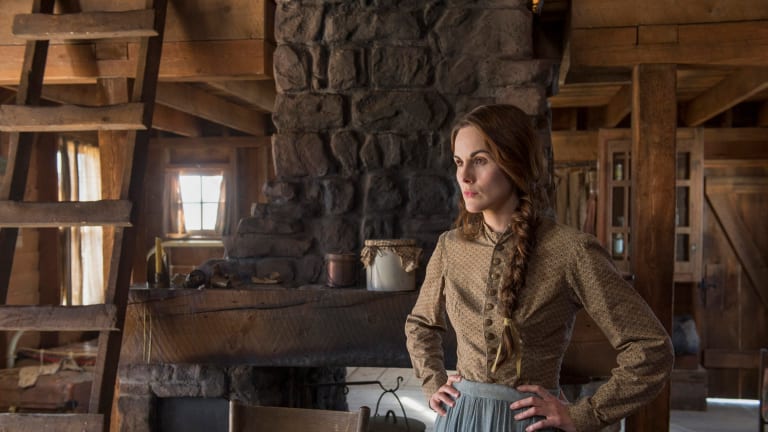 Michelle Dockery's 'Godless' Isn't the Fictional Female-Driven World You Expected
But maybe it's better.
"Welcome to No Man's Land," beckoned the trailer of Godless, Netflix's new drama starring Michelle Dockery and Jeff Daniels, among others. The seven-episode first season, which dropped this past weekend, promised to be an intriguing look at a micro-society run by women. What it delivered isn't a "feminist Western" as was expected—instead it is a story most critics have dubbed far less female-driven and far less unique. In a way, though, by denying us a true look at a women-centric world, Godless does us a favor.
The show was really more about two men, rivals fighting to mark their territory and establish dominance, than it was a representation of the resilience of women going it alone. Following a tragic mining accident, the town of La Belle is rendered a land of widows. Alice (Dockery) is a single mom struggling to find a place in the community with her very complicated past. Mary (Merritt Wever), the mayor's widow, is leading the devastated community toward rehabilitation. These stories, which would no doubt be most interesting to anyone who liked the show's trailer, are left to simmer on the sidelines. A battle of good versus evil between the two men takes precedence instead. In fact, Digital Spy pointed out that 73 percent of dialogue in the first episode was delivered by men. Which, understandably, might make those eager for a strong display of leading female roles feel cheated. But aside from this fictional role, the reality of what unfolded harks back to a real-life narrative we've come to know quite well.
The post-election slogan "The Future Is Female" has been everywhere since Hillary Clinton gave it credence during a speech this past February. Since then, women have used it as a catchall battle cry to generalize and condemn sexism and misogyny. The phrase was likely ringing in viewers' ears as they tuned in to watch Godless' country western version of life sans our male counterparts. But this is not what the show delivered, and it might be for the best.
"The Future Is Female" is a troubling sentiment. More than saying that we don't need men, it implies that we don't want them either. The former is, of course, not true. But the latter is equally not true. Do we want men who treat women like objects for pleasure? Who disrespect and belittle us at every turn? Surely not. Loving men, on the other hand, those who want to be our partners in parenting, in chasing dreams, in living a full life—surely those men have a sacred place in our lives. A highlight of Godless is the flashbacks we see to the women's lives before the mining explosion. These vignettes of husband and wife going about their day-to-day are touching and make their present day that much sadder. At times in the show, the women face sexism and abuse to a degree that gives even the Weinstein narrative a run for its money. But they also know happiness and love with the men around them.
Ultimately what Godless delivers is a world where women are capable of taking care of themselves. La Belle's ability to survive shows that well enough. But for those disappointed by the show's bait and switch away from a hyper-feminist world reimagined, perhaps the takeaway is that we don't actually want to imagine a world void of men. Given the chance, most of La Belle's women probably would have wanted their husbands back. They didn't want to be on their own even though they could be.
The show's creator says he never set out to make a feminist statement. Despite the marketing that preyed on women's current appetite for less masculinity and then didn't provide that, the show wasn't ultimately a failure. It should have focused on the women more, as advertised. But, it's a good show nonetheless. And for those hoping to see or wanting to be part of a woman-only world, well, maybe that's not the right thing to imagine after all—Western or otherwise.