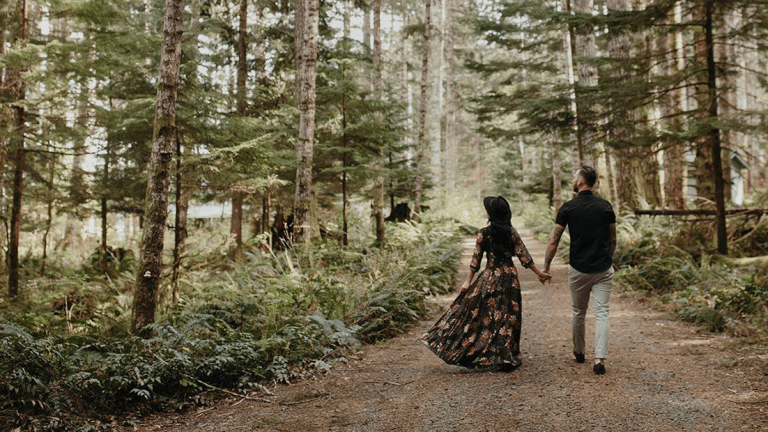 9 Cute Last-Minute Date Ideas That Will Make You Forget About Black Friday Entirely
Wait, Black Friday? What's Black Friday?
Despite trends to the contrary, this Friday is still estimated to be the No. 1 shopping day in the U.S.—with an estimated $26.2 billion increase from last year's $655.8 billion, averaging nearly $1,000 per shopper. While it might be the most popular day of the year to head toward the big stores in the early a.m. for those massive blowout deals, that's not exactly our jam—and it may not be yours, either. Rather, we at Verily think that this is the ideal day to make some non-branded memories with your significant other, without the crowds.
While it can be tempting to hide away in bed and recalibrate from all family interactions (both good and bad), we suggest using this time wisely to make an intentional staycation with your one and only. Here are our ideas:
01. Take advantage of Thanksgiving's carbo-loading and embrace the #OptOutside trend.
Grab a warm cup of coffee, and drive off into your nearest wilderness to enjoy an autumn hike, preferably one with a scenic summit. While the rest of civilization is carousing through stores, you'll be happily wandering down some leaf-covered path. For even more fun, pack up some leftovers for a picnic, and bring along some of your siblings, nieces, and nephews (or children of your own) and enjoy their excitement. Check to see if you're near any of Verily's picks for best hikes, or Google the nearest state park.
02. Hit the bike trails and sip on some hot cocoa.
If you can get over the idea of your significant other seeing you gross and sweaty (no judgment if you can't), try kicking your cardio game up a notch, and brace the chilly trails together as you adventure on a long bike ride. The endorphins will overcome the lethargy of indulging in too much stuffing and may even cause you two to feel closer. Plus, it might be a well-needed break from all of yesterday's talking! Top off the date with some homemade hot chocolate to warm up because everyone knows that chocolate is good for you—right? Especially if you add rum.
03. Play with legos together like little kids (yes, really) while watching football.
Whether you're a Harry Potter fan, a Marvel fan, or you want to check out the new NASA women set, invest in your favorite themed Lego collection. The more outlandish, the better. Choose something you're both passionate about and spend an afternoon following (or not following) the instructions as you watch (or don't watch) the game. It's a great way to build something concrete while also building your team skills as a couple. Once you've completed it, put it somewhere special, or if the creative juices are still flowing, knock it down and build something else—and see if your partner can guess what you're constructing. Just make sure not to leave any Lego pieces underfoot because that would kill any touchdown glory.
04. Heat up the kitchen (again) while dedicating a holiday playlist to each other.
With the pressure of the "big meal" off, get back in the kitchen! Before you start baking, though, first take turns on Spotify and curate a unique playlist with songs you think will whisk each other away into the holiday spirit. Meanwhile, choose a recipe that neither of you has ever tried—something utterly extravagant or something more simple like these holiday delectables. Laugh and sigh at the types of songs you have dedicated to each other as you experiment in the kitchen, bonding over each other's tastes in music—and in food.
05. Continue the Thanksgiving love by giving to others.
There are plenty of people out there who don't get to enjoy Thanksgiving, and Black Friday is the perfect day to try and remedy that. While it might be too late to volunteer at a soup kitchen last-minute (but if you can, go for it!), spend the day coming up with a way to give to others. Consider organizing a group to put together packages and letters for soldiers overseas to give a big thank you to those who sacrificed their own Thanksgiving to serve our country.
06. Take your newly found Christmas cheer outside—and inside.
Christmas is now less than a month away, and with Thanksgiving officially over, it's OK to start scouting out the perfect tree. So drive out to the nearest Christmas tree farm, and chop down a fresh alpine, spruce, or fir, and haul it back home. After you set it up, start putting Christmas lights on it and all around the house—inside and outside. If you're not exhausted yet, you can end the day by either starting a gingerbread house or by planning its tasty architecture for another weekend.
07. Explore a museum you haven't been to in a while (or ever).
So you've seen all the advertisements for those cool exhibits that look interesting, but how often do you really get the chance to see them? If you want to get out but don't necessarily want to get outside, choosing a museum and spending hours going through exhibit after exhibit can be the perfect way to spend time with your significant other, as you'll both be experiencing something new together while constantly having something fresh to talk about. We recommend searching for your destinations online first, as some museums will modify their hours near holidays.
08. Get closer by reading a book to each other.
If all you have is an evening together, consider getting cozy by the fire (or try this digital fire, courtesy of Netflix) and simply start reading books out load. Our suggestion is O. Henry's short stories. (The Gift of the Magi, anyone?) While it might seem easier to just turn on Netflix (if so, skip to No. 9), reading together—while maybe a bit awkward at first—has been shown to foster intimacy between couples while also improving empathy. So crack open a tome—be it a classic, a new bestseller, or poetry, and get your reading voice ready.
09. Enjoy the low-key day with holiday movie marathons and leftovers.
It's true. New research has given you permission to curl up and "Netflix and chill," as watching movies together is actually a proven way to reduce conflict in your relationships. Whether you choose to do this all day or as an add-on to any of the above, we don't judge. Television and its on-demand offerings will be crawling with Christmas classics in anticipation of the upcoming holiday. But if you're looking for particular Christmas classics, check out Verily's curated list here.