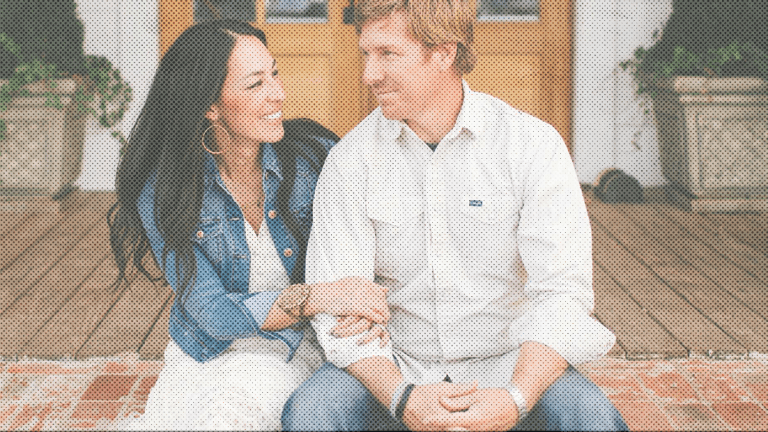 I'm Really Glad 'Fixer Upper' Is Ending—But the Reason Isn't What You Think
Chip and Joanna are actually giving us a gift.
It's the beginning of the end for Fixer Upper fans. The last season of the show so many of us have come to adore is officially in its last season. Since its premiere in 2013, this show has become a staple of HGTV programming, spawning countless BuzzFeed lists and prompting viewers everywhere to consider relocating to Waco. (Seriously, how cheap is the housing market there?!) Fans were devastated when Chip and Joanna Gaines announced in September they would not return to our living room TVs after season five, but I'll be honest, I was actually happy to hear they would be calling it quits.
Before you burn me at the stake for heresy, hear me out—I will miss Chip's playful antics and Joanna's obsession with shiplap just as much as the next fan. I, too, have fawned over their kitchen renovations and coveted their subway tile. And I have even laughed at their clearly staged (but somehow still adorable) flirtatious banter.
My relief at their decision stems not from any hostility toward them but from a genuine interest in their well-being and an admiration for their courage to take a break and reevaluate.
Speculation about the Gaines' reasons for ending Fixer Upper has abounded. A secret divorce or involvement with a fraudulent skin care line have been popular theories. In reality, the couple says their choice to separate from the show has nothing to do with scandal and everything to do with vital self-care.
"This is just recognizing that we need to catch our breath for a moment," notes the September blog post announcing their departure. "Our plan is to take this time to shore up and strengthen the spots that are weak, rest the places that are tired, and give lots of love and attention to both our family and our businesses."
Their need for rest is understandable, seeing as they have been filming Fixer Upper for eleven months a year since 2013—an exhausting schedule for anyone, let alone a family of six with multiple entrepreneurial endeavors.
Furthermore, psychology experts have expressed concerns about the potential mental and emotional tolls of participation in reality TV shows. You may not think of HGTV as being in the same high-stakes category as the likes of The Bachelor or Top Chef, but the fact remains that our beloved Fixer Upper is a form of reality television.
Even when a show's most dramatic moment is making the call to tell a homeowner you've gone over budget, living life in the spotlight can't be easy under any circumstances. Adding marriage, young children, and your entire livelihood into the equation must only exacerbate their stress. As someone with an anxiety disorder, I always advocate for simplification and self-care in the face of chaos, and I think Chip and Joanna have actually done us all a huge favor. They're providing an example of what it looks like to admit that you need to step back and that you need to focus inward.
What exactly does that mean? Well, to me it means recognizing when I've taken on too much and finding ways to pare everything down. It means focusing on what's most important to me and being willing to adjust my path accordingly when my priorities have shifted.
In my mind, that's exactly what the Gaines family is doing. They've made a course correction based on their priorities and needs. And as they astutely point out, making that kind of change may sometimes prove challenging.
"While we are confident that this is the right choice for us," they write, "it has for sure not been an easy one to come to terms with."
It takes courage to admit that you need to let go, especially with such a devoted following as the Fixer Upper viewership. But I applaud Chip and Joanna for advocating for themselves despite any external pressure. I believe they will be stronger for having done so.
And the good news is, we won't be seeing the last of them just yet. Not only do they have a new home decor line at Target, but we also still have an entire season left to watch—and you can stream old episodes online as often as you want.