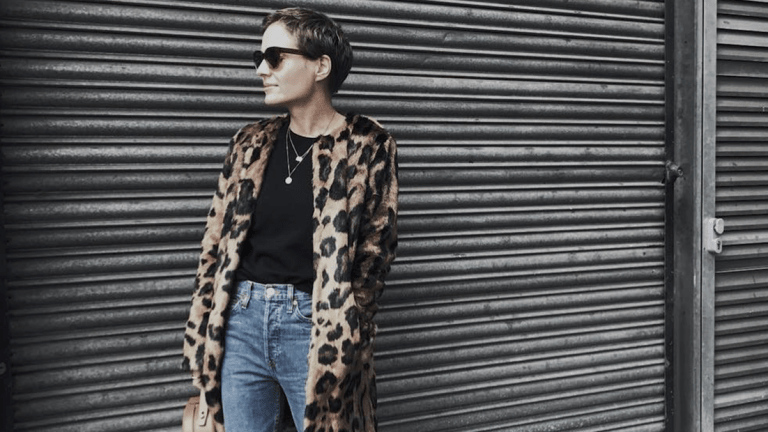 We Asked European Women to Share Their No. 1 Wardrobe Staple—Here's What They Said
Their answers might surprise you.
We all have that favorite go-to wardrobe staple that adds a little touch of magic to any outfit we wear. It's our comfort piece that makes us feel more confident and put-together, no matter the occasion. As we get settled into our new fall wardrobes, now is the perfect time to rediscover the comforts of a tried-and-tested style staple and find new ways to incorporate these classic items into our daily outfits.
Given that European women are known for the easy, elegant style, we asked some European style bloggers to tell us what their favorite "comfort piece" is. It was interesting to hear how unequivocal their responses were: these women have a seemingly endless array of beautiful clothes, but there's always an item or two that each woman loves and works into her outfits again and again, constantly reinventing a classic.
Check out what they said, and pick a favorite European style staple of your own. Perhaps they'll inspire you to look at your own wardrobe with fresh eyes this fall.
01. Daphné from Mode & the City: Paris, France
Who isn't a huge fan of classic and feminine French style? It was no surprise, then, when Parisian style blogger Daphné said her go-to item was a timeless piece favored by the likes of Audrey Hepburn: "My one wardrobe staple I couldn't live without would be a beige trench coat! It's probably the item I wear the most year-long, it's so easy and elegant, plus it goes with absolutely everything."
02. Greta from G for Grace: Padova, Italy
Greta, an Italian style blogger, also chose something very versatile and timeless, but with a glamorous Italian twist: "I love blazers so much, I have a lot of them in my wardrobe! They are so versatile and work with pretty much all outfits and styles. You can play with them, matching them with different other items to create a lot of different looks." Throwing on a blazer is one of the easiest ways to instantly dress up a more casual outfit and add a bit of quick polish to your look.
03. Julia from Stylonylon: London, United Kingdom
London is known for its quirky, eclectic and laidback style, and London-based style blogger Julia gave us all a reason to go back and reconsider our humble jeans with a bit more creativity: "A great pair of denim jeans—the kind that make you feel amazing but are still super comfy—are my holy grail, and the building block of most everyday outfits for me. I'm currently obsessed with the High-Rise Ankle Crop by Re/Done, which I found in my local denim boutique Bad Denim in Clapton. I wear these practically every day!" Her Instagram feed is a great source of inspiration for fresh ways to wear your jeans, if you need it.
04. Rebecca from A Clothes Horse: Northern Ireland 
Rebecca's outfits are the epitome of cozy, with playfully feminine combinations striking the perfect balance of eye-catching and old-fashioned elegance. "I think my top wardrobe staples for autumn especially are classic wool berets and brogues, a type of menswear inspired shoe that are a lot like oxfords. I have so many colors of berets and varieties of brogues and return to both those accessories every autumn without fail!" If you aren't already in love with all things autumnal, her Instagram feed is bound to get you in the mood—she lives in a real-life fairy tale "tiny gatehouse" in Northern Ireland, after all.
05. Michèle from The Fashion Fraction: Zurich, Switzerland
The superlatively cool Michèle from Switzerland let us in on a little high-fashion secret: Never underestimate the power and versatility of a good collection of sunglasses. "They can totally transform a simple outfit into something super chic, or something rock 'n' roll. They can add vintage vibes, or make you look so extra. And another good thing about them: They are not as expensive as other fashion pieces, even if they're from the world's top designers."
So, what's your go-to wardrobe staple that never fails to add a little extra magic to your own outfits? Have you been inspired by these ladies to try something new? Let us know in the comments below!