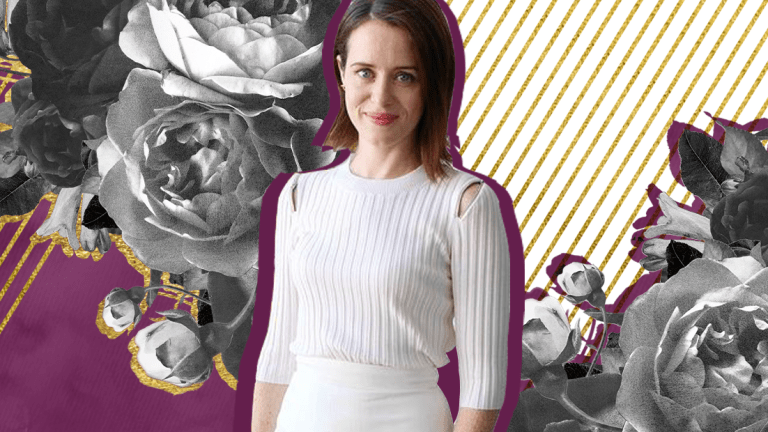 4 Reasons to Love 'The Crown' Star Claire Foy's Comfortable Style (and How to Copy It)
This British starlet has mastered effortless dressing.
So far, 2017 has been a great year for actress Claire Foy. Catapulting to fame after her Golden Globe–winning role as Queen Elizabeth in the Netflix original The Crown, Ms. Foy has also made a seamless transition onto the silver screen. You may, however, already recognize the British actress for her previous BBC and PBS miniseries roles. In fact, Foy and period dramas seem to go hand in hand. It's almost shocking to see her donning ensembles that aren't from the 1940s to 1950s.
The experience of playing so many historical women has no doubt influenced Foy's everyday looks, but she still manages to keep her style modern and casual. When she's not wearing a bold red lip, barrel curls, A-line dresses, or white gloves, Foy's personal style is much more relaxed yet classic.
So how does she blend a vintage aesthetic with contemporary practicality? We've taken some notes on Foy's staple outfits and broken them down, so we can make her comfortable and timeless looks our own.
She Keeps It Simple
First and foremost, Foy sticks to her basics. Some of her best looks are achieved when only wearing a simple white blouse and slacks. It may be easy to opt for trendy pieces, but basics are the foundation of any wardrobe. They're beautiful enough to stand alone but can easily be dressed up. Foy achieves her timeless looks with easy-to-copy staples, convincing us that these items are worth investing in. Who knew basics could make such a striking impact?
She Prioritizes Comfort
This soft and breezy look is perfect for just about any situation and occasion. Wearing a loose blouse and flowing pair of trousers, Foy makes an everyday ensemble comfortable and graceful. Although there's a lot of fabric going on, she keeps her shape in mind by belting her waist. The combination of masculine separates in soft feminine fabrics creates a look that is elegant and versatile.
She Isn't Afraid to Be Bold
Sometimes it seems like personal style has two camps: bold versus basic. But Foy proves you can have the best of both worlds. Although her day-to-day looks are simpler, her red carpet looks are more unique. She reminds us that a bold detail can often make a simple outfit stand out. Whether it's polka dots, contrasting fabrics, interesting silhouettes, florals, or bright colors, little styling tweaks can really complete the look.
She Uses an Outfit Formula
Did you catch any patterns throughout these looks? At first glance, all these outfits may seem different, but there's a subtle wardrobe formula at work. She often wears separates (shirts and pants) in loose fits and lightweight fabrics and tops it all off with a heel. In fact, this structure emerges in most of her looks. Outfit formulas are a great way to simplify your morning routine and always look polished. The best part about Foy's look is that it's achievable for every single one of us. Create a formula of your own, and allow it to guide your personal style like Foy did.