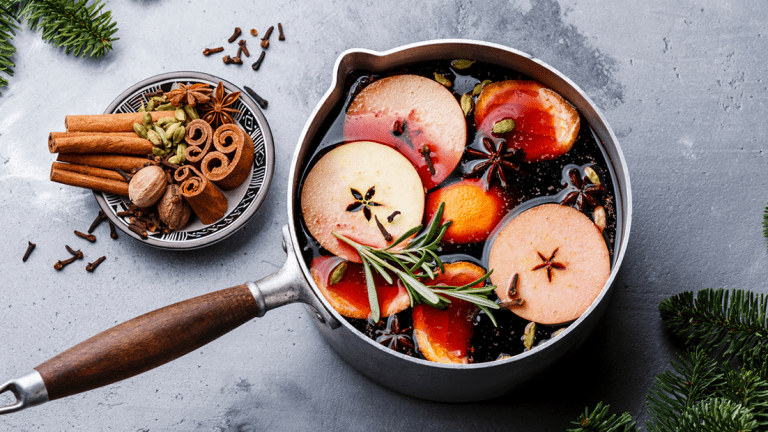 Everyone's Favorite Holiday Spice Could Actually Be Really Great for Your Skin
Look no further than your spice cabinet for this season's cure.
Snickerdoodles, mulled wine, apple cider, pies—so many of our favorite holiday indulgences share a common ingredient: cinnamon. While the sugar in those cookies and the alcohol from that wine are not so great for our skin, a dash of this terra cotta–colored dust might just be the $2 skin saver you never knew you needed. Check out what the experts have to say about it.
What is this cinnamon hype, really?
According to a study in the International Journal of Pharmaceutical Science Invention, cinnamon is a natural choice for fighting acne thanks to its "anti-inflammatory and antibacterial properties." When measured against tea tree oil and rosemary, the researchers determined that cinnamon was, in fact, the most effective for combating breakouts. As the beauty world has caught wind of this affordable secret, many have remarked that cinnamon helped them with acne, acne scars, excess oil, wrinkles, collagen production, and more (to say nothing of the internal benefits that can come from consuming the spice!).
What's the best kind of cinnamon to use?
According to a comprehensive review of cinnamon research published in BMC Complementary and Alternative Medicine, cinnamon can be found in two main forms: Cinnamomum zeylanicum (CZ) and Cinnamon cassia (CC; also known as Cinnamomum aromaticum or Chinese cinnamon). CZ—what researchers call "true cinnamon"—hails from Sri Lanka and southern India. CZ has been shown to have hardly any coumarins, which can be toxic when over-consumed. CC, on the other hand, is high in its coumarin ratio.
According to the review, CZ was confirmed to have "antimicrobial, antiparasitic, antioxidant, and free radical scavenging properties." Dr. Maral Skelsey, M.D., director of dermatologic surgery at Georgetown University, confirms that the best cinnamon to buy for skin purposes is CZ or Ceylon.
How should it be used?
One of the most common uses for cinnamon today is to mix it with manuka honey and apply it as a face mask. Honey has amazing skin-benefiting properties, so the combination is a natural winner—literally. Two tablespoons honey mixed with one teaspoon cinnamon will create the paste, which can be applied and left to sit for about thirty minutes on your skin. Dr. Skelsey does warn, however, that it has the potential to irritate and dry out the skin. She urges people to be aware that while most laboratory studies demonstrate these beneficial properties, cinnamon's use on the skin is not as well studied. Test the mask on a patch of skin elsewhere first and see how it reacts.
If you're ready to rummage through your kitchen cabinets to test cinnamon's skin-healing properties yourself, check out these DIY cinnamon face mask videos below.