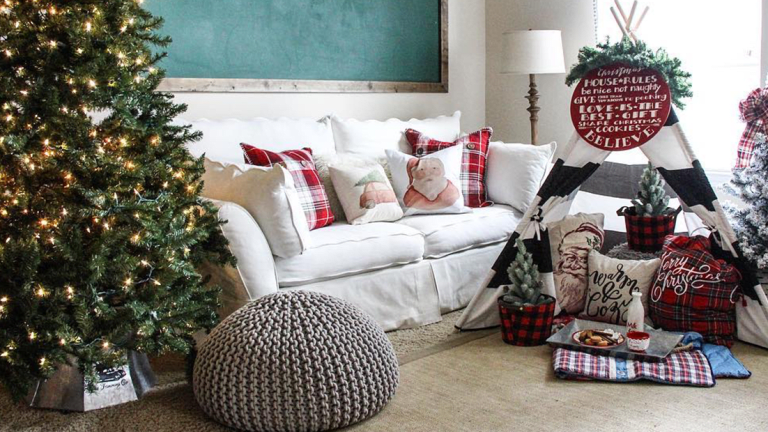 8 Times Interior Instagrammers' Holiday Decor This Year Are #Goals
Inspo for days!
If you weren't eagerly decorating for Christmas before Thanksgiving (and many people do), it's not too late! In fact, it's the perfect time to get started, and we have just the kind of festive inspiration you need. These interior design Instagrammers thought outside of the gift box when they decked out their homes in their holiday best.
01. Simple Stockings Hung by the Chimney with Care
Christmas has already officially taken over @happygreylucky's house. That minimalist modern style, though!
02. The Sight of New Fallen Snow
We're so down with @mountainhomesteader's down-home Christmas. If only all holiday decorations came with real snow.
03. Something for the Children All Nestled Snug in Their Beds
Dear @therenovatedacre, can you be our mom so we can have an enchanting mini tree in our bedrooms, too?
04. The Way to Go Faux
You know a faux tree is a true showstopper when it barely needs any Christmas ornaments or trimmings, like the one @thethankfulfarmhouse pulled out of her storage.
05. Deck the Halls with Boughs of White Holly . . .
. . . and evergreens, eucalyptus, pinecones, and bows. With this finely trimmed stairway to heaven by @mytexashouse, she can deck our halls anytime.
06. Settle in for a Long Winter's Nap
If you can't find us, we're probably hibernating for the winter in @clareandgracedesigns' warm and cozy bedroom while visions of sugar plums dance in our heads—oh, wait, that's a chandelier.
07. Welcome to Camp Christmas
Even @clareandgracedesigns' playroom for her girls is all decked out like a Christmas campsite. Would it be weird if we put a festive adult-sized tent like that in our living room?
08. Merry, Merry Millennial Pink
Gracious Livings' @kellynan made a rose gold Christmas happen, people!