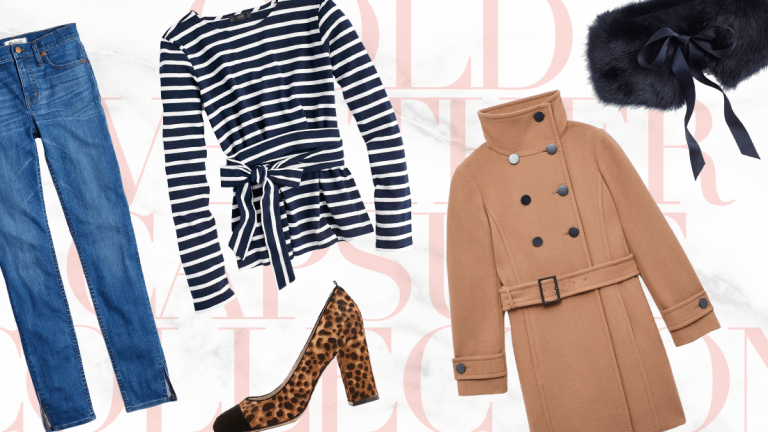 Now Is the Perfect Time for a Capsule Wardrobe—Here's Why
These 12 pieces could save your time, effort, and style.
Dressing for the cold weather isn't easy. With more layers come more effort and planning—something we don't always have time for. If you find yourself wearing the same items over and over, it's probably because you're craving a simplified dressing routine.
A capsule wardrobe is ideal for the fall and winter months when you need more practical outfits. Best of all, it limits you to a certain amount of clothing, which ultimately makes dressing quicker and helps you stretch your wardrobe. To help make stylish dressing as easy-breezy as possible, we've compiled a capsule of twelve cool-weather staples for your fall sartorial choices. These flattering, versatile pieces are worthy investments and serve as a great wardrobe foundation.
The great thing about a capsule wardrobe is that each item is versatile and complementary to the other items. The tops and bottoms can be worn interchangeably, and the shoes go with any outfit you put together. The key is to choose colors that easily work together and silhouettes that can be dressed up or down.
Tops
Your tops are like blank canvases that can be easily transformed depending on how you style your look. We suggest choosing tops that are neutral in color.
1. The White Sweater
Nothing says fall like a cozy fisherman's sweater. This item instantly makes an outfit chic and can be worn with anything from casual blue jeans to a sleek pencil skirt.
2. The Fancy Long-Sleeve Tee
It's easy to repeatedly wear the same simple long-sleeve T-shirts all winter, but why not spice it up with a top that is equally versatile but a little more stylish? Already in neutral colors, the classic Breton stripe is famous for its casual-meets-fancy appeal—perfect for dressing up or down.
Bottoms
As the foundation of an outfit, your capsule bottoms should be as basic as possible so that they don't conflict with any other items you pair with them.
1. The Blue Jeans
As you already know, your favorite baby blues go with everything. But most importantly, they're comfortable. But we suggest getting creative with your blue jeans by challenging yourself to style them differently every week!
2. The Leather Pencil Skirt
You might be skeptical about this one, but trust us. The leather texture offers a luxurious quality for a more stylish edge. The traditional shape and length of the pencil skirt, however, keep it classy. The outfit opportunities are endless!
Dresses
With holiday parties coming up, you want dresses that are flattering and easy to transform with accessories.
1. The Sweater Dress
Cozy and stylish? Yes, please. The sweater dress allows you to remain comfy, while the silhouette keeps you looking put-together. Simply throw on a blazer, heels, and jewelry—voilà, you're party-ready!
2. The Little Red Dress
Red is a secret neutral color. While certainly a bold hue, red can easily be worn with other colors because of its complementary blue undertones. This dress is perfect for both the office and holiday cocktail hours.
Outerwear
When it comes to staying warm all winter, the goal is to find outerwear items that can be thrown over any ensemble you've put together.
1. The Camel Peacoat
Instead of opting for the go-to marshmallow coat, try an equally warm peacoat that is infinitely more stylish. The camel color offers a trench coat appeal that will match the color of anything you're wearing underneath.
2. The Velvet Blazer
Velvet is having a major fashion moment. Its rich texture and glossy sheen especially create a holiday-appropriate look, and it can be worn over your jeans, dresses, skirts, and more.
Shoes
When looking for shoes that go with everything, aim for sleek silhouettes and dark colors.
1. The Chelsea Boots
Perhaps the most versatile of all shoes, the Chelsea boot's simple shape makes it the perfect style for wearing with pants, skirts, and dresses.
2. The Leopard-Print Pumps
This ostentatious print may seem too bold for a capsule wardrobe, but note how it's entirely composed of neutral colors (i.e., tan and black). You'll be surprised at how seamlessly it matches with any other item in your wardrobe.
Accessories
For your look's final touches, aka accessories, it's all about finding the balance between practicality and extravagance.
1. The Faux-Fur Scarf
Instead of wrapping up in your oversize blanket scarf, try a cozy faux-fur scarf. Why not look sophisticated while staying warm? The faux-fur scarf can support your more formal looks but also dress up your casual ones.
2. The Black Tights
As one of the most vital items for any woman's winter wardrobe, tights are a must for staying warm while looking cute.