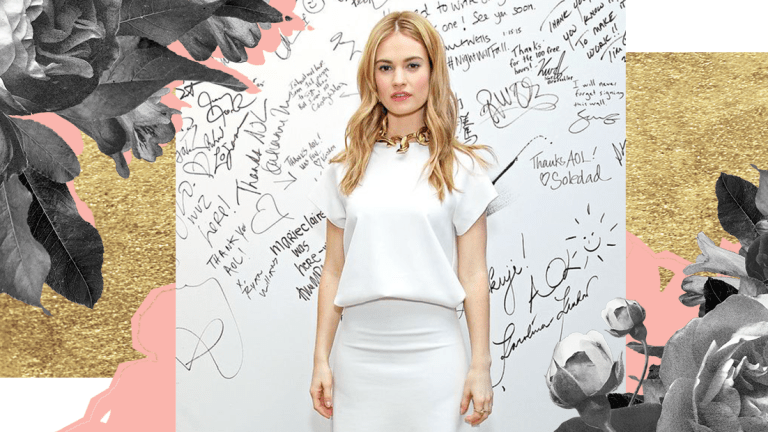 These BBC and PBS Starlets All Have This One Thing in Common
And it's not being British.
The words "Masterpiece Theatre" inspire romantic images of sprawling estates and swooshing ball gowns. But they're also synonymous with fantastic female characters, played by actresses with such authenticity that we can easily cry and cheer for them every step of the way. What do I love about these BBC and PBS actresses? They show the same personal authenticity in how they dress offscreen as they do with their regally dressed on-screen characters.
Although they're all very different, four of America's most popular British drama actresses all have a relatable and simple approach to dressing, inspired by their own unique personalities. From classic black-on-black ensembles to comfy separates, these British starlets remind us once again that style can be both simple and expressive.
Michelle Dockery //
Her days as Lady Mary Crawley may be over, but Michelle Dockery's career isn't slowing down one bit. Whether she's playing the recovering drug addict Letty on Good Behavior or Alice in the up-and-coming Wild West Netflix miniseries Godless, her talent is multifaceted. She once described her personal style to Harper's Bazaar as "very French, understated. That's the kind of style I go for." On and off the red carpet, Dockery always chooses more classic and relaxed looks that highlight her natural beauty. A love for French style? Oh, we can definitely relate to that.
Lily James //
From Cinderella to Elizabeth Bennet to Juliet Capulet, Lily James' film history is already full of dream roles. But we first noticed James on Downton Abbey as the rebellious Lady Rose MacClare and have been captivated ever since. When asked to describe her modern-day personal style, James stated to Refinery29 UK, "My day-to-day style is much more casual, I don't really make too much of an effort. Style should come from within and be unique to every person." James' style philosophy is expressed through her relaxed yet feminine outfits that serve as a canvas to her effervescent personality.
Claire Foy //
Undoubtedly, it's been a big two years for Claire Foy. After winning a Golden Globe for her role as Queen Elizabeth II in The Crown, Foy's career has taken off. She most recently starred in the big-screen movie Breathe, alongside Andrew Garfield. Soon she'll play the role of Janet Armstrong in the 2018 film First Man. Through it all, Foy is certainly no stranger to wearing retro clothes. Her own style, however, is much more laid-back and simple. Often opting for pant and blouse combinations, the fits she chooses are loose and breezy—a look we are ready to copy ASAP. Clearly, comfort and class go hand in hand!
Jenna Coleman //
This Victoria star may have surprised you in 2016, but if you're a major BBC junkie, you probably already spotted Jenna Coleman as Lydia Wickham in Death Comes to Pemberley or as Clara Oswald in Doctor Who. Wearing some of the most extravagant costumes in TV, Coleman's offscreen style has been making headlines. She told InStyle that she preferred a low-key look: "I like to pair tailored trousers with a striped T-shirt or a polo-neck to channel Audrey Hepburn's effortless style from Funny Face." As bona fide Audrey fans, we approve of this message.