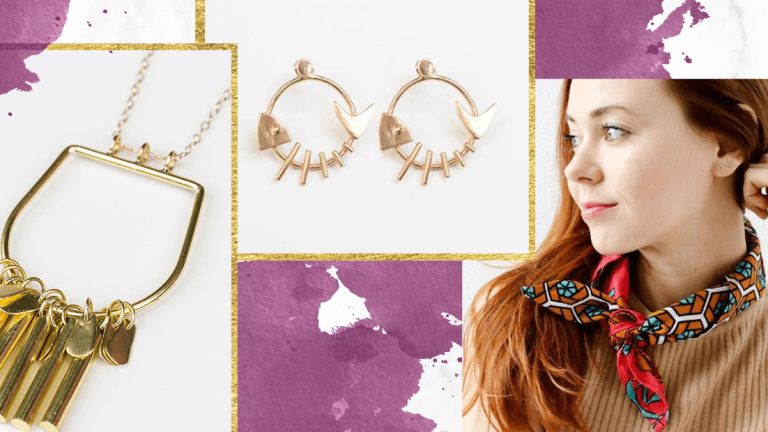 Brands That Are Giving Meaning to the Most Materialistic Day of the Year
If Black Friday madness has you down, try these ethical shops instead.
Black Friday is the Super Bowl of the fast-fashion industry, but 2017 has been an especially big year for the slow-fashion movement. Stars such as Emma Watson have come out in support of shopping ethically, and brands such as Everlane and Reformation have become increasingly popular. Meanwhile, mega-fast-fashion brand Zara has repeatedly been under fire for its unethical labor practices. With the winds of change in the air, it's natural for the regular everyday consumer to think twice about our purchases—especially during the holiday season.
If you're considering a more conscious approach to shopping, many ethical brands are offering an alternative way to gift this Black Friday and Cyber Monday. Through discounts and special campaigns that raise awareness, these sustainable companies are bringing back the spirit of giving this Christmas.
Soko //
Soko employs technology to empower and provide equal access to opportunity for marginalized artisans. Its supply chain innovation uses the mobile phone to connect independent artisan entrepreneurs to Soko in an ethical and transparent "virtual factory." With Soko's mobile tools, artisans have access to an entire world of consumers, expanding their business horizons and entrepreneurial prospects.
Black Friday, 25% off sitewide November 22-25
Cyber Monday, 25% discount and free 2- to 5-day shipping
People Tree //
In an effort to remind people that Black Friday is just like any Friday of the year, People Tree is partnering up with the United Kingdom's leading fair trade organization, Traidcraft, to support its Fair Friday campaign. With the social media hashtag #FairFriday, both People Tree and Traidcraft want to encourage people to shop with thought and to buy with love.
Sudara //
Sudara founder Shannon Keith is on a mission to break the cycle of abuse, injustice, and sex trafficking by partnering with sewing companies in India, allowing women to be employed so they may support themselves and their families. By producing gorgeous pajamas and loungewear, Sudara has brought more than five hundred people of poverty and situations of exploitation.
Black Friday, 30% off Punjammies, pants, robes, tops, yoga wear and sale items. Code: FREEDOM30
Cyber Monday, 30% off sitewide. Code: EVERYTHING30
Raven + Lily //
Raven + Lily is a certified B Corporation that was founded to alleviate poverty among at-risk women. It now employs more than 1,500 in ten countries around the world who are provided with a fair trade wage, access to a safe job, sustainable income, and health care. With a variety of items ranging from fashion-forward clothing to bags, jewelry, home goods, and more, this brand is perfect for gift giving.
Black Friday to Cyber Monday, 30% off
Giving Tuesday, 11/28, 30% of sales will be donated to Tirzah International
Akola //
Nonprofit jewelry brand Akola works with women in both Uganda and Dallas, Texas. Each beaded necklace, bracelet, and earrings are made by one of its five hundred employees in an effort to help transform their futures. One hundred percent of Akola's revenue is reinvested in its mission to help these women transform their families and communities.
Black Friday and Cyber Monday, 40% off sitewide and in-store from Wednesday 11/22 through Monday 11/27
Giving Tuesday: All proceeds benefit Akola's holistic empowerment and employment programs for marginalized women in Dallas and Uganda
Slumlove Sweater Company //
If you're looking for some luxurious sweaters to get you through the winter, look no further than Slumlove. Working with artisans in Kenya to create sweaters, tees, dresses, accessories, and more, its mission is to provide the world with environmentally friendly items and to support the Kenyan community.
Slumlove will be donating 50% of all profits Friday through Monday toward a nonprofit that provides high school scholarships to children living in Kenya's largest slum community
31 Bits //
31 Bits is known for its beautiful handcrafted pieces made by artisans in Uganda and Bali. Whether they're creating stunning jewelry, woven bags, or home goods (that are all perfect for gifting), 31 Bits is all about helping support the livelihood and dignity of its talented artisans.
25% off your entire jewelry purchase under $100 with code FRIDAY25
30% off your entire jewelry purchase of $100 or more with code FRIDAY30
For every home goods item or bag you buy, you receive a coupon for $10 off your next purchase at 31bits.com
UbuntuMade //
This company isn't just about swoon-worthy handmade leather bags, scarves, and bracelets. Based in the Maai Mahiu community in Kenya, Ubuntu Made has driven sustainable revenue to Ubuntu's Foundation and other on-the-ground programs, which specialize in the much-needed health and education philanthropic programs in the developing community.
Black Friday buy one, get one 50% off storewide