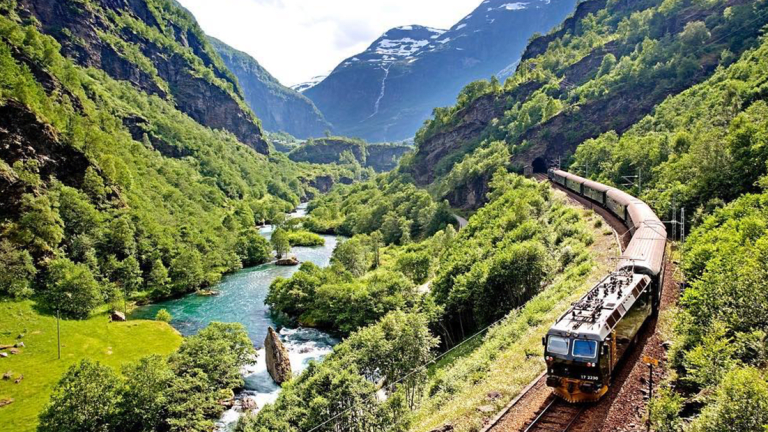 We're All Over These Gorgeous Ideas for Winter Getaways (That Aren't Iceland!)
No flood of Instagramming tourists at these less-trodden gems
For the past few years, Iceland has been having a moment with its gorgeous glaciers, stunning northern lights, hot spring lagoons, and, yes, adorable puffins. It sounds like the perfect getaway, but the problem is everyone (and their mother) has been planning trips there.
The Wall Street Journal reports that Iceland has become "a victim of its own success." The truth is, Iceland's tourism push to bolster its economy out of an economic crisis has become a strain on its citizens and resources. About 2.2 million tourists are expected to enter the country of 330,000 people, five times more visitors than there were in 2010.
Thankfully, Iceland isn't the only travel destination for those seeking a unique vacation off the beaten path. Check out these up-and-coming travel destinations and picturesque alternatives.
Portugal
Spain, Portugal's neighbor, gets a lot of attention, but the country of Fatima and futebol is an equally beautiful (and less expensive) alternative. With its colorful waterfront cities such as Lisbon and Porto, its growing food scene (think the freshest seafood), Port wines, magnificent chapel and cathedral architecture, coastline hikes, patterned tiles, and medieval castles galore, Portugal has everything you need for a fantastic European vacation without the touristy, selfie-stick-touting crowds. Temps average in the 60s December through March, so it's not tropical but certainly beats snowstorms.
Croatia
Croatia's beautiful views have garnered a lot of attention lately. Why not witness the grandeur in person? Located on the Adriatic Sea, Croatia has a spectacular coastline, romantic Roman ruins, islands that are perfect for day tripping, scenic national parks, formidable city walls, and an ideal climate. It's an underdog country both to immerse yourself in rich history and to relax on the beach with your favorite book in hand. Here, winter temps will max out in the mid-50s.
Vietnam
If being in a bustling city while still having access to a scenic tropical beach is your ideal vacation, Vietnam may be the spot. Your only exposure to Vietnam might come from Forest Gump's war scenes (which ironically were shot in the Carolinas), but the country has so much more to offer. Embrace the exquisite local street food culture and give yourself a day to sample the variety of flavors and textures available, such as rich Vietnamese coffee and heartwarming pho noodles. If you're feeling brave, hop on a motorbike and explore the limestone cities and ancient temples. Or take a boat tour to scout out the legendary floating markets. A mecca for beach-lovers, Vietnam has some of the most breathtaking coastlines in the world. A breath of fresh air for winter-bound Americans, Vietnam sees temps in the 60s and 70s November through March.
Norway
Consistently ranked as one of the world's happiest countries, Norway is another lesser-known travel gem. The seven-hour railway tour from Oslo to Bergen is a popular way to take in one of the world's most scenic train rides. The unique design of the stave churches will bring to mind the scenery in Disney's Frozen and will inevitably have you singing "Let It Go" before the journey is through. You can also see the northern lights from here at night. Don't miss the jaw-dropping beauty of the icy fjords such as the Svalbard archipelago. This is a great spot for snow-lovers. Winter in Norway has frosty temps in the upper-20s.
Cambodia
Some people liken Cambodia to what Thailand was like before it became an overly popular travel destination. While there are some tourist-heavy spots like the colonial-city-turned-resort Siem Reap, most of the country is still quiet, natural, and serene. Explore hauntingly beautiful temple ruins; take a dip in the waterfalls; sample the sweet, salty, and sour fresh and cooked regional dishes; and explore the Royal Palace and the Silver Pagoda both gleaming in silver and gold. Expect upper-70s and even 80-degree days November through March.
While it's sometimes fun to dive into the cities and countries that everyone is buzzing about, it's even more fun to make the trek off the beaten path, to places that are still relatively unharmed by over-tourism. Let's give Iceland a break. Take the road less traveled, and become a travel trendsetter yourself.