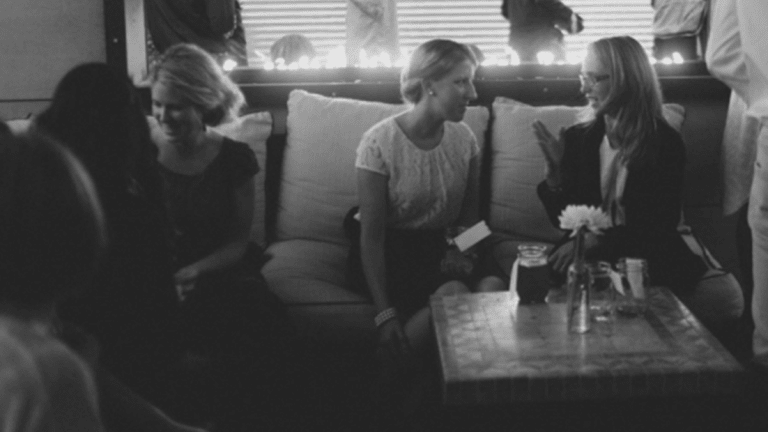 5 Podcasts to Get You Conversation-Ready for Holiday Parties
Fear not the awkward silence.
From now until January, it's likely your social calendar will feel about like your waistline—ballooning. Between Thanksgiving gatherings, the office Christmas party, New Year's Eve soirees, and everything in between, you're going to be getting your social fill and then some. If the idea of talking with acquaintances for hours over pigs-in-a-blankets has you a little queazy, rest easy. These podcasts are a goldmine for conversation starters. Queue one up on your commute or at the gym, and arm yourself with some go-to (and actually interesting!) talking points to carry you through the holiday social season. 
You might recognize Tim Ferriss as the guy who wrote The 4-Hour Workweek and the rest of that franchise. Well, he's also the guy with the uber-enlightening podcast. Thanks to his business world connections, his show is stuffed fatter than the turkey at Thanksgiving with fascinating guests. The episodes are long (like, up to 2 hours), but I defy you to listen and not walk away dying to tell someone about what you just heard. 
Recommended episode: "Arianna Huffington" 
The founder of The Huffington Post will astound you with her healthy sleep habits, natural gift for connecting to people, and her struggle of letting go of a great love that she knew just wouldn't work. 
We know NPR is a haven for great ideas. This podcast in particular explores the nuance of our behavior and choices, and it is a great remedy for pre-party angst. You'll have no problem navigating an eggnog-fueled inescapable conversation with Mike from accounting as long as you've got cognitive curiosity on your side.
Recommended episode: "Me, Myself and IKEA"
Does John like Papa John's pizza more than Domino's? This episode explores the science behind our connection to things relating to us and whether we feel more drawn to those more relatable things. For example, do we secretly love the IKEA table we built more than the chair we bought assembled? 
From prolific auteur Malcolm Gladwell comes a series in which relics of the past (events, people, etc.) are re-examined to see whether we understood them correctly. A bit of a mind bend, this podcast might change your understanding completely about the way you once interpreted something. At the very least, it will give you a subject change for when nosey Nancy from next door asks you (again!) when you're going to get hitched already. 
Recommended episode: "Hallelujah" 
An Elvis Costello tune is the subject of this examination. Gladwell explores how once-obscure, lowbrow things can become aggrandized over time until they are considered works of genius. 
Gretchin Rubin has made a brand about happiness—how to find it, keep it, spread it. Sounds like the definition of holiday cheer. Whether you're looking for ephemeral discussions on life's bigger meaning or very practical tips for increasing your daily satisfaction and productivity, you'll find it here. Once you do, you can share your secrets at your girlfriends' gift swap. 
Recommended episode: "Set Your Holiday Intention"
A great example of one of Rubin's more practical podcasts, this is one to listen to early in the season when the looming parties, gifts, and general Christmas chaos has you a bit frazzled. 
Recipient of a National Humanities Medal, Krista Tippett hosts this insightful foray into what makes life meaningful. As she tackles buzzy topics such as burnout, happiness, mindfulness, spirituality, and more, you'll be primed for any level of party chitchat without having to resort to bringing up the weather (yeah, we've all been there!). 
Recommended episode: "Marie Howe—The Power of Words to Save Us"
What better way to prep for a night of hobnobbing with acquaintances than by ruminating on the power of words with poet Marie Howe?