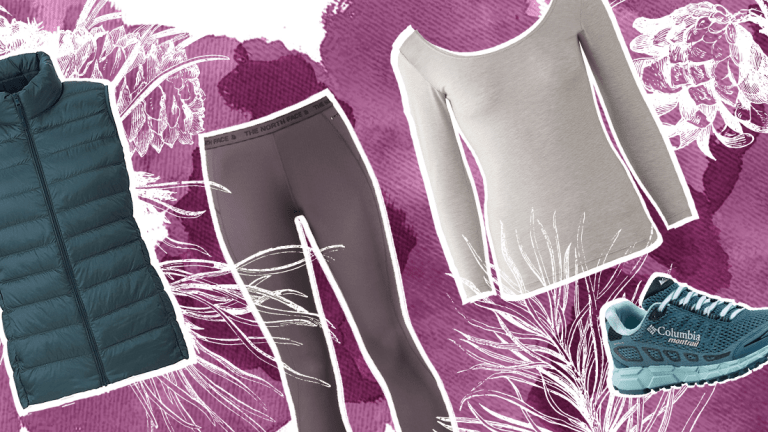 9 Things You Legit Need if You Actually Hope to Exercise When It's Cold Out
We aren't lazy—we're just freezing.
Exercising on a normal day is hard enough as it is. Throw low temps, wind chill, ice, or snow into the mix, and your chances of working out decrease exponentially. I don't blame you. We know we should, but our beds are just so irresistibly cozy. Ah, but therein lies the solution!
If cold weather is your biggest roadblock to keeping up a healthy workout routine, bring the benefits of your warm bed with you. Gear up with these nine essentials, and you might find that braving a chilly stroll to the gym or getting a short outdoor workout done doesn't feel so terrible. Gasp! You might even start looking forward to it.
01. A soft, sweat-wicking base layer you'll happily wear to bed
A base layer so plush and comfy that you can wear it to sleep, roll out of bed, throw some pants on, and be on your way to morning barre in sixty seconds flat. And because natural fibers repel odor, you can even wear it a few days without a wash. Gross, but I can't be the only one who has done that, right?
Uniqlo Heattech Ballet-Neck Long-Sleeve T-Shirt, on promotion for $10
02. A pair of climate-control tights
Warm, wind-resistant pants are nice, but unless you're jogging through a blustery day, you can get away with wearing regular workout pants and a pair of insulating tights underneath. It's almost like wearing an electric blanket. P.S. You really only need one pair; proper warm, sweat-wicking workout tights dry faster than fast.
The North Face Women's Warm Tights, $50
03. A lightweight down vest
You could splurge on a fancy weatherproof jacket or spend a lot less on an insulated vest that will keep your core warm while you HIIT workout your way to health-dom.
Uniqlo Women Ultra Light Down Vest, on promotion for $40
04. Wool athletic socks
Body heat escapes through your head and feet, so cold weather makes extremities feel like ice. Put the toes in toasty with a cushy pair of wool athletic socks made for a range of activities from hiking to biking. The merino wool will keep your feet warm in winter and cool in summer, so you can wear them all year long. Fair warning: You might never want to take them off.
Smartwool Women's PhD Outdoor Socks, $16
05. Trail-worthy kicks
The beauty of trail running shoes is that they're made to resist the elements yet are lightweight and—unlike chunky hiking shoes—cute. The bad news is that a quality pair will cost you at least $100 or more. The good news is that the mudguard, exceptional cushioning, and extra-groovy outsoles will keep your feet dry, comfy, and slip-resistant.
Columbia Women's Bajada III Trail Running Shoe, $110
06. Hand warmers
Don't forget your paws! Hand warmers come in all sorts, shapes, and sizes these days—from disposable packets and reusable gel packs to fleece gloves and rechargeable hand warmers. Take your pick of the lot.
New Balance Lightweight Glove, $20
07. Ear cuddlers + music makers
If warm ears intertwined with your favorite tunes will keep you going, then these are a must for chilly workouts. Thank you, magic of technology. These come in beanie form, too, but where would you put your ponytail?
Amazon 180s Bluetooth II Ear Warmer Head Phone in Snow White, $35
08. Lip protectant + sunscreen
Cold weather also means dry weather. This balm locks in lip moisture, but you can also use it as an anti-chafing body balm around your nose, cheeks, and hands. Plus, the sunscreen protection is a must for outdoor workouts.
Target Aquaphor Lip Repair SPF 30, $4
09. A well-deserved reward waiting for you at home
Whether it's a healthier holiday latte or your favorite fuzzy slippers with a side of Netflix, having a treat ready upon your return will make the long haul feel shorter. Celebrating the little victories can help cure the lazy girl in all of us.
Priceless