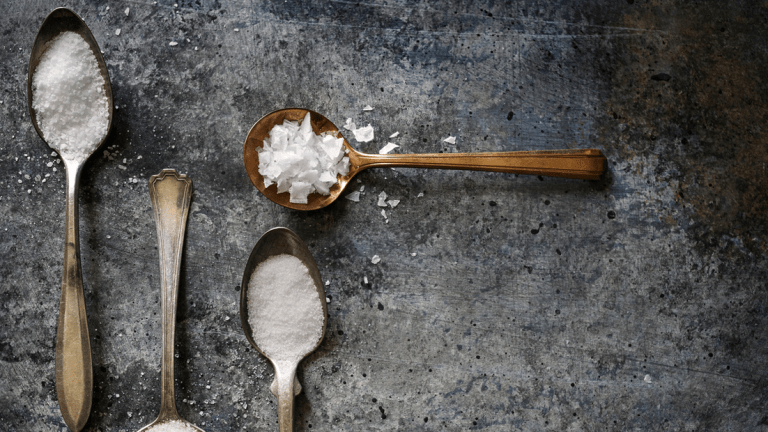 9 Basic Items That, Surprisingly, You Won't Find at Trader Joe's
We love TJ's, but no one is perfect. #amiright
While we love TJ's, let's be honest, there are things left to be desired. Some items come and go. Some favorites are disappointingly discontinued forever. Some products are available in a few stores but not others. The biggest affront of them all: While they carry a wide variety of foods, they don't carry some pretty basic pantry staples.
When I surveyed friends and family about what they wish TJ's carried, most people were up in arms about the ingredients below. Read about nine items the masses are missing from Trader Joe's and the closest alternatives we could dream up.
01. Dark Chocolate Chips
Dark chocolate salted caramel tartlets, sea salt chocolate chip cookies—Yay, baking season. With all the hoopla around the health benefits of cacao's antioxidants, we wish Uncle Joe would get on that train, too. But he hasn't.
What TJ's Does Have:  Semi-sweet chips and white chocolate chips, $1.99 each
02. White Sesame Seeds
My husband and I like to make our own buns because it tastes better and is way cheaper than store bought. Imagine my dismay when I walked into TJ's for some sesame seeds, and they were nowhere in sight. I thought it must be a mistake, but the nice sales guy had to break it to me: they do not, in fact, carry sesame seeds. Our buns went sesame-seedless that day.
What TJ's Does Have: Everything But the Bagel Sesame Seasoning Blend, $1.99, contains both black and white sesame seeds among other goodies you'd typically find on an everything bagel, so you could pick them out if you're desperate.
03. Regular Table Salt
Trader Joe's doesn't carry regular table salt like the kind you'd find in the dark blue container with the girl in a yellow dress holding an umbrella. "What's the difference?" you ask. Sea salt, kosher salt, and table salt are equal in basic nutritional value, but the main difference is texture. Table salt is fine and dense, kosher is a little more dense than table salt, and sea salt (which is the least processed) comes in unevenly shaped flakes. For most cooking, you can use whichever type of salt you want. But the salt you use matters in baking where the chemical interaction with ingredients can affect leavening and other texture issues. That is, of course, unless you want salt flakes in your pie crusts or cookie dough.
What TJ's Does Have: Himalayan Pink Salt Crystals, Sea Salt Crystals, Garlic Salt, $1.99 each
04. Honey Mustard
While you could mix your own honey + mustard, it's curious that TJ's has never actually carried honey mustard but has carried a similar product, Hot & Sweet Mustard (sweetened with sugar, not honey). There's a saucy history of Trader Joe's discontinuing and bringing Hot & Sweet Mustard back over the years (Hint: Last we heard, it was discontinued in 2016 and hasn't made a comeback...yet).
What TJ's Does Have: Mustard Miscellany (4 bottles of interesting flavors like garlic & rosemary and truffle, none of which are honey), $6.99 and Dijon Mustard with White Wine (from Dijon, France!) $1.69
05. Gelatin
Whenever my heart longs to make panna cotta, parfaits, custards, or puddings, I waltz into TJ's thinking I can grab some plain powdered gelatin mix in the baking aisle. Never have, never will. Methinks it's Trader Joe's trying to keep as many of their products Kosher as they can (gelatin is typically sourced from animal products that aren't kosher).
What TJ's Does Have:  Mango Coconut Pudding, $3.49, Lemon Meringue Tarte, $5.49, and a free recipe for Pumpkin Pie Parfaits
06. Fresh Chili Peppers
Not to be confused with bell peppers, if you're looking to make some fresh salsa, you likely won't find the chili peppers for it here. We sometimes wonder if Trader Joe's does this because they want us to buy their pre-made salsa and guac instead. The world may never know.
What TJ's Does Have: Fall Harvest Salsa, $2.99, Extra Hot Habañero Ghost Pepper Salsa $3.29
07. Active Dry Yeast
Active dry yeast is the leavening agent that baking recipes need when the instructions call for a rise or two. If you plan on baking bread or bread-like desserts (i.e., cinnamon buns), also plan on hitting up another grocery store to pick up active dry yeast.
What TJ's Does Have: Nutritional Yeast, $2.99 (ironically, this is deactivated active dry yeast that Joe says you "sprinkle on your favorite foods like you would cheese," except it's vegan.
08. Arborio & Calrose Rice
Arborio is used for risotto and paella dishes, and Calrose rice is used for Asian foods like sushi. TJ's carries brown, basmati, jasmine, sprouted, wild, and even cauliflower "rice." So it strikes us as strange that its wouldn't carry these other common rice types. "Drives me nuts," says Verily editor Megan.
What TJ's Does Have: Boxed Mushroom Risotto, $2.49, Spelt Risotto, $3.29 (in freezer case), doesn't actually contain rice, but it's close enough to the real thing
09. More Than One Type of Espresso
I was really surprised (and disappointed) to find only one regular espresso product—Organic Five Country Espresso Blend, $8.99—among an entire wall of coffee. To be fair, the only real difference when specialty roasters write "espresso blend" or "drip blend," is the brew method roaster's believe will bring out the flavors of those beans best. Still, I have tried the Shade Grown Espresso and it didn't hold a candle to my favorite coffee brands. Another lovely thing about TJ's is that you can return a product if you're unsatisfied with it, no questions asked.
What TJ's Does Have: Dark Chocolate Covered Espresso Beans, $4.79 and Espresso Melange Cheddar Cheese, $9.99/lb
This article is not meant to rag on Trader Joe's (we do love it!). Word on the street is that the company actually listens to its customers. So let us know what items you wish you could reliably buy at Trader Joe's in the comments below!