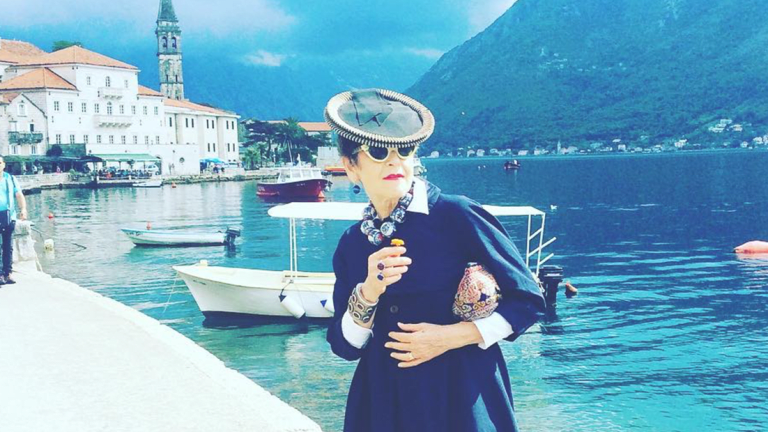 4 Lessons from Senior Style Icons That Surpass Time
Personal style isn't just a twentysomething's game.
Flip through any major magazine, and you'll find that most of the women featured range from ages 18 to 30. Sometimes even younger. Kaia Gerber, who dominated the runways during fashion month, is just 16 years old. Bella Hadid, Victoria's Secret model and designer muse, turned 21 only last month.
The fashion industry has been known to put young women on a pedestal, but with the recent push toward a more diverse runway, older models have been cast in fashion week shows and designer campaigns. Maye Musk (69) has been ruling the runway, and Yasmina Rossi (61) continues to be featured in beauty campaigns—the list goes on. Chatter about ageless beauty has also become louder in recent months with Allure forgoing the term "anti-aging" and inspiring many to expand the definition of a typical fashion and beauty icon.
Truth be told, there's a lot we can learn from the women who have been through it all. Ari Seth Cohen of the Advanced Style Instagram account, which features senior style icons, highlights the importance of looking to these women as both fashion icons and luminaries. They show us that by pushing the envelope on how we've been taught to view age, we might find some welcome inspiration. "They really embrace their age, feel good about themselves, and every time they leave the house, they look and feel their best," Cohen writes. These women prove that age is not something to be feared but rather an opportunity to grow and discover a new dimension of our own personal style and beauty.
Here are four major lessons we can learn from senior style and beauty icons.
01. Dressing Is an Art Form
One of the commonalities among senior icons is that, for them, dressing is an art that they have taken time to perfect. Tziporah Salamon, designer and model, began her career by first watching her immigrant parents in their careers as a tailor and dressmaker. She has modeled for Lanvin and Australian Vogue and spent a lifetime curating her collection of vintage and antique clothing. Salamon's style is described on her website very simply. Her goal is to elevate style as an art form, and whenever asked on how she made it in the industry, she simply states, "I dress." In the Advanced Style documentary, Salamon describes her approach to dressing as creating a work of art: "If the painting is not finished, I don't take it out in the world. I paint a portrait. It's a reflection of a long journey."
02. Style Should Communicate Who You Are—Not How Old You Are
Senior stylist, model, and editor Linda Rodin has proven age isn't defining. She started her career as a model in Italy in the 1960s and created her beauty line later in life. "Trying a new business at my age—a bit of a folly—but very exciting," she said in an interview with Fab Over Fifty. "Never too old for anything!"
Rodin has perfected a personal uniform based on a mixture of jeans, menswear, red lips, and oversize sunglasses—all items typically associated with a young woman's closet. Each ensemble, however, suits her perfectly. Rodin isn't dressing her age, she is dressing herself. Because she embraces who she is in every stage of life, Rodin's style is always evolving, making it truly modern and fashion forward.
03. Aim for Chic, Not Crazy
You may have noticed that many of these stylish women are major risk-takers. While many of their outfits may seem shocking or over the top at first, if you look closely, each piece is intentional. There is a purpose behind each item and a continuity that just makes sense despite being a bit ostentatious. Iris Apfel is famous for her use of bright colors, ornate prints, and especially her collection of bangled bracelets: "My mother knew if you bought a couple of really good architectural outfits and put your money into accessories, you could create a million different looks."
Apfel's personal style is so legendary that the Costume Institute at the Metropolitan Museum of Art premiered an exhibit of her clothing. Lest we forget, she also stars in her own documentary, appropriated titled Iris. Apfel has truly perfected the art of "more is more" without succumbing to the temptation to dress simply for attention. Her ensembles certainly make a statement that expresses who she is, and everything she wears seamlessly blends to paint a larger picture.
04. Style Is About Coming Into Your Own
"I never wanted to look young, I wanted to look great," former opera singer Joyce Carpati said in Advanced Style. Carpati gained her own sense of style when studying opera in Italy at the age of 16 after World War II. "People had nothing in Italy—nothing," Carpati said in an interview with Today. "But when the women would go out, you would see them dressed magnificently, and they had a look like nobody else."
Carpati continued to say that style is all about your personal attitude. "I think it's your attitude. Your attitude can make you look marvelous. It's how you feel about yourself, and that's really what it is. I know I look well, and that makes me happy. And I know that I can face the world like I did when I was 30 or 40 or 50."
The common theme amongst all these women is that confidence is key. When you have confidence, age cannot restrict style, only advance it. The things we wear are a reflection of our internal, and that doesn't stop at 30 years old. As shown by these self-assured, joyful women who are unfettered by limitation, personal style is truly a journey. And the longer the journey, the more fabulous the outfit.